News
Juan Soto Rejects the Largest Contract in Baseball History, Nationals Open to Trade Offers
One of the best hitters in baseball could net Washington a never-before-seen trade return.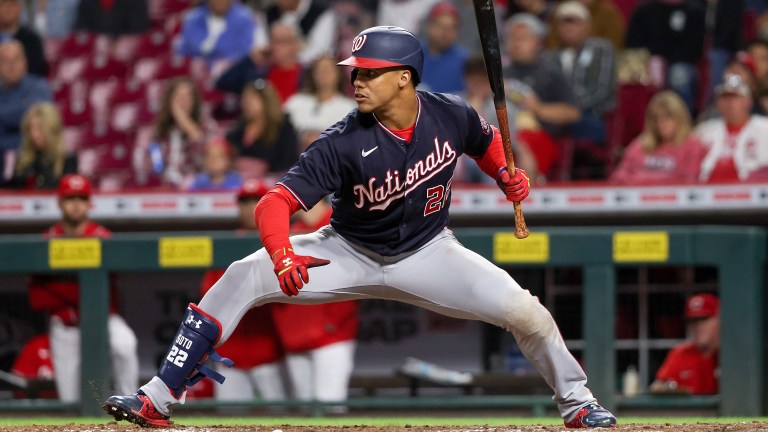 We were just hit with the bombshell of the MLB season. Nationals outfielder Juan Soto has rejected Washington's offer of a 15-year extension worth over 440 million dollars, according to Ken Rosenthal. That extension would've made Soto the highest-paid player in MLB history, surpassing the 12-year, 426 million-dollar deal that Mike Trout signed with the Angels in March of 2019.
Ken Rosenthal broke the news via The Athletic this morning, and the baseball world has launched into a frenzy. On June 1, Nationals General Manager Mike Rizzo said, "we are not trading Juan Soto." Soto rejecting the largest contract in MLB history certainly changes that.
Juan Soto will be a free agent at 26 years old ahead of the 2025 season, and is projected to sign what would now far exceed the largest contract in MLB history. Soto is represented by Scott Boras, and it's clear that he wants to test the open market in three years to get the most out of his situation. It makes sense from their side, but now the Nationals have their hands full with a superstar who wants out at 23 years old.
Soto is not having the greatest start to the 2022 season by his standards, but it's Juan Soto. He still owns a 151 wRC+, which makes him 51% better than the average hitter. He's a World Series Champion, and winning seems more important than money to him at this point. It's probably a combination of both; he doesn't want to stay with a Nationals team that's 32-60, and he feels he could garner more than $440 million.
It is not a guarantee that Juan Soto will be traded this year's deadline on August 2nd. He is under control until the end of the 2024 season, and there is no precedent for an offer for this type of player with this much control.
We saw Mookie Betts get traded to the Dodgers for Alex Verdugo, Jeter Downs, and Connor Wong, but left-hander David Price and his enormous contract went with Betts to Los Angeles. A package would have to be much larger than that, as Mookie Betts was an impending free agent at the time.
Juan Soto may be traded in the next several weeks. Let that sink in.