Analysis
San Francisco Giants Trade Deadline Guide
The SF Giants have a chance to buy at the deadline to make a run at the playoffs, but they could also take advantage of a seller's market.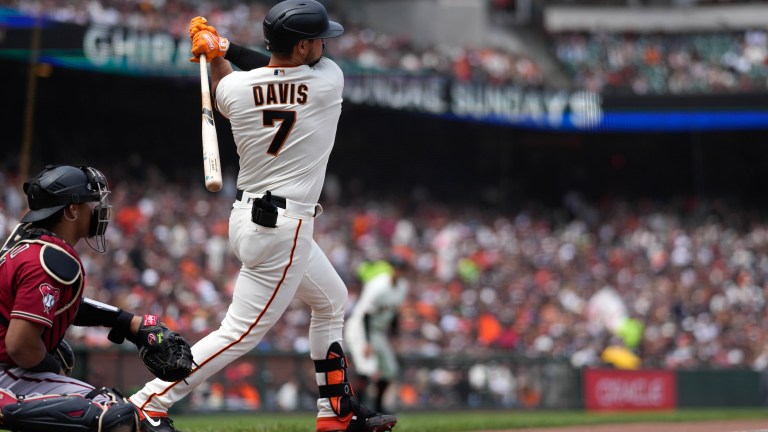 When my good buddy, Spencer Tracy, wrote about the Giants on June 19, they were in the midst of turning their season on its head. That night, San Francisco won their eighth game in-a-row, and fourth in-a-row against a division opponent. They would win their next two games, before finally being beat after 10 straight wins.
Before that streak, the Giants sat at 32-32 with a run differential of +5. They ended the streak at 42-23 with a run differential of +54. In a matter of 11 days, the Giants went from a team in the middle, not sure whether to buy or sell, to a team in a good position to be aggressive at the deadline.
The Giants have slipped a bit since then, but are still in good form. At the All-Star break, the Giants sit at 49-41 with a +31 run differential and just 2.5 games back of the Dodgers in the NL West. They also currently own the final Wild Card spot by a half-game over the Phillies and Brewers.
In my opinion, the Giants are sitting really pretty heading into the deadline. Their current team has shown it can compete. That means they do not have to be too aggressive and can wait around for the right deal.
The Giants are not going to win the World Series this year, there are too many good teams in front of them. Because of that, the Giants should look to buy with control, and not sacrifice the farm. They have needs and should fill them, but with plenty of cap space this winter and more to come from young players, it is not a bad play to not sell off for a season that likely will not result in a World Series.
However, patience is running out among fans in San Francisco. The fanbase expects winning and missing out on the playoffs is always a disappointment. Fans will be hungry for a move that screams "we are trying to make the playoffs" and propels them on a magical September push to October.
Spencer and I are going to walk you through how we think they can make that happen.
Starting Pitching Options
Ethan: The Giants' chief need right now is starting pitching. Nothing else comes close. Their rotation is decimated by injuries and guys like Keaton Winn and Sean Manaea are doing too much heavy lifting. The Giants recent dip in form is almost exclusively attributable to the health of the starting rotation.
Acquiring a starting pitcher at the deadline is an absolute must. Logan Webb and Alex Cobb have been great, but after that it is hard to find a guy that has been there consistently for San Francisco. Incredibly, their starting pitching has been effective, they currently rank 10th in the league with a 3.90 ERA. It is hard not to imagine what it would be like if they add another front-line starter.
The issue is the starting pitching market–and the market as a whole–is really dry this July. This is going to be a seller's market, as options around the league are super limited. Could the Giants make a play for a Shane Bieber or a Lucas Giolito or even Dylan Cease? Yes. Should they? Not sure. That would likely cost far too much from the future to make it worth it in the short term.
Out of all of these, Cease makes the most sense because he is not a free agent until 2026. His price would also be the highest and likely cost the Giants Luis Matos, Kyle Harrison and others.
Could Marcus Stroman be an option? He has a player option for next year and is likely to be moved. He would cost a lot less than Cease, but the price in this market might still be too high. Maybe they can get Eduardo Rodriguez for a lower asset price if they are willing to eat a large chunk of his money?
Either way this is a weak starting pitching market and a bad time for that to be your biggest need. I think the best thing for the Giants to do is value shop. Find a veteran that can come in and give you good work every five days, while also giving your bullpen a break. The Giants bullpen has been great, but the front office will need to get them some help to avoid being over-worked down the stretch.
Spencer: Coming into this offseason, Giants President of Baseball Operations, Farhan Zaidi, made it clear they wanted their starting pitching depth to be a strength–resulting in acquiring Sean Manaea and Ross Stripling. This has not been the case. Manaea and Stripling have a combined 5.87 ERA despite Manaea briefly showing success with an opener in front of him.
As Ethan mentioned, the rotation has been spotty outside of Webb and Cobb, who have not only been excellent toeing the rubber but have also stayed off the injured list. The rest of the rotation has been left to Anthony DeSclafani and Alex Wood.
DeSclafani has been either great or horrible, which is not the type of arm you can rely on come October. After his most recent start against the Mets on July 1st, DeSclafani noted in the postgame interview that fatigue has been setting in earlier into games than usual. This is not what you want to hear from your 33-year-old pitcher halfway through the season.
Wood has only made nine starts as we reach the All-Star break, posting a 4.68 ERA and 4.74 FIP through 50 innings of work. Similar to DeSclafani, Wood has breezed through offensive powerhouse lineups in Toronto and Los Angeles but has also gotten knocked around by Pittsburgh in San Francisco–presenting a lack of consistency. The only two starters I feel confident in taking the bump and getting a win right now are Logan Webb and All-Star Alex Cobb.
So what's their move? As mentioned earlier, the pitching market isn't doing the Giants any favors despite the popular names of Shane Bieber, Lucas Giolito, and Dylan Cease being tossed around. Yes, it's possible to get them in the bay, but the Giants would not only need to give up a chunk of their future but also match offers from other teams that are more willing to stack prospects such as the Dodgers, Rangers, Angels, etc.
Stroman and Rodriguez are both valid options but one more caught my eye and that was Pirates starter, Mitch Keller. Keller has a 3.31 ERA and 3.35 FIP through 117 innings of work and he's been the ace for the Pirates all year, obtaining a 2.4 WAR and a 9.92 K/9. Both would be second among Giants starting pitchers.
Keller is currently finishing the final year of his contract, which is worth just $2.4 million–barely a dent in the Giants' cap space. "But this isn't an arm with control, why go after him?" Correct, but this doesn't mean the Giants can't extend him.
This would be a play out of the Seattle Mariners' playbook when they traded for Luis Castillo and extended him later in the season before he hit free agency. If the Giants could pull this off, they will have built a starting rotation of Webb, Keller, and Harrison–all talented and under 28 years old.
Do They Need A Bat?
Ethan: No team has ever not needed another bat. It is always a good idea to get yourself more depth in the lineup at the deadline. The Giants could really use another bat in the middle infield. Casey Schmitt shined early on, but has really slowed down and Brandon Crawford looks to be at the end of the line.
San Francisco is set in the outfield with Michael Conforto, Joc Pederson, LaMonte Wade Jr., Mike Yastrezmski, and Matos. With Wilmer Flores, Wade, and J.D. Davis at the corners, they are good there too. Could they always acquire an outfielder or a corner infielder for bench relief? Absolutely, but their main focus needs to be up the middle.
Could Tim Anderson be an option for the Giants? He has a club option for 2024 before becoming a free agent in 2025, and his time on the south side seems to be coming to a dramatic end. Maybe the Giants feel like a change of scenery is just what the doctor ordered and they could possibly keep him around long term. However, is that the best option considering the price? Probably not.
The options really are limited. With so many teams seemingly one winning streak away from contention, it is hard to know who will be sellers. The Red Sox look likely and the Giants love positional versatility. Did somebody say Kiké Hernández? His 61 wRC+ and -1.3 fWAR probably will have the Giants shying away from that option.
Maybe the Reds are looking to ship off one of their controllable infielders? That is a dangerous game again because of high prices.
When I initially wrote this, I really did not have a great solution for the Giants in the middle infield. However, Cardinals GM, John Mozeliak, announced today that they are "going to trade people." The Cardinals have three guys I would love for the Giants: Tommy Edman, Brendan Donovan and Nolan Gorman. Of those, you would imagine Tommy Edman is the most likely to be moved.
Do they dare trade Nolan Arenado? The Cardinals' superstar third baseman has said he would not be surprised if it happens. Arenado has killed the Giants for years, could they bring him in to end the demons and cement third base for the next five years? It would be an expensive option, but it is certainly a tantalizing one.
One guy I would love to see acquire regardless of position? Carlos Santana. He has not put up huge numbers this year, but adding some power off the bench is always fun come deadline time. The price probably will not be too high either. He just seems like he has some big swings left in his bat for a run in September.
Spencer: As exciting as it sounds to go get a big-name middle infielder and throw him in there with Davis, Estrada, and Wade, it's probably not the best idea. It's tempting to help out a 36-year-old Brandon Crawford and a struggling Casey Schmidt, who's hitting .120 since June 1st, but if Schmidt is in the big leagues he has to play. You are not helping his development by having him fill in for Davis, Crawford, or Estrada on their days off once a week.
I like Ethan's idea of maybe seeing what Carlos Santana is up to by adding his switch-hitting power bat to the lineup from time to time. In addition, another veteran ballplayer hanging out in a clubhouse with a handful of rookies could create a spark, especially for a young switch-hitting catcher named Patrick Bailey since Santana was also a catcher earlier in his career.
This is a situation where I think the Giants just let other teams come to them and let a deal they like fall into their lap. Very similar to flipping Darin Ruf for a few prospects and JD Davis at last year's deadline. You can tell me how that turned out.
Finding a bat that could never get into a rhythm and might just need a change of scenery? Why can't San Francisco be that place? White Sox Tim Anderson could be that guy but he may cost a pretty penny the Giants do not need to give up yet.
We have seen the Giants run into the injury bug the last couple of weeks as Mitch Haniger hit the 60-day IL and Estrada went down for 4-6 weeks right after Yastrzemski came back. A little depth does hurt and the best part about depth is it is usually cheap.
What Could They Sell?
Ethan: Well actually, there is plenty they could sell. If the Giants were out of the race they would probably be one of the most active sellers at the deadline. Alex Cobb, Pederson, Conforto, Davis, Flores, Alex Wood, Austin Slater, Mike Yastrzemski and even Wade Jr. would all make sense. That is before you even get to the bullpen. Most are on expiring deals or have player options and could fetch real value at the deadline.
However, this is not within the best interest of the team at all. I really think they should look into locking up Joc, Conforto and Davis, and we just talked about the need for starting pitching. The Giants could do a mix of buying and selling, and maybe moving one of these guys for a controllable arm is not the worst idea. Personally, it would not be my plan of attack.
The Giants have a good young core with Schmitt, Thairo Estrada, Matos and even Patrick Bailey who has emerged. Add in Webb to headline the rotation and Harrison coming up the chute and you are cooking with gas. Having veterans like the guys I just mentioned to fill in around that core is a great way to build a contender. In fact, I really think the Giants are not far off from being a real threat for an NL Pennant in the coming years.
I think the best course of action is to lock up the pieces they have now and get ready for an offseason with plenty of cap space. Because maybe, just maybe, they can land the biggest fish of them all. Or could they even do it now?
Spencer: Again, the Giants find themselves in a unique spot at eight games over .500 and just 2.5 back from the first-place Dodgers. This team could very much put all their chips in and aggressively buy to go shoulder-to-shoulder with the rest of the powerhouses in the National League.
Option two is the complete opposite. Sending off their veterans like Conforto, Pederson, Davis, Flores, and Cobb to flip them for young talent to emerge next season. These prospects would debut with more mature and complete versions of Bailey, Matos, Schmidt, and hopefully an idea of what Kyle Harrison brings to the table. This option has the potential to form a scary Giants roster in 2025 and onward, but I don't think this is necessary.
The Giants also have to take into consideration where they stand in their division. The Dodgers are the Dodgers and will be a lock to win 90-plus games each year. The Padres have locked up Tatis, Machado, Musgrove, and Bogaerts with the intention to do the same with Soto–making them competitive for the next decade.
The Diamondbacks are the hot topic around the league with the season they have strung together thanks to Corbin Carroll, who has the potential to win an MVP in his career. Not to mention, the talent they have in the minors just waiting to debut. The D-backs could be in the midst of creating a super squad in the near future.
With this division becoming one of the best in baseball outside of the AL East, the Giants "selling" plan doesn't sound so bad by trying to replicate what Brian Sabian did for the 2010-2014 Giants dynasty run. You have to admit, mirroring another core of Belt, Crawford, Sandoval, Posey, and Bumgarner is appealing and makes the selling option sound a little sweeter.
The Giants do not need to clear cap space and they do not need to rebuild their farm system. All these "do nots" point to remaining competitive this season by adding a starting pitcher and maybe one or two pieces around the diamond. The best part is, they can do this and still be in good hands down the road. They've got something in JD Davis, Joc Pederson, and Michael Conforto who I think could all be valuable in the Giant's future. So why fold with a good hand? Why not see if this team can catch fire in October and do something crazy?
Nuclear Option: Code Shohei
Every team rumored to be in on Shohei Ohtani as a free agent will consider pulling the trigger at the deadline. Will anybody have the balls to do it? Probably not.
Maybe one of the teams thinks they can trade for him and convince him to immediately commit himself to them. I do not see that happening because when $600 million is possibly on the table, you have to at least test the open market.
As you can probably tell, going all in on Shohei is NOT what I think the Giants should do come July 31. They are much better off waiting til the offseason to throw all they can at him. San Francisco will have plenty to throw too, without much money committed over the next three years. They also are on the west coast and look to be building a contender. I have written plenty of times about how Shohei is the superstar they have been waiting many years for.
This is offseason business. I think it is that for any team, but especially the Giants. Is Shohei Ohtani the missing piece? Probably not. They would still have plenty of moves to make in the offseason to lift themselves to World Series contention. That is why worrying about it when the time comes is a much better option. Of course, there is always the risk you auction off the future for two months of Shohei Ohtani and an NLDS exit. Nobody wants that.
If I am any team in on Shohei this offseason, I am holding still at the deadline. The risk is too large. Let the Angels try and convince him to stay to avoid losing him for nothing, and when they inevitably fail pounce on their misfortunes.
Conclusion
Ethan: The Giants do not have to be overly aggressive at the deadline. Their best course of action is likely to buy controllable assets, and maybe do a bit of selling to make it happen. They are right in this playoff race, and a key move or two should give them a really good chance at October. They have the luxury of waiting around for the right deal to come their way at the right value. I trust the franchise to make the right moves at good value and launch themselves into postseason contention.
Wait on Shohei Ohtani. That option will be there in the winter. The time is not now to auction off your future for a chance at extending him. Go to the negotiating table with him and see if you can get the job done there.
Most importantly, acquire starting pitching. It is an absolute must. It may even be good to get two arms just for extra protection. Add in a bat or two that will provide some extra beef to this lineup, and the Giants should be looking at another appearance in the playoffs.
Spencer: There are better rosters out there with much higher odds of claiming the NL pennant than the San Francisco Giants. But I don't think that necessarily means tear the team down and start thinking about the next season.
I'm not going to come out here and compare this squad to the 2021 Atlanta Braves and say the Giants are in the World Series hunt. I think they can take notes from the Braves: add a few pieces to help strengthen their roster and see if this team can catch fire at the right time.
The Giants have proven they can not only beat but dominate good teams when they are hot. A great example is when they mowed through the Dodgers in LA earlier this season. They will never go down without a fight, currently tied for third in runs scored in the 7th inning or later. That tenacity reminds me a lot of the Giants that won 107 games in 2021.
It would be idiotic for any team to sell out and chase the greatest baseball player of all time, Shohei Ohtani, at the deadline just to try and outbid the rest of the league in the offseason. The Giants are without a doubt a top-three suitor for Ohtani and can attack him then.
Buying with control and maybe selling a veteran or two while playing with the value of Joey Bart would be my recommendation come July 31st. I trust in Farhan to do what is right for the club and do what needs to be done to keep this team in the playoff hunt while protecting the farm system.