Analysis
How the Giants Put Together MLB's Quietest 10-Game Win Streak
As part of MLB's best June record, the San Francisco Giants ran off a 10-game win streak that mostly went under the radar.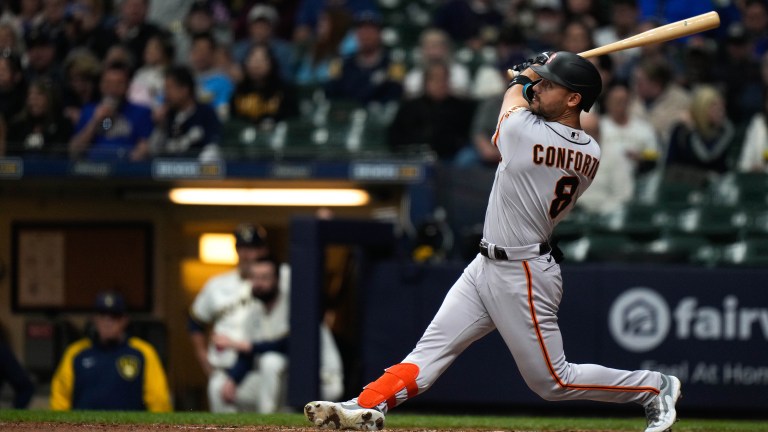 Entering June with a .500 record, there was perhaps no team stuck in the middle quite like the San Francisco Giants.
Lacking a true frontline star but full of solid MLB contributors, it looked like the Giants might be destined to sell off at the Trade Deadline after spending the offseason big game hunting.
But instead, San Francisco quietly moved its way up the standings, posting MLB's best record in June. Heading into play on June 30th, the team sits in a NL Wild Card spot and is just 2.5 games back of the Arizona Diamondbacks in the NL West.
How did they make up so much ground in such a short amount of time?
The Giants ripped off 10 straight wins — including three against the Los Angeles Dodgers. Unfortunately, their streak came at the same time as the Cincinnati Reds were busy capturing the hearts of baseball fans across the sport, leaving San Francisco's climb up the NL West standings largely unnoticed.
Why else did the team's streak slip under some radars?
Well, for one, no single player really carried the load for the Giants. Over their 10-game streak, Mike Yastrzemski accumulated the highest-fWAR of any position player on the roster, and Jakob Junis led all of their pitchers with 0.3.
For comparison, Shohei Ohtani's two-home run, 6.1-innings, 10-strikeout masterpiece generated 0.8 combined fWAR.
With all that said, let's dive in and see what helped San Francisco string together 10 straight victories.
Slugless Offensive Dominance
The Giants put up 80 total runs over the course of their win streak and beat their opponents by an average of 4.9 runs per game. And they didn't get there by leaning on the long ball.
In fact, San Francisco slugged worse than five other teams and posted just the 14th-best ISO in the majors over the 11 days they went undefeated.
Instead, they worked their way on base and strung together runs. The offense was at its best with runners in scoring position, hitting .405 and driving in 66 runs with 37 singles, four doubles and six home runs. It wasn't big innings and single-swing outbursts that fueled the Giants, who scored more than four runs in an inning just once during the streak.
They found success through a consistent onslaught of baserunners, putting pressure on opposing defenses every inning that helped them put runs on the board.
On the individual side of things, 12 different Giants that recorded more than 10 plate appearances post a wRC+ higher than 130, with Yastrzemski and Joc Pederson as the standouts. The two lefty hitters combined for seven home runs, 17 runs scored and 19 RBI.
Coming up Clutch
While San Francisco did win a fair share of blowouts during the streak, it also rose to the occasion during close games.
The Giants narrowly escaped defeat in a 4-3 win over the St. Louis Cardinals, scoring runs in the seventh and eighth inning on June 12, then two days later scored five runs over the ninth and 10th innings to win their second game of that series going into the seventh inning while trailing.
They would end up winning three extra innings games and earned five come-from-behind victories during the streak.
In offensive situations deemed "High Leverage" by FanGraphs, San Francisco hitters slashed .417/.490/.667 — good for a 1.156 OPS and 185 wRC+.
Clutch at-bats during the streak included Yastrzemski's two-out, two-run home run in the ninth to even the score against the Cardinals on June 14th, his walk-off, three-run splash homer against the San Diego Padres on the 19th and Pederson's walk-off walk the very next night.
Leaning on the 'pen
If it weren't for the Giants' bullpen, there wouldn't have been a winning streak.
| | | | | | | | |
| --- | --- | --- | --- | --- | --- | --- | --- |
| Giants Pitchers | IP | ERA | FIP | K% | BB% | HR/9 | fWAR |
| Starters | 35.2 | 4.04 | 4.17 | 22.9 | 7.0 | 1.26 | 0.4 |
| Relievers | 58.1 | 1.85 | 2.80 | 22.8 | 7.9 | 0.15 | 1.2 |
11 different players pitched in relief during the streak, and only one had an ERA north of 3.20.
Combining for 58.1 innings, San Francisco's bullpen earned seven wins and allowed just one home run and 19 walks while striking out 55.
Yes, the Giants have been using bullpen days twice each time through the rotation, resulting in more use of relievers than a regular squad might over the course of 10 games, but that just makes their performances all the more impressive.
Tristan Beck and Keaton Winn, in particular, deserve a lot of credit for their performance. Beck allowed one run over nine innings of work, including a four-out save against the Dodgers. Winn, meanwhile, threw nine innings himself over two appearances, allowing just two runs in what were his first two big-league outings.
Youth Movement
Speaking of players making their MLB debuts, the Giants' turnaround this month has coincided with an uptick in performance from some key rookies.
Along with Beck and Winn contributing to wins, David Villar, Patrick Bailey, Blake Sabol, Ryan Walker and Luis Matos all played major roles in the team's strong stretch of play.
Zooming in on Matos, Just Baseball's No. 45 prospect, the outfielder was called up on June 14 and wasn't part of a loss until his eighth career game.
During the streak, the 21-year-old reached base at a .448 clip, walking six times and striking out just once. He also swiped two bags and played a solid center field.
The group of rookies stepping up is a major development for a team with a middling farm system. If they can continue getting production from their young talent, they will be a threat not only in the NL Wild Card race but for the NL West crown.