Analysis
Will the Giants Be Buying or Selling at the Trade Deadline?
Will the San Francisco Giants be looking for upgrades at the MLB trade deadline or flipping their veterans in hopes of a brighter future?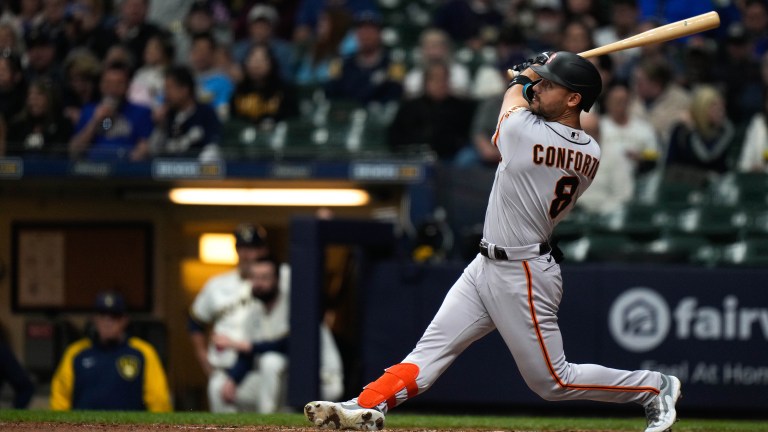 It's tough to navigate where the San Francisco Giants have stood on the scale of contending or rebuilding over the last six years. During that time, they have been at the bottom of the league, losing 98 games in 2017, and have held the best record in baseball, winning a franchise-high 107 games in 2021.
The Giants are currently second in the National League West with a 39-32 record, just three and a half games behind the surging Arizona Diamondbacks in first. Today, they hold the second Wild Card spot with a half-game lead over the L.A. Dodgers. With series sweeps over the Philadelphia Phillies and St. Louis Cardinals this season, the Giants have shown they are not a team to be walked all over any given day.
The Giants were staring a 90-loss season right in the face until prospects Casey Schmitt, Patrick Bailey, and Ryan Walker became big leaguers and helped the team to a 21-9 record since joining the clubhouse. With a handful of talented rookies on display, a question has emerged: Will the Giants be buyers at the upcoming trade deadline or remain sellers in hopes of a brighter future?
The Case for Selling
Despite hitting their stride these past four weeks, the Giants would be wise to sell at the deadline. With the Dodgers always in contention for the title, the Diamondbacks breathing down their neck, and a San Diego Padres team looking much stronger on paper just waiting to find its groove, the Giants hold a better hand in the future.
Selling does not mean rebuilding, and selling does not mean expecting a 90-loss season. With a strong core built around Logan Webb, Thairo Estrada, Casey Schmitt, and Patrick Bailey – all putting together phenomenal seasons – there's hope the Giants can compete for a Wild Card spot come September. Not to mention, Luis Matos made his big league debut in St. Louis on Wednesday, and top prospect Kyle Harrison is still awaiting his first big league moment.
This should give the Giants enough confidence to sell their high-performing veterans to other top contenders in return for players that can help them next season when they can make a legitimate push. Not only would the Giants make headway toward their future plans, but with a big bank account headed into the offseason and a season in the books for the rookies, this could be a totally different team next year.
With that being the case, here are some guys that Farhan Zaidi should be taking phone calls about before August 1:
J.D. Davis (3B/OF)
.288/.369/.488, 10 HR, 40 RBI, .857 OPS, 135 wRC+
Davis is having a career year, leading all NL third baseman in batting average and wRC+. The Giants acquired Davis from the Mets at last year's trade deadline in return for Darin Ruf, who was DFA'd in the offseason. A free agent this offseason and only making $4.2 million, Davis would fit extremely well into a lineup looking for a corner infielder with a great chance of hitting 20+ home runs this season.
Unfortunately, Davis suffered an ankle injury while sliding into third base in Tuesday's game against the Cardinals. He has appeared in the last two games as a pinch hitter/DH, and he hopes to be back on the field shortly.
Michael Conforto (OF)
.768 OPS, .339 OBP, 12 HR, 37 RBI, 111 wRC+
Seeing his first big league action since the end of the 2021 season, Conforto got off to a rocky start. However, from May 12 to June 16, Conforto slashed .337/.393/.589 with seven home runs in 26 games. In that span, he earned a 150 wRC+ and .920 OPS, which both ranked in the top seven amongst qualified NL outfielders.
Conforto's power would help a lot of clubs looking for offensive help, especially teams needing some pop in their lineup. This should catch the eye of teams like the Cleveland Guardians, who have hit a wall offensively and have a league-low 46 home runs as a club.
The 30-year-old is signed to a two-year, $36 million deal, but he can choose to opt out after the 2023 season.
Alex Cobb (SP)
78.2 IP, 3.09 ERA, 3.25 FIP, 76 K
Cobb has been terrific for the Giants, reaching the seventh inning or later in six appearances, including a complete game shutout against the Cardinals in late April. Not a huge strikeout guy, he relies on his defense to help him get outs, which allows him to keep his pitch count low and go deep into games.
At 35 years old, Cobb won't blow you away with high-velocity stuff but mainly succeeds off the movement from his sinker, splitter, curveball, and slider. He would be a great piece for a contending team looking for pitching depth, such as the Rangers after losing Jacob deGrom for the season or even the Astros, who have had injury problems with their rotation as well.
Update: The Giants have placed Alex Cobb on the injured list with an oblique strain, retroactive to June 15. The IL stint is said to be precautionary, and Cobb is optimistic he'll be back on the field soon.
The Case for Buying
Currently holding the second Wild Card spot in the NL, there's an argument this team can squeeze their way into October baseball. However, it wouldn't be a bad idea to grab some pitching help with Anthony DeSclafani struggling lately (6.31 ERA, 4.32 FIP over his last eight starts) and Sean Manaea having a difficult year (5.84 ERA, 4.41 FIP).
In addition, Alex Wood is fighting through injuries, having made just nine appearances (eight starts). With the bottom half of their rotation struggling, the Giants have been forced to battle through a multitude of bullpen games which have been successful but draining.
On the bright side, their bullpen has found a groove as of late, lowering their ERA to 3.77 and their WHIP to 1.22. Still, the Giants definitely need some starting pitching help to pair with Logan Webb and Alex Cobb's stellar seasons.
Shane Bieber (SP)
15 GS, 95 IP, 3.51 ERA, 1.22 WHIP, 6.3 BB%
If the Giants really wanted to contend now and roll the dice, they could target the big fish on the market, Shane Bieber, and sacrifice a top prospect like Marco Luciano. With Luciano continuing to run into injuries stalling his development, he could be an attractive project for a team like the Guardians. Pairing Webb with Bieber would elevate the Giants' rotation and help them make a serious playoff run.
However, with the Guardians still contending and facing struggles on the offensive side, it's likely the Giants will have to give up a big league-ready bat as opposed to a developing bat like Luciano. In this case, with a flooded outfield depth chart after calling up Matos, San Francisco could swap Conforto or Joc Pederson to offer the Guardians the power bat they so desperately need.
Then again, with Mitch Haniger fracturing his forearm and set to miss around ten weeks, the Giants might prefer to keep their outfield depth and swap Bieber for Wilmer Flores or even J.D. Davis.
Lucas Giolito (SP)
15 GS, 86.1 IP, 3.54 ERA, 1.24 WHIP, 89 K
With the Chicago White Sox putting together yet another dreadful season, Lucas Giolito is a hot name at the deadline. A solid candidate for San Francisco with a lower asking price than Bieber, Giolito might require only a few solid prospects in the Giants organization. Although Kyle Harrison is the only big-name Giants prospect yet to reach the majors, the club shouldn't have a problem dipping into their next tier of prospects.
Harrison is looking to make his debut later in the season, but there is no such thing as too much pitching depth for teams wanting to extra games in October. Giolito is not as pretty of a name as Bieber, but matching Giolito and Webb would still be a killer combo, especially in a pitchers' park like Oracle.