Analysis
Predicting the Contract, Top Landing Spots for Yoshinobu Yamamoto
Set to be one of the top starting pitchers in free agency, how much will Yoshinobu Yamamoto sign for and what team will ultimately land him?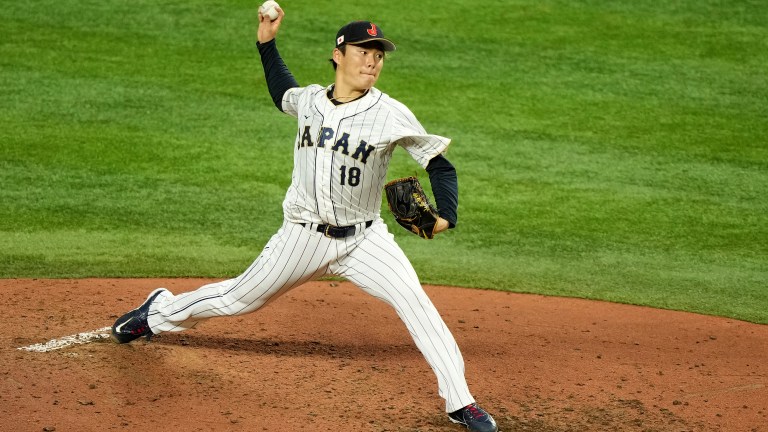 The last time there was a 25-year-old starting pitcher who was ready to come over from Japan, who presented bona fide ace potential, the New York Yankees gave him the largest contract ever to an international player.
This, of course, was when Masahiro Tanaka came stateside with much fanfare back in 2014.
Prior to becoming a free agent, Tanaka finished his age-24 season with a 1.27 ERA across 212 innings pitched. Tanaka got a seven-year, $155 million contract, as the Yankees hoped he would be an ace for them for years to come.
Tanaka was a sensation in his rookie season, but a diagnosed partial tear in his UCL ended his Rookie of the Year case early. Many thought Tanaka would end up getting Tommy John surgery, but he instead went on to be one of the more durable and effective starting pitchers in baseball after that.
Never pitching less than 150 innings, until 2020's shortened year, Tanaka was a constant presence atop the Yankees rotation across the life of that deal. While some years were better than others, Tanaka finished his MLB career with a 3.74 ERA over 1,054 1/3 innings pitched.
Now there is some noise about the potential for Tanaka to return to Major League Baseball, although that is a story for a different day. Now the focus is on Yoshinobu Yamamoto.
Like Tanaka before him, Yamamoto is set to become an MLB free agent at 25 years old, coming off a season where he pitched to a 1.21 ERA across 164 innings pitched.
Last week, Aram Leighton did a deep dive on Yamamoto, featuring analysis on his arsenal including videos of each offering in his four-pitch mix. What is clear from reading the article is that Yamamoto has as much ace potential as Tanaka once had, if not more.
Now he gets the opportunity to enter a free agent class that is a bit light on top tier pitching.
In a market headlined by Blake Snell, Aaron Nola and now with his playoff emergence, Jordan Montgomery, it is fair to call Yamamoto one of, if not the top free agent starting pitcher on the market. The only question is, how much will he get paid and by what team?
How Much Money Will He Make?
Drawing back to that contract that Masahiro Tanaka signed with the New York Yankees, we can get a baseline for at least how much Yoshinobu Yamamoto can expect to get in free agency.
Tanaka's deal was seven years long, worth $155 million. That breaks down to a little over $22 million per season. Yamamoto can expect to sign for at least seven years as well, but is sure to make more annually than Tanaka did. This is due to inflation on contracts, paired with a weak market around him that could result in a bidding war that will only drive up his price further.
Many have predicted that Yamamoto's contract will not only be nine figures, but will cross over and be for at least $200 million. An eight-year deal worth $25 million per season would get Yamamoto to exactly $200 million, but there is every chance he could make even more.
Last offseason, Carlos Rodon signed a six-year, $162 million deal, which included a $5 million signing bonus from the Yankees. That breaks down to $27 million per season on his base salary, with the bonus taking the AAV of the deal to a little over $27.8 million.
Like Rodon, Blake Snell is a left-handed starter who excels at racking up strikeouts. Coming off winning a Cy Young, Snell will likely ask for at least $28 million per season, if not pushing $30 million.
Yamamoto is five years younger than Snell, with inherently less injury risk based on what we have seen so far in Snell's career, as well as the age disparity. Teams may line up for Yamamoto's services even more so than Snell, making a price tag over $25 million a season a real possibility.
Prediction: Yamamoto signs is an eight-year deal, worth $218
My prediction for Yamamoto's salary stems from the great market he is about to enjoy, where I believe an eight-year contract is a real possibility.
From there, I settled on $218 million because I believe that a base salary of $26 million a year is reasonable. That brings us to $208 million. But then I am factoring in a $10 million signing bonus, which gets you to that final number of $218 million.
Yamamoto is represented by Wasserman, just like Kodai Senga who became a free agent last year. Senga received a $5 million signing bonus from the New York Mets on a five-year deal worth $75 million. His base salary is $14 million per season, with the bonus carrying his AAV to $15 million.
Senga's contract also included an opt-out after year three, which only vests if he pitches 400 innings between 2023 and 2025. Don't be surprised if Yamamoto's contract features a similar opt out after year three or year four, allowing him to hit free agency one more time before his 30s.
Top Landing Spots
It has been reported by the Athletic that Yoshinobu Yamamoto is looking to pitch in a big market and his primary focus in free agency is to find a team that will help him get acclimated to the MLB as quickly and seamlessly as possible.
Teams who have experience with international free agents, particularly those in big markets will have the edge in those negotiations it seems. Especially if they are willing to foot the bill.
New York Yankees
Let's begin with the same team who still owns the record for the largest contract ever given to an NPB star, the same one we discussed in the introduction of this piece.
A decade later, the Yankees could top their record from Masahiro Tanaka by signing Yoshinobu Yamamoto. The Yankees already have a roster full of high-priced stars, with Aaron Judge and Gerrit Cole each having been the top free agents in their respective classes that were signed by New York.
Last offseason, it was Judge who got the bag, as did Carlos Rodon, who received $162 million from the Yankees to be Cole's No. 2. Unfortunately for the Yankees, Rodon endured arguably the worst season of his career, where he again dealt with injury issues and struggled when on the mound.
Paying Rodon, Cole and Yamamoto is a steep ask, but one the Yankees may be forced to employ if they are going to turn things around in short order.
Signing Shohei Ohtani this offseason does not make sense for the Yankees, because they are stuck with Giancarlo Stanton entrenched at the DH spot for the foreseeable future. If they are going to spend big in this free agent class, Yamamoto is the most ideal fit, outside of maybe Cody Bellinger.
With Cole set to potentially exercise his opt-out clause after next season, signing Yamamoto would prove to be a great insurance policy if he were to walk in free agency. In 2024, if Rodon could return to prior form, a trio of Cole, Yamamoto and Rodon could be a lethal (albeit expensive) rotation.
New York Mets
Yamamoto reportedly wants to pitch in a big market, so let's just stay in the biggest one.
There has been many reports indicating that the Mets are interested in signing Yamamoto to frontline their rotation next season. This comes of course after the Mets dealt their pair of high-priced aces at the deadline in Justin Verlander and Max Scherzer.
Now without that aging duo, the Mets rotation is headlined by Kodai Senga, a fellow Japanese star who was the top international arm a winter ago. The Mets were able to convince Senga to sign, inking him to a rather team-friendly five-year, $75 million deal.
Yamamoto won't come as cheap, but he could follow Senga's footsteps in terms of choosing a destination.
Senga has been advocating for the Mets to go after Yamamoto and has even made those intentions known in Japan. Both being represented by Wasserman, the connection between Senga and Yamamoto could give the Mets an edge.
Yamamoto wants a smooth transition to the big leagues and watching Senga's first year with the Mets should prove as a test case for what they are able to do in that regard.
Senga is likely to finish up as the runner-up in both the Rookie of the Year and the Cy Young races, after a sensational rookie campaign that saw him pitch to a 2.98 ERA with 202 strikeouts in 166 1/3 innings pitched. With no other frontline starters outside of Senga on the horizon, the Mets need Yamamoto and will pay top dollar to try to sign him.
Chicago Cubs
The Chicago Cubs fit the billing as a big market ballclub, and one that has also had some recent success shopping in the international market, having signed Seiya Suzuki a few offseasons ago.
With Marcus Stroman and Kyle Hendricks both expected to hit free agency, the Cubs could use some rotation help and particularly a frontline arm to pair with Justin Steele.
Whether it is Yamamoto, Blake Snell, Aaron Nola, Jordan Montgomery, or even Sonny Gray, expect the Cubs to do whatever it takes to add a starter to their rotation this offseason as they look to build upon what was a strong season in 2023, but one that ended with them again missing the playoffs.
Los Angeles Dodgers
When is the last time the Los Angeles Dodgers have had this many questions in their rotation?
Julio Urias was always expected to hit free agency, but not under the circumstances he has now. With another domestic violence case against him, we still don't even know how MLB is going to punish Urias, or if we will ever see him again on a big league mound.
With Urias gone, the Dodgers are already down one arm and could be done another depending on what Clayton Kershaw decides to do this offseason. It is yet another year where we are left to wonder if Kershaw will retire, sign elsewhere, or just quietly negotiate yet another one-year deal to remain with the Dodgers.
Even if Kershaw returns, the Dodgers are left with Walker Buehler as their only other veteran who can headline a rotation and Buehler still needs to prove himself again coming off Tommy John. Speaking of TJ, both Dustin May and Tony Gonsolin each had to go under the knife this season.
The Dodgers have a ton of pitching in the pipeline, a lot of which we saw glimpses of in 2023.
Bobby Miller is the only one from a group that included Emmet Sheehan, Gavin Stone and Ryan Pepiot who has his name penciled into the rotation for sure next year. The Dodgers have a lot of depth, with even more arms waiting in the wings in their farm system.
With that said, they don't have any frontline depth and that is where Yamamoto comes into play.
The Dodgers are a top Shohei Ohtani destination, as he likely remains their top priority this offseason. Come 2025, Ohtani could help the rotation too. Signing Yamamoto would help push them over the top for next season and could eventually give them a 1-2 punch atop their rotation for years to come.
San Francisco Giants
The Giants have shown over the last few offseasons that they have money to spend, but they have been unable to find the right target to do so. Enter Yoshinobu Yamamoto.
Giants head of baseball operations Farhan Zaidi has spoken very highly of Yamamoto and will likely submit an aggressive offer to get squarely in the mix.
While San Francisco is not necessarily a big market, they could sell Yamamoto on their past success with pitchers and how they would be the team that could best ease the transition to the big leagues for Yamamoto.
Other Teams to Watch
The Philadelphia Phillies could be in the mix if they let Aaron Nola walk in free agency and want to replace him with a younger arm. The Boston Red Sox can never be counted out in the international market and the Texas Rangers can sell themselves as reigning champs who may want yet another frontline arm to keep this train rolling through next season.
There really should be no shortage of teams that kick the tires on Yamamoto as he is just 25 years old, with the potential to be really great for the entire length of the seven-or-eight year deal he is about to command.