Analysis
Kodai Senga Is Set To Finish Runner-up in Two Awards
Kodai Senga might not bring home any hardware this season, but he is sure to get plenty of votes for both the Cy Young and Rookie of the Year.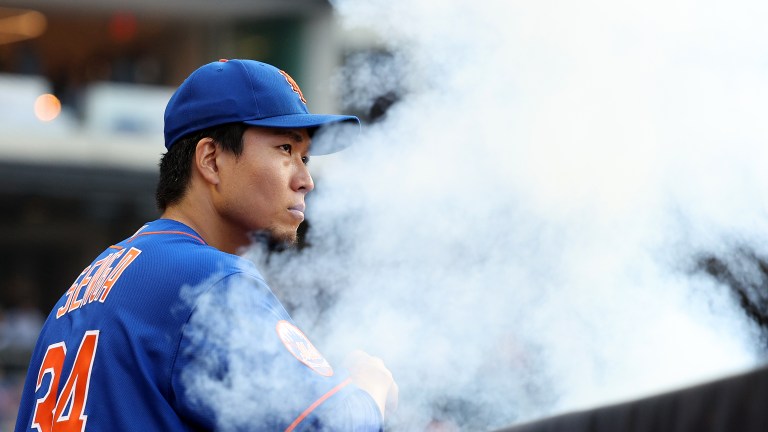 Last night, Kodai Senga made the final start of his rookie season for the New York Mets in a game against the Miami Marlins. Senga struck out eight batters in five innings of work, allowing two runs on a pair of solo homers.
In doing so, Senga completed what has been a fantastic first season stateside.
Senga entered the start with 194 strikeouts, and now finishes having eclipsed the 200 strikeout-mark, becoming the second pitcher in franchise history to rack up over 200 Ks in their rookie season. Also by allowing just two runs, Senga was able to keep his ERA under 3.00, with his final 2.98 mark.
Not a lot has gone right for the Mets this season, but Senga has been one of the isolated glimmers of hope that promises more success in the future. Signed to a five-year, $75 million deal in the offseason, Senga has proven to be one of the best signings in Major League Baseball this year.
On a team that once featured Max Scherzer and Justin Verlander, it is Senga who pitched like an ace all season and now figures to get great consideration for both the Cy Young and the Rookie of the Year Awards.
NL Cy Young Runner-up
There is no doubt who will win the NL Cy Young this season. Blake Snell is pacing the entire league with his 2.25 ERA, while racking up the second-most strikeouts to Spencer Strider with 234. Senga's numbers pale in comparison to Snell, but that does not mean he won't receive votes.
Looking at qualified National League starters, Kodai Senga is the only one outside of Snell who has an ERA under 3.00. His 10.93 strikeout-per-nine rate is the fourth-best in the league, and his 0.92 HR/9 is fifth-best. Senga is also one of three pitchers, along with Snell and oddly enough Josiah Gray, who have kept their Left on Base Percentage over 80% this year.
When looking at fWAR, there is an argument to be made for workhorses like Zack Wheeler, Spencer Strider, Zac Gallen and Logan Webb, who all rank among the top five in fWAR. Still, all of those pitchers have an ERA well over 3.00, making them less likely to receive votes.
Really when it comes to the Cy Young, it is Blake Snell coming in first and either Senga or Justin Steele who should finish as the runner-up.
Steele has the better narrative to receive second-place votes, in that he has been vital to the Cubs down the stretch in their push for the playoffs. For a moment, Steele even pitched himself into the conversation with Snell, but a few rough starts lately have pushed his ERA over 3.00 and knocked him out of consideration.
Regardless of who places where, the point remains that Senga was brilliant this season.
Making the adjustment to Major League competition is not easy, but Senga handled it with relative ease. In his first month, Senga did pitch to an ERA over 4.00, but settled in to pitch to a 2.76 ERA from May on in his final 24 starts.
Known for his patented "ghost fork", Senga brought one of the best strikeout weapons to the game this year. Senga's variation of a forkball generated whiffs at a remarkable 59.5% this season.
Among pitches that were used in a minimum of 150 plate appearances this year, Senga's ghost fork's Whiff% of 59.5 led all of baseball, with Snell's curveball coming in second (56.3%). Snell's curveball had a better strikeouts percentage of 62.3%, but Senga's ghost fork came in second at 58.5%.
When looking at the run value leaderboards, Senga's total run value of 28 ranked him in the 99th percentile among MLB pitchers. His best pitch based on run value was actually his cutter, which generated a run value of 16. That combined with his ghost fork (11 run value), and his four-seam fastball (4 RV) gave Senga a truly devastating arsenal.
As the year wore on, Senga learned sequencing better against MLB competition, allowing himself to pitch deeper in games and waste less pitches. Early in the year, it seemed like Senga was just trying to get to two strikes so that he could use his ghost fork to rack up strikeouts. Hitters quickly caught on and would just spit on pitches when they got to two strikes knowing it would be ghost forks outside the zone.
By the end of the year, he was using his entire arsenal in any count. If you were sitting on the ghost fork in a two-strike count, he'd surprise you by blowing a fastball by you. If you were trying to swing at a fastball early, he'd have you swinging through a ghost fork.
He even started to through his ghost fork in the zone for strikes more often too. Ultimately the strategy proved to be sound, because batters only managed to hit .110 against the pitch, with a .147 slugging percentage.
With stuff as good as Senga's and now a year of MLB experience under his belt, there is no reason to think that Senga can't find himself in the Cy Young conversation again next year.
NL Rookie of the Year Runner-up
On an episode of the Just Baseball Show this year, Walker Buehler made the case for Major League Baseball to create a Rookie of the Year award for pitchers. Kodai Senga is the perfect example for why an award like that is justified.
To be able to pitch as well as Senga did in his inaugural campaign that he would be a legitimate Cy Young candidate is something that is worth the recognition of an award. The Rookie of the Year is there to honor such a player, who has performed at the top of the sport despite being a relative novice to MLB competition.
Well unfortunately for Senga, there is just one award, and that factors in both hitters and pitchers.
While Senga was certainly the best rookie pitcher, his overall impact cannot be measured against the runaway favorite to win NL Rookie of the Year, Corbin Carroll.
Leading the Arizona Diamondbacks to likely their first playoff berth in years, Carroll has been one of the 10 best players in baseball this season. The 23-year-old has hit 25 home runs and has stolen 51 bases, all while raking up an fWAR of 5.7. For context, Senga's fWAR is 3.4.
Looking at the other rookies outside of Carroll though, Senga's name really should top the list. James Outman has had a strong rookie season for the Dodgers and will likely receive some votes. Matt McLain probably would have if not for getting injured down the stretch for the Reds.
Ultimately there is every chance that Senga is not once but twice a runner-up. He is in line to finish in second place for both the Cy Young and Rookie of the Year. At least he did represent the Mets in the All-Star game and moving forward, and has established himself as an ace for years to come.