Analysis
How Good is Yoshinobu Yamamoto? A Dive Into His Arsenal
An inside look at the arsenal of arguably the best arm on the open market this offseason.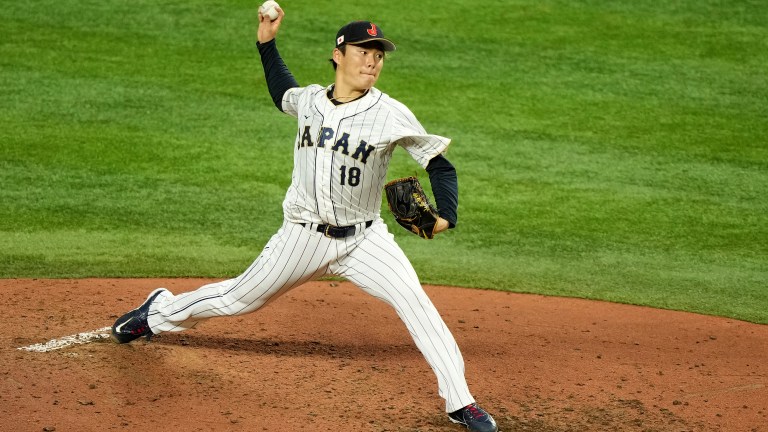 One of the most prized international free agents in some time, Yoshinobu Yamamoto comes with as impressive of a track record as a 25-year-old pitcher could offer. The right-hander set the bar high for himself as a teenager with Nippon Professional Baseball's Orix Buffaloes, pitching to a 2.35 ERA in 57 1/3 innings at just 18 years old in 2017.
Six years later, Yamamoto has not stopped improving, owning a 1.72 ERA and 0.92 WHIP in just under 1,000 innings pitched. He has already made five All-Star teams, tossed two no-hitters, won three Japanese Triple Crowns, three Sawamura Awards (NPB's Cy Young), and two MVPs.
While the awards and track record is fantastic, it's Yamamoto's stuff and overall feel to pitch that has MLB teams ready to shell out nine figures for the Japanese star. Let's dive into Yamamoto's arsenal and why his stuff can translate to Major League Baseball.
Four Seam Fastball: 93-95 MPH
Every pitcher is trying to get as far away from the generic fastball as possible, and there are several ways to do that. Qualities like release height, induced vertical break, vertical attack angle, extension, and of course velocity can all play a key part in deviating from the status quo.
A big reason why Yamamoto should be able to make a smooth transition to the big leagues is that his fastball is easily a plus pitch. It sits near the mid 90s, occasionally touching the upper 90s, but it's the release height and shape that make it so dominant.
Yamamoto's average four seam release height is around 5.4-5.5 feet. For context, around 80% of MLB four seam fastballs are released from a higher spot. The low release point, paired with the more than 17 inches of induced vertical break on the pitch, help him rack up a lot of whiffs in the zone.
The right-hander went to his fastball around 45% of the time in his 2023 campaign, holding opponents to a batting average hardly over the Mendoza Line and an OPS around .500. His delivery is smooth with impressive arm speed, helping him maintain velocity deep into starts despite a moderate build.
There's some natural arm side run to Yamamoto's fastball, and he uses it to his advantage with pitches that look like they'll miss inside to lefties but run back over the inside part of the plate or start middle-in to righties and tie them up on the hands.
Splitter: 89-91 MPH
Like so many great Japanese pitchers, Yamamoto's arsenal features a devastating splitter that just falls off of the table. No full-time starting pitcher in Major League Baseball threw a splitter with a higher average velocity, maintaining the appearance of a fastball before falling out of the air to the arm side while throwing it nearly 30% of the time.
The most similar comparison to Yamamoto's splitter profile is Alex Cobb's, which also sits in the 89-91 MPH range with right around 12-13 inches of horizontal movement and minimal vertical movement at 1,500 RPM. The depth of the pitch can be devastating, holding opponents to just a .170 batting average in 2023 with a chase rate around 50% and swinging strike rate of 24%.
In addition to it being a big whiff offering, Yamamoto fills up the zone with his splitter, landing it for a strike more than 70% of the time and is willing to throw it in any count. The only time hitters can do much with the pitch is when it flattens out and he misses upstairs.
Between the high velocity and late movement, hitters struggle to square up the pitch even when he leaves it elevated. Yamamoto allowed just a few extra base hits on the pitch his entire 2023 season while yielding a ground ball rate of 76%.
Curveball: 76-78 MPH
Yamamoto's curveball could be his third plus offering, sitting in the upper 70s with plenty of depth. Despite the big break and lower velocity, it is extremely sharp with late bite at 2800-2900 RPM.
It's fairly common for pitchers who get as much vertical and horizontal break on their curveball to struggle to consistently land it for a strike, but Yamamoto racked up a 70% strike rate with the pitch in 2023. His confidence in the offering makes it a great weapon to steal strikes early in counts against hitters from both sides.
He mixes in the offering evenly to lefties and righties (15% usage), holding opponents to low .200s batting average and OPS a hair above .500, but it is a better put-away pitch to righties. Another ground ball inducer for opponents who are able to make contact, Yamamoto picked up a ground ball rate of 61% on the pitch.
Cutter: 91-93 MPH
More of a weak-contact generator than a strikeout pitch, his cutter sits in the low 90s with just enough movement to avoid barrels. He utilizes it more against right-handed hitters, pounding away to get them leaning over the plate to set up his fastball or splitter running in on them. Check out this two pitch sequence below.
While the pitch is more effective to right-handed hitters, he will use it to try to tie up lefties and pick up weak contact on the hands. Yamamoto mixed it in around 10% of the time in 2023, but rarely throws it with two strikes. It's easily an above average offering and a fantastic fourth pitch.
Sweeper: 84-86 MPH
I debated whether to include this pitch in the breakdown considering he only throws a couple sweepers per game, but I wouldn't be surprised to see him use it more stateside. It has the potential to be a devastating pitch, with a true sweeper shape at 12-14 inches of horizontal movement and little vertical break.
The shape and velocity of the pitch is very similar to that of talented young right-handers Tanner Bibee and Drey Jameson, both of which threw the pitch predominantly to right-handed hitters. One of the most unique differences between MLB and NPB is the number of left-handed hitters that make up each league.
A little over a third of MLB hitters swing from the left side while it is almost the complete opposite in the NPB. With sweepers generally being a far more effective pitch to righties than lefties, there simply was not as much need for it during Yamamoto's NPB career.
Likely seeing twice as many right-handed hitters in the Major Leagues could result in Yamamoto upping his usage of a pitch that looks like it has the potential to be above average or better.
Outlook
While some fuss will likely be made about Yamamoto's 5-foot-10, 176 pound frame, it isn't of much concern to me. His delivery is low-effort, smooth and repeatable, holding his velocity deep into individual starts and through the latter parts of the season.
Mets RHP Kodai Senga is an understandable reference point for what we can expect from Yamamoto, with a somewhat similar pitch mix and a track record of dominance in the NPB. Senga's "Ghost Fork" may have an edge over any of Yamamoto's offerings, but the 25-year-old boasts better command, an even more impressive track record and arguably a better overall arsenal.
Considering the fact that Senga, 30, commanded a five year, $75 million deal ahead of the 2023 season, it seems like nine-figures should be the starting point for Yamamoto in what is a weak free agent class.
Whoever signs the Japanese phenom has a chance to find their ace of the foreseeable future, or at least a high end No. 3 type. It's impossible to be certain about anything in this sport, but from what we've seen so far, it seems more likely that Yamamoto can be closer to the former.
For more info and updates on international free agents and top prospects, be sure to subscribe to The Call Up Podcast.