Analysis
Is the Pirates' Hot Start Sustainable?
The Pittsburgh Pirates are playing terrific baseball so far this season. Is there any chance they can keep it up?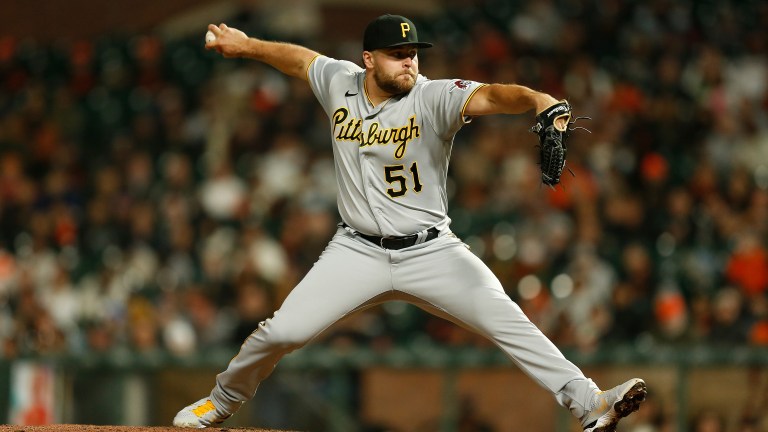 Entering the season, the National League Central was pegged as one of, if not the worst division in all of Major League Baseball. St Louis came in as the clear favorite, with Milwaukee in second and Chicago in third. Once again, the Pirates were projected to finish at or near the bottom, a theme in recent years.
Fast forward to today, April 26th, and the Pirates are in first place at 16-7 on the heels of a seven-game winning streak. The vibes could not be any better. Andrew McCutchen is back, the team is on a winning streak, Drew Maggi got the call at 33 years old, and Bryan Reynolds finally signed a long-term extension. Pittsburgh is experiencing the kind of excitement and winning baseball that fans have not experienced in several years.
So, How Did the Pirates Get Here?
Let's go back to the offseason when Pittsburgh made a few under-the-radar moves by adding Carlos Santana, Connor Joe, Austin Hedges, Ji Man Choi, and of course Andrew McCutchen. While none of these moves were major needle movers, they did collectively make a difference. In particular, the front office valued a veteran catcher to help guide a young pitching staff and added Hedges, one of the more respected veterans in the game.
Instead of filling a roster, once again, with all prospects to see who pans out, the Pirates surrounded their young players with quality, starter-caliber veterans. So far, the offseason additions to the lineup are paying off.
You have to go back further than this winter to really see how smart the Pirates have been. The rebuild, which lasted the better part of this decade, involved some key trades that formed the nucleus for this team now and into the future. As highlighted in a recent piece on MLB Trade Rumors, the Pirates have acquired the following players since 2017: Oneil Cruz, Bryan Reynolds, Kyle Crick, David Bednar, Endy Rodriguez, Roansy Contreras, Jack Suwinski, Tucupita Marcano, Colin Holderman, Johan Ovideo, and Chris Stratton, to name a few. That's impressive and underrated work by the front office.
The Offense
Pittsburgh is not winning with a bunch of stars and high-priced contracts. Most of their lineup would not make it on your fantasy team. In fact, Bryan Reynolds is the only active player owned in more than 30% of fantasy leagues. Each player has contributed by playing their role and doing enough to help the team win. When Oneil Cruz went down with an injury early in the season, others stepped up.
Rodolfo Castro stepped into the starting role at shortstop and has slashed .289/.407/.467 since taking over. Andrew McCutchen has found new life since returning to Pittsburgh, providing the offense with some power while sprinkling in a few stolen bases. Jack Suwinski is looking like a breakout candidate, and Bryan Reynolds is showing why he is worth every penny in his extension.
No one will confuse this offense with the '27 Yankees, but they have been sneaky good and doing enough to win. Here's how they rank as of April 25th:
| | |
| --- | --- |
| Category | MLB Rank |
| Runs | 12th |
| Home Runs | 11th |
| Stolen Bases | 2nd |
| Average | 12th |
| On Base | 11th |
| OPS | 8th |
For a team that lost their most electric player, that's not too bad. It's been good enough to compete in the NL Central.
Will this pace continue? Most likely not. Some players will eventually start to come back down to earth. Pittsburgh would really need Ke'Bryan Hayes to get back closer to his rookie-year form in order to take this offense to a more sustainable level. I like the player, but I am not sold on his having enough power to be a real impact bat.
The Pirates are doing the little things in order to scratch across runs, and it's been fun to watch. Let's just dream for a minute. If they are in a position to actually trade for a bat around the deadline, they have plenty of prospects to match most other teams' offers.
The Pitching
Starting pitching was the biggest question mark for this team entering the season. Another winter of Mitch Keller pitching lab videos resulted in more breakout talk, while Rich Hill and Vince Velasquez were the only reinforcements brought in. Roansy Contreras was expected to take a big step in year two, but this rotation still lacked much upside.
Enter Johan Oviedo. Acquired from St. Louis in the José Quintana trade, Oviedo entered the season as an unknown name to many causal fans. Through five starts, he's posted a 3.03 ERA, 1.21 WHIP with 29 strikeouts in 29.2 innings. He's walking fewer batters and producing more groundballs than in years past. It's been a while since the Pirates found a diamond in the rough pitcher, and Oviedo is on track to be just that.
Contreras has yet to take that step forward that everyone was hoping for, and I think it's important to remember that it is April. He's only pitched 21.1 innings, and there's time for him to turn it around. I trust the stuff; now, it is about learning how to use it effectively.
All things considered, this rotation is not playoff caliber, although a couple of intriguing arms are racing through the minors and could be up with the big club sooner than later.
As for the bullpen, you just need to get to Bednar. Easier said than done. David Bednar has been lights out ever since establishing himself as the Pirates closer. Few closers in the game have been as effective in the past year plus. However, the other bullpen options have been mostly hit or miss.
Can They Sustain Success?
A solid lineup, underwhelming rotation, and mediocre bullpen does not describe a lot of first place teams. Without a few changes to the roster, I do not see the Pirates sustaining this early-season success. I love the direction the team is going, but they are still a few pieces away.
Pittsburgh has been a fun team to watch, and for the first time in years, fans have something to be excited about. Locking up a franchise cornerstone during a winning streak put smiles on everyone's faces. An organization constantly flooded with ridicule and criticism is finally experiencing success. Not only is this good for Pittsburgh, it's good for baseball.