Analysis
How Can the Phillies Stay in the Hunt Without Bryce Harper?
The reigning MVP is likely to be out for at least six weeks. Can the Phillies stay afloat without their best player?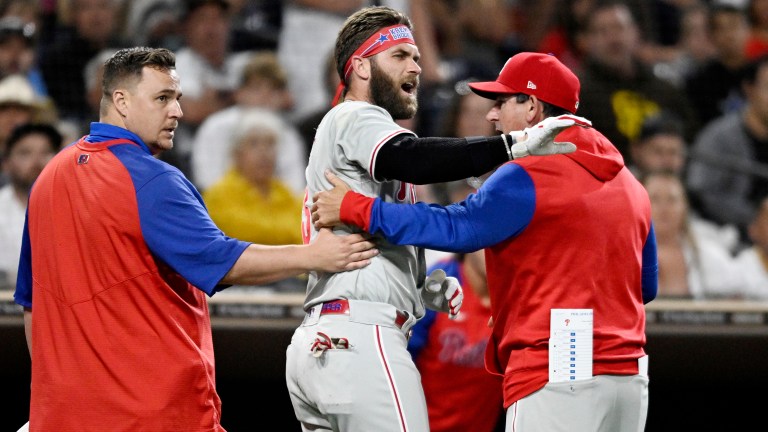 Bryce Harper has been leading the Philadelphia Phillies back into the heart of the NL playoff race. Even though he's been playing with a torn UCL, Harper was putting together one of the best seasons of his career before being hit by a pitch on Saturday against the San Diego Padres.
The 97 MPH fastball from Blake Snell broke Harper's thumb, forcing him onto the 10-day IL without a timetable for return. However, per Todd Zolecki of MLB.com, the reigning NL MVP met with specialists on Monday to determine the severity of the fracture.
Jim Salisbury of NBCS reported Tuesday morning that Harper will undergo surgery on his thumb and there is optimism that he will return in six weeks. While they wait for a clearer timeline the Phillies are in limbo for the time being.
Harper has been the 16th-best player in baseball by fWAR (2.7) and the seventh-best hitter by wRC+ (166). He has done all this while playing with a torn UCL — which was diagnosed on May 13 — forcing him to Philidelphia's DH spot.
As much as some would like to credit the managerial change, the real reason we have seen the Phillies take off as of late is because of Harper. He is slashing .318/.385/.599 with 15 home runs so far in 2022, but had really come on in the month of June. He posted a 200 wRC+ while slashing .359/.455/.651 with five home runs since June 3. The Phillies are 18-6 this month.
His success this season has been led by an increase in the quality of contact he's making. Harper is hitting the ball at a career-best clip, posting a HardHit rate of 52.1%, an average exit velocity of 92.8 mph and an xwOBA of .530.
Now the Phillies will have to make due until August without their best bat in the lineup. What can they do to stay in the hunt until Harper's return?
Internal Options
With Bryce Harper holding down the DH spot, the Phillies have been forced to put both Kyle Schwarber and Nick Castellanos in corner outfield spots to keep their bats in the lineup.
So far, Schwarber has been the Phillies second-best hitter, while Castellanos has struggled to get his feet under him at the plate. With the DH role opening up now, you can expect these two to get regular time at the position while the Phillies rotate better defenders but worse hitters through the outfield.
Currently, Mickey Moniak and Matt Vierling are getting the first crack at taking a spot in the outfield. Though both are putting up below-average offensive seasons – through 101 PAs for Vierling and 29 for Moniak — both are upgrades over Schwarber and Castellanos in the outfield, neither is a top-tier defender, something the Phillies may choose to prioritize in potential trades.
The Phillies claimed Oscar Mercado off waivers on Monday, giving them another outfielder to throw in the mix and see if he sticks. Mercado offers another below-average bat, with above-average speed and the potential to be a solid defender across all three outfield spots. But in 2022 he has been a below-average fielder and has not inspired much confidence at the plate the way he's been hitting the ball.
Trade Options
If the Phillies do decide to enter the trade market, there are a number of players they can potentially target.
If Harper is to return in 2022, it will likely be in the DH spot once again, so the Phillies would need to find a player that can play centerfield so that Schwarber and Castellanos can return to the corners.
The Phillies don't have a strong farm system which could limit the quality of player they may be able to receive. I would suggest that Philadelphia pursues a defensive outfielder that offers more upside at the plate than Mercado/Vierling/Moniak.
One such player could be Ramón Laureano from the Oakland Athletics. Since returning from suspension in 2022, Laureano has been above-average offensively, posting a 104 wRC+ through 175 PAs. Laureano is also historically a good defender and ranks in the 65th percentile of players in outs above average.
Another potential target for the Phillies could be Kevin Kiermaier from Tampa Bay. Kiermaier has long been regarded as one of the top defensive outfielders in all of baseball.
He is currently on the 10-day IL and may be tough to pry away from the Rays, who may not be ready to give the keys to Josh Lowe after a tough start to his Major League career.
But Kiermaier would give the Phillies a huge defensive upgrade in center and an around-league-average bat — he has a 90 wRC+.
Andrew Benintendi is another name that has popped up across the league. The Royals left fielder hasn't played center since 2019, but his experience makes him a player that could shift over rather easily.
He may be the best offensive option of the bunch. He's slashing .299/.367/.388 with 119 wRC+ in 2022 and has the lowest strikeout rate of his career. Benintendi could also benefit greatly going from playing in Kansas City where Kaufmann Stadium is one of the more difficult ballparks to hit in to Philadelphia, where Citizen's Bank Park is a hitter's haven.
Benintendi could provide the best two-way option for the Phillies if they do decide to go down the route of making a trade.
All stats courtesy FanGraphs and from before play on June 28th