Analysis
What Has Kyle Schwarber Brought to the 2022 Philadelphia Phillies?
In his first year with the Phillies, Kyle Schwarber led the National League in home runs, helping end an 11-year playoff drought in Philly.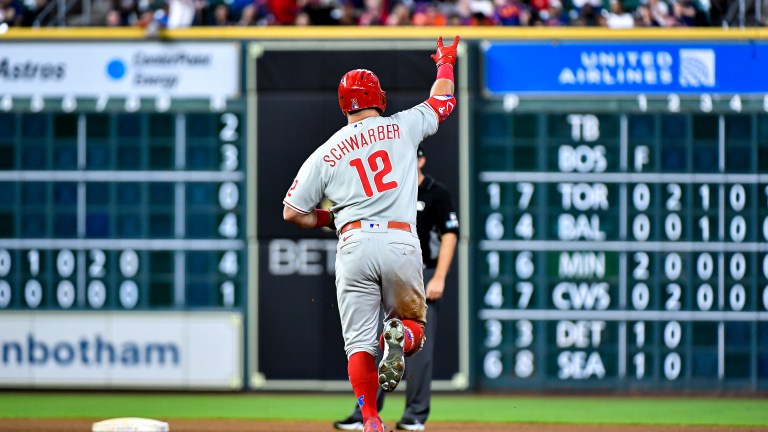 The Philadelphia Phillies have just clinched a Wild Card spot in the National League. This ends a 11-season playoff drought, with the team's last playoff appearance coming in 2011. The Philadelphia front office made a plethora of moves coming into the 2022 season. Some have panned out, and others not as much.
Slugger Kyle Schwarber was one of the individuals brought into the Philly clubhouse this season. Schwarber enjoyed an excellent 2021 with both the Nationals and Red Sox, helping Boston reach the ALCS last campaign. Slugging 32 home runs and accumulating a 145 wRC+ during his 113 games last season, he was in line for a big money move.
The Phillies signed Schwarber to a four-year, $79 million contract following this year's lockout. With the National League implementing the DH coming into this year, it was a no-brainer that the outfielder would slot directly into the role. This is adding to a lineup which already boasts the likes of Bryce Harper, J.T. Realmuto, and Rhys Hoskins.
An unforeseen arm injury to Bryce Harper severely limited his ability to play the outfield. Between Schwarber and another offseason acquisition in Nick Castellanos, Schwarber is the better defender. Unfortunately, that doesn't say a bunch about the slugger's ability to play the field, as he has been seen as a below average defender for the majority of his career. Despite his immense power at the plate, his poor defense has led him to producing just 2.7 fWAR this season. Let's take a dive into Schwarber's 2022, and see what he has produced for this now Philadelphia playoff team.
Even MORE power
Kyle Schwarber had an immense power season in 2021, mashing 32 home runs and posting an incredible .288 isolated power. He went on a historic run during the month of June last season, mashing an incredible 16 home runs and driving in 30 runs during the month.
Providing at such an elite rate for a Nationals team that was in the dumps, the left fielder was dealt to Boston at the deadline to help push that squad towards a title. He was incredible for the Sox and had some key playoff performances on their way to the ALCS. Schwarber was an elite power bat that could find his way into any lineup with his incredible bat. With the NL adding the DH, any scenario seemed perfect.
Philadelphia was an ideal landing spot. The team opted for bats over defense, very evident in both the signings of Schwarber and teammate Nick Castellanos. The outfielder slotted in between left field and DH, swapping spots with Castellanos on any given day.
While 32 homers was impressive in the previous season, how about increasing that number to 46?
Schwarber has increased his output even more during the 2022 season with his incredible home run total. Many folks are talking about Aaron Judge and his heroics with the longball, but what about this guy? If Judge wasn't doing what he's doing right now, Schwarber would be in the news a lot more often.
To pair with his huge home run total, Schwarber has driven in 94 runs, scored 100, and has accumulated an ISO of .287, just a tick down from the previous season. Mind you, this is all in a 154-game sample size. He only participated in 113 contests last season. His 129 wRC+ is the highest among qualified hitters on the Phillies, and his .506 slugging percentage is the 14th-highest in the entire sport. In a new uniform, Schwarber has continued to mash home runs at a league-leading rate.
A Different Approach at the Plate?
The outfielder's crazy home run output is sensational, but there are other factors at play here as to why this has been possible. Kyle Schwarber has seen a tremendous difference with his approach at the plate. Hitting for less average, seeing less walks, and striking out more often has led to this kind of performance.
Hitting for a .266 average in 2021 was impressive. Schwarber got on base at a .374 clip in 2021 while walking 13.6% of the time, the second-highest mark in his career. He struck out 27% of the time, which may seem like an aggressive number, but was the lowest rate of his career. The outfielder was placed in the 89th percentile among all players in chase rate, an elite group. Despite these numbers, the player was located in the 25th percentile among the league in whiff rate, and the 16th percentile in K rate. It's easy to gloss over those statistics when we're looking at big picture with the staggering OBP.
Flash forward to 2022. The OBP has suddenly dipped down to just .324, with Schwarber hitting for a .219 batting average. The walks have decreased, now at 12.9%, along with the strikeouts, which have jumped up to 29.8%, the highest of his career over a full season. The whiff rate has also decreased to the 21st percentile along with the K rate, as he now sits in the 8th percentile among all big-league hitters. Schwarber's BABIP also saw a tremendous decrease from year-to-year, down to .241 from .306 the previous year.
Kyle Schwarber has clearly sold out for power in 2022. With the average exit velocity, barrel rate, max exit velocity, hard hit percentage, and expected slugging all located in the 95th percentile or above, there's no wonder why he's been shooting rockets from home plate. The severe decrease in batting average has played into his OBP drastically. It's interesting to see a player with 46 homers only put up a 128 wRC+, but here's your reasoning why.
Struggling Defensively
Schwarber's September has been monumental towards the Phillies playoff push. In his last nine games, the outfielder has hit .367 with six homers and nine RBI's, good for a massive 1.063 OPS. He has been a key contributor, if not THE contributor for Philadelphia over this stretch. Over this span, he's added .9 fWAR towards his season total. The total number? 2.7.
Just last week, Schwarber had only accumulated an fWAR total of 1.8 over the full season. The likes of Alec Bohm, Jean Segura, Rhys Hoskins, and Bryce Harper on a half season's worth of work, all were better. 40-plus homers and below a 2 fWAR is absurd. How did this happen? We've hinted at it earlier and it seems to be very obvious. This has been Kyle Schwarber's worst year defensively, and I'm not sure it's particularly close.
With Bryce going down early after the arm injury, Schwarber was forced to play the outfield more than anyone had expected. The outfielder has logged over 1100 innings in left field this season, and it hasn't been pretty. His 1164 innings on the grass are the highest of his career by eight innings. And this 2022 season has not been kind to his defensive resume.
Schwarber has posted a DRS total of -14 in left for the Phillies, and a -13 OAA. His outs above average total is located in the first percentile of all major leaguers. His outfield arms runs saved is at -2, the lowest of his career. As are the DRS and OAA totals. His outfielder jump number is in the fifth percentile of all outfielders, and his -9.4 UZR total is the lowest in his career by a whopping six points. Schwarber has added a staggering -18.5 defender value to his squad, compared to his 24.8 offensive value.
The Phillies front office were not joking when they prioritized power over defense. Schwarber is the main culprit of that prototype. It's pretty obvious why his fWAR total on the season is so low, and it points directly towards his positioning in left field.
Has Schwarber Been a Success in Philly?
Elite power and poor defense are a common theme in today's game, and no one represents this more than Kyle Schwarber does. His elite total of home runs and runs driven in has been crucial to this Phillies offense, but the player has also given away a plethora of runs this season. So, has Kyle Schwarber been a success in his first season in Philadelphia?
Yes. It's hard to argue with such an insane power onslaught like Schwarber, despite all of the defensive inefficiencies. Harper is still unable to play the outfield due to the injury, so that'll keep the slugger out there for the foreseeable future. But come 2022 one Bryce is healthy, Schwarber should see less time in the field, and more time in the DH role.
Dave Dombrowski and the Phillies front office went all in, and it has seemingly worked out for them. Schwarber has been a key contributor to this team, and a huge reason why they're back in the playoffs. Maybe we see some more Schwarber magic come October, who knows!