Analysis
Nick Castellanos Has Quietly Played Much Better in Year Two
After a down year in his first season with the Phillies, Nick Castellanos is hitting like his old self in 2023.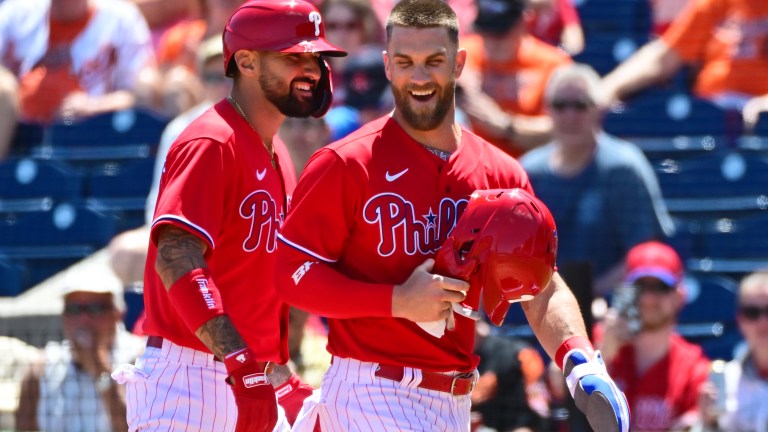 If I told you this winter that the Phillies would add a .300 hitter to their lineup, you would have said, "Duh, they just signed Trea Turner." But Turner isn't the former All-Star who leads the Phillies in hits, runs, doubles, RBI, batting average, slugging percentage, OPS, and wRC+ two and a half months into the 2023 season. It's Nick Castellanos.
Castellanos is enjoying a renaissance in 2023. After a disappointing debut season with the Phillies, in which he hit .263/.305/.389 with just 13 home runs in 136 games, the 31-year-old is back to his All-Star form. His .316 batting average is the fifth-best in baseball, and his 132 wRC+ ranks among the top 30 hitters in the sport.
The right fielder's numbers look remarkably similar to his stats from 2021, when he hit .309 with a 139 wRC+ en route to an All-Star selection, a Silver Slugger, and some down-ballot MVP consideration. It was that performance that earned him a nine-figure free-agent deal from Philadelphia in the offseason.
The Phillies and their fanbase couldn't be happier to see that version of Castellanos back on the field.
Just Baseball's Tim Kelly wrote about Castellanos in April, detailing how the veteran was settling into his surroundings:
When asked Saturday if being more comfortable with his surroundings has helped him to get off to a quick start in 2023, Castellanos didn't hesitate.

"There's no question," Castellanos acknowledged. "I mean, even if you go back to all my interviews last year, I always say with me that everything is connected. The more that I feel at peace with myself … my situation … my surroundings … my environment, the more that my natural self is going to be able to come through."

Tim Kelly, "At Peace With Himself, Nick Castellanos Putting Together Bounce-Back Season for Phillies"
Following a strong start to the season, Castellanos has continued to produce. He has a 129 wRC+ since the beginning of May and a ridiculous 214 wRC+ since the start of June. He has driven in 13 runs in 13 days. His performance is the number one reason the Phillies have won eight of their last ten and pulled within two games of a Wild Card berth.
While some of his numbers don't look sustainable (his .399 BABIP is due for some regression), Castellanos is making better quality contact than he was last year, and he has the results to prove it. His hard-hit rate and barrel rate are back up to where they were in 2021, and he is pulling more balls in the air – a surefire way to increase power production.
Lo and behold, Castellanos already has 23 doubles, one triple, and eight home runs. With 32 extra-base hits in 67 games, he is on pace for 77 by season's end. That would be nearly twice his total from 2022, when he managed only 27 doubles and 13 home runs.
Best of all, Castellanos isn't letting opposing pitchers beat him with sliders anymore. Sliders were his biggest weakness in 2022; he saw more sliders than any other pitch, and he posted a meager .302 wOBA against the breaking ball. This year, he is punishing sliders with a .429 wOBA. Six of his eight home runs and 13 of his 32 extra-base hits have come against the pitch that used to be his kryptonite.
Castellanos currently ranks ninth in fan voting for the All-Star Game; as things stand, he would need to rank fourth or higher to advance to the next round of voting. He has a better chance to be named a reserve, especially if no one else on the Phillies steps up in the coming weeks. It's possible Castellanos could be appointed by the Commissioner's Office as Philadelphia's lone All-Star representative.
But All-Star or not, Nick Castellanos has been the beating heart of the Phillies lineup in 2023. The reigning NL champs haven't lived up to expectations this season, but Castellanos is doing everything he can to turn things around.