Analysis
Where Do the White Sox Go at Shortstop Without Tim Anderson?
The Chicago White Sox made the decision to move on from Tim Anderson at shortstop. Now where do they go from here at the position?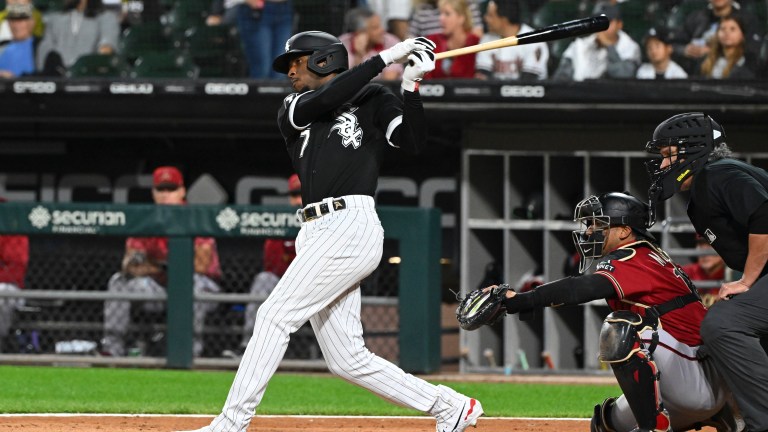 Every team has that one player that embodies what it means to play for that club. Those players don't just improve the team with their skill. They also raise the team with their personality. That player for the last eight seasons for the Chicago White Sox played shortstop and predominantly led off their batting order.
Tim Anderson represented a lot about what it meant to play at 35th and Shields. The 2013 17th overall selection played a total of 10 years with the organization.
Anderson was the first piece of the puzzle during their most recent rebuild. A rebuild that then saw the likes of Jose Abreu, Yoan Moncada, Eloy Jimenez and Luis Robert Jr come together on the south side of Chicago. This "core" was supposed to live up to World Series potential. But, could only accomplish a division title, two postseason appearances and two playoff wins.
Despite the underwhelming team accomplishments during his tenure with the Sox, Anderson was the spark plug that kept hope in the dugout. As long as the White Sox had TA playing at a high level, they would be relevant.
Anderson finished his time in Chicago with two All-Star nods, an MLB Silver Slugger award in 2020 and ranking seventh in MVP voting for the 2020 season. In the season that Anderson achieved all of his accolades, the White Sox finished with their best records, and produced their first postseason visits since 2008.
The White Sox could never push themselves through their internal struggles as the team has started to disband, starting in the 2023 off-season. The first domino to fall was beloved first baseman Jose Abreu as he signed a contract with the then defending World Series Champion Houston Astros. 
This was the first sign that times were about to be bleek on the south side of Chicago.
The freefall continued to happen during the season as the team shipped off Lucas Giolito, Reynaldo Lopez and Jake Burger, among others at the deadline. If that wasn't clear enough, the White Sox decided it was time to turn the keys over to a new general manager in Chris Getz.
Getz hasn't made too many calls yet since becoming the leader of the White Sox new direction. However, he did make one that surely caused some heads to turn in turning down Anderson's $14 million club option, sending TA to free agency.
The White Sox are fully undergoing a rebuild, one that now has a question around who is going to be playing shortstop in this coming season. Chicago has internal options that they can turn to in the case they do not want to spend money on the position in free agency. But, at first glance, it looks like they may have too.
The group that is already in the building/organization is both young and unproven to fill such an important position on your team. Lenyn Sosa barely cleared the Mendoza line last season, but might be the first option on the MLB roster. Colson Montgomery is a promising prospect, however at 21 years old, and in just his second year of pro ball, why rush him?
Or, the White Sox can just go and grab a guy from the free agent market. Most years there are top of the line free agents at most positions, this year is no different. Except for shortstop, perfect planning for the White Sox. Names Like Amed Rosario, Elvis Andrus and Nick Ahmend are on the market. But, whether they want to bring in that type of guy remains to be seen.
Getz seems to be in the headspace that he needs to get this rebuild kicked off sooner rather than later, which is pretty solid thinking. With that in mind, look for the White Sox to make a move soon to start rounding out the direction that they go.
Let's take this one option at a time as the White Sox take their first steps into making a team that Getz can actually like, as well as the fans. 
Internal Options
Lenyn Sosa, Jose Rodriguez, Colson Montgomery, Zach Remillard, Romy Gonzalez
If you have kept up with the White Sox for however long now, they are not ones that hand out blank check books in the off-season. The Sox are a club that rely on their farm system and hope for production. For some teams that may work, but considering the White Sox were ranked as having the 20th-best farm system by MLB.com, that may not be the best choice. 
Chicago has had to turn to other options before for when Anderson got hurt or needed a rest day. During those times it was mainly covered by a rotation of players in Lenyn Sosa, Zach Remillard, current free agent Elvis Andrus or Romy Gonzalez. They were good plug-and-play rotational pieces as neither had to take on the identity of being the White Sox main shortstop. 
Last season, Andrus took the bulk of the starts at short in the absence of Anderson. Now with Elvis leaving the building, if they do not make a move on him in free agency, they will be left with some interesting options internally.
Let's kick things off with saying that there really isn't one clear option that they already have on their roster. None of the above players have played shortstop consistently enough in the majors (Excluding Montgomery because he hasn't made it past the Double-A level and Rodriguez who was just used as a 10-day rental when brought up) to garner a potential 162 game slate.
The players on this list are nothing more than a placeholder for when Montgomery is truly ready to take over the position. The collective of Sosa (0), Remillard (4) and Gonzalez (2) played a total of six games at shortstop. Not very promising numbers to fall back on if you ask me, and I don't think Getz does either. 
Jose Rodriguez poses a very intriguing option. He is currently 22 years old, and just concluded his sixth season in the White Sox farm system. When brought up during the 2023 season, he only appeared in one game as a pitch runner and scored as well as filled in at second base. Rodriguez hopped around the infield during his minor league stints with Double-A Birmingham and Triple-A Charlotte, most of his starts coming from second.
Rodriguez spent most of his time in Birmingham with the Barons. With the Barons, Popeye played mostly second, however mixed in the shortstop position until Montgomery was called up. During his Double-A campaign in 2023, Rodriguez slashed .264/.297/.450.
He was a streaky hitter as sometimes he looked like the best bat in the minor league system knocking home 54 RBI, and clubbing 18 home runs. But, Rodriguez sometimes would run cold as his K% rose to a career high 23.5%.
Jose's numbers didn't dip too much when making the jump to Triple-A, but they also did not "wow". Rodriguez finished his 19 games with the Knights with a slash line of .253/.270/.379. His power stayed with him as he smacked three more home runs on his season total.
He is definitely still a work in progress at the plate as he has not shown complete dominance at any level, yet. But, Rodriguez does show his athleticism with his flashy plays and speed on the base paths. Jose can tend to be a little too flashy in the field as he accrued a total of nine errors last season. He, however, does make up for it with his 31 stolen bases. 
Rodriguez is a risky play, yet seems to be the place holder for Montgomery in the levels above the promising prospect. 
With that being said, it is clear that the future of this spot rides on the No. 1 prospect, Colson Montgomery. It is just a matter of when he is ready to take over the title of starting shortstop for the south side. 
Montgomery is only 21 years old, and just finished his second season with the organization. His progression has been slowed down due to a couple of injuries, yet he has looked promising when on the field.
None of this is to say that Colson can not fill in the need at the position, it is just to say that it will be too soon for the 2024 Opening Day roster. Montgomery finished last season with the Barons and slashed .244/.400/.428. He impressed at the level that in 2022 got the best of him.
Despite the minor league ranks, Montgomery has been playing fall ball for Glendale in the Arizona Fall League, and has been smashing the baseball. 
The AFL 2023 Fall Stars game MVP is without a doubt the future at the position for the Sox. I just don't see it to start the season. His current ETA to the MLB is 2024, which I could see happening towards the end of next season after a couple more at-bats in Double-A and testing the waters in Triple-A.
Free Agent Options
Amed Rosario, Isah Kiner-Falefa, Elvis Andrus, Nick Ahmed, Paul DeJong
With no option in the organization being that inviting, I would assume Getz looks on the market for a potential rental. One that could fill the void with solid play, and potential aid in Montgomery's development.
On the free agent market names like Elvis Andrus, Amed Rosario and Isah Kiner-Falefa fit the bill, they are more options that just don't seem right for the club. Andrus would be reuniting with the White Sox after a season and a half of being with them. Andrus was a solid contributor, yet at the age of 35 years old doesn't seem to fit in with a rebuild. 
Rosario is a low-risk, high-reward type of buy as he really hasn't proved to be a difference maker at the position. But, what stands out the most is that his glove has not proven to be dependable. Which is a red flag when trying to fill a need on an already lacking defensive team.
IKF makes sense as a rotational option because of his versatility in the infield. He did not log a lot of time at the position last season, which draws some concern.
The options that seem the most likely are Nick Ahmed and Paul DeJong. Both are aging at the plate, nonetheless still producing high levels defensively. 
DeJong would be an option purely in hopes that he can turn around his disappointing end to 2023. DeJong was playing solid baseball with the St. Louis Cardinals hitting .233, and flashing some glove work that made him an All-Star in 2019. DeJong was then traded to the Blue Jays, who cut him and he finished out the year with the Giants rocking a .129 BA. He is currently 30 years old, and would fit the description of a bridge piece to Montgomery. 
The most intriguing might be Ahmed. At 33 years old, the two-time Gold Glove award winner logged 65 games at shortstop this last season and ended with a .963 fielding percentage. Ahmed didn't have amazing numbers at the plate but serviceable ones as he slashed .212/.257/.303. 
Production at the plate is needed for his club, but having that type of defensive range is a little bit more important. The White Sox would not need a lot of him and the money that he garners would not result in the type of contract that would break the bank.
The Sox, and Getz, seem to be gearing up to have Montgomery appear in the majors at some point in 2024, if all goes according to plan. With that type of idea, the team is going to need a player that can hold down the position beforehand, and in the case the youngster needs aid once in that position. 
The clear answer is going to a veteran player on the free agency market. To me, Ahmed fits the bill perfectly for a player that can improve your defense, be solid at the plate and hopefully help Montgomery when the time comes.