News
Mets Promote Top Prospect Francisco Alvarez Ahead of Pivotal Series
Set to face the Braves with the NL East hanging in the balance, the Mets are calling on top prospect Francisco Alvarez to join them in Atlanta.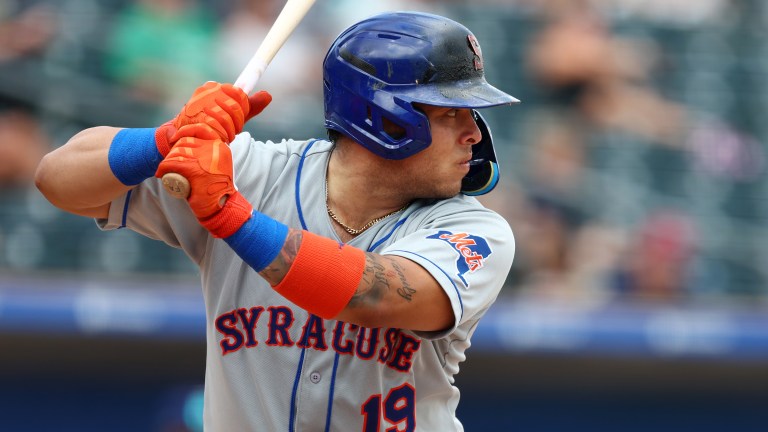 The New York Mets have dropped a bomb late on Thursday night, calling up their top prospect Francisco Alvarez ahead of their pivotal series against the Atlanta Braves.
The 20-year-old catcher begin this season in Double-A, where he put together a remarkable campaign that earned him a promotion to Triple-A midseason. In Double-A, Alvarez hit .277/.368/.553, with 18 home runs and 47 RBIs and a 146 wRC+ across 67 games played.
Alvarez struggled to adjust to pitching once he got to Triple-A, but after dealing with an ankle injury, he went on an absolute tear to close out his season. Across 13 games in September, Alvarez hit .362/.483/.596, with three home runs, two doubles and 10 RBIs. He drew 10 walks across his final 57 plate appearances during that span.
The timing of this is fascinating, as the minor league season ended on Wednesday, which we thought closed a book on Alvarez's season. Now he has been tasked to entire a tightly-contested division race and will likely make his MLB debut against Max Fried on Friday night.
Scouting Report
In our recent end of the season update of our Top 100, Francisco Alvarez was the highest-ranked Met on the list, coming in as the No. 6 prospect in all of baseball. Here is what Aram Leighton wrote about Alvarez.
6. Francisco Alvarez – C – New York Mets
Height/Weight: 5'10", 230 | Bat/Throw: R/R | IFA: $2.7M – 2018 (Mets) | ETA: 2023
| | | | | | |
| --- | --- | --- | --- | --- | --- |
| HIT | RAW POWER | GAME POWER | RUN | FIELD | FV |
| 40/45 | 65/70 | 55/60 | 40/40 | 40/50 | 65 |
One of the best power hitting catchers we have seen in the minors in some time, Alvarez has the goods to become one of baseball's best catchers and should arrive in Queens in early 2023.
Offense
Starting with an open stance and a toe tap to close himself off, Alvarez has some of the easiest power you'll find in the minors. Stocky with a powerful and explosive lower half, Alvarez stays in his backside really well and controls his body throughout his load and swing.
At a solid 5-foot-10, 230 pounds, Alvarez has easy plus pop in the tank, especially to his pull side. Though he looks to do damage to his pull side, Alvarez is capable of hitting the ball to all fields with authority thanks to his ability to keep his weight back and let the ball travel.
Alvarez relied on his natural feel to hit and decent overall approach to climb all the way to Triple-A in his age 20 season, but as he got to the upper levels, his struggles with elevated heaters were exploited a bit. A 30% chase rate and and even higher high in-zone whiff rate on four-seamers has resulted in him seeing more of them, but there are plenty of good hitters who have blue zones up there, they're just better at laying off those pitches (see: Mike Trout).
Alvarez has put his big time power on display this season, crushing home runs as far as 452 feet and as hard as 113 mph off of the bat. With his elite power/bat speed and ability to crush pitches belt high and below, Alvarez has been able to slug through his struggles with consistency in Triple-A. That said, he will need to improve his struggles with the high heat to reach his sky-high ceiling.
Defense/Speed
A grinder behind the dish, Alvarez has continued to improve defensively as he has progressed through the minors. Despite often being the youngest player on the field, Alvarez looks the part as a catcher and earns high marks for his desire to improve as a defender.
Alvarez's arm is easily plus and he has honed in on his accuracy this year, throwing out 28% of base stealers in the upper levels (a figure that has progressively gotten better as the year has gone on). Lacking blocking fundamentals earlier in his career, Alvarez has made huge strides in preventing passed balls as well as receiving. He should almost surely stick behind home plate and could be an average defender or slightly better at the highest level.
Outlook
There is just so much to dream on with a prospect like Alvarez. He has a chance to not only be baseball's best power-hitting catchers, but to also be one of the game's better power hitters period. With improving defense and the makeup/work ethic to encourage belief that he will keep getting better in that regard, Alvarez has a chance to be a well-rounded backstop with elite offense upside.
It would not be crazy to expect Alvarez to break in with the Mets early next season and while there may be some swing and miss in the early stages of his MLB career, his swing is just too good and too quick for whiffs to permanently hold him down. The Mets could very well have their best catcher since Mike Piazza.