Analysis
2022 Free Agent Profile: Starling Marte
A look at one of the top MLB Free Agent outfielders; where will he land and how much will he get?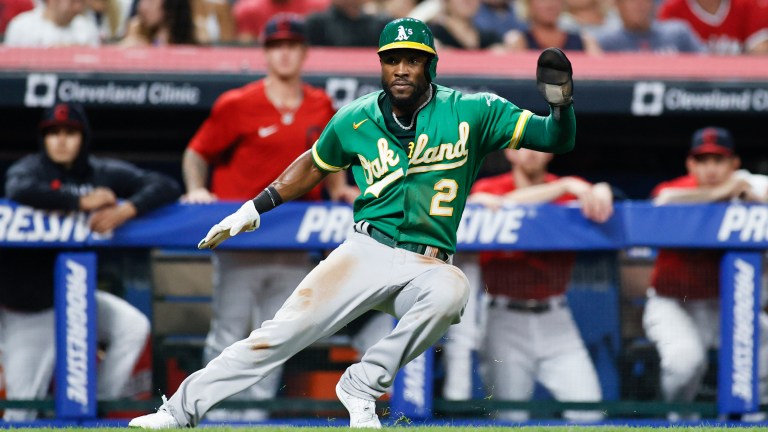 Position: CF
Bats/Throws: R/R
Age: October 9, 1988 (33 years old)
Traditional Stats: .308/.381/.456, 47 SB, 12 HR, 42 XBH, 55 RBI, 89 R, 99 K, 526 PA
Advanced Stats: 18.8% K%, 8.2% BB%, 133 wRC+, .363 wOBA, 5.4 fWAR
Defensive Stats: 4 OAA, -4 DRS, 0.9 UZR
Starling Marte is hitting free agency at the right time, coming off arguably the best season of his career. The 33-year-old centerfielder has been a hot commodity over the last two years, having been traded three times. Now as a first-time free agent, Marte can finally pick a team for himself and look to find a more long-term home.
Path to Free Agency
In 2007, when he was just 18 years old, Starling Marte was signed out of the Dominican Republic by the Pittsburgh Pirates. Four years later, Marte represented the Pirates in the 2011 MLB Futures Game.
Marte spent that 2011 season playing in Double-A, where he hit .332/.370/.500, with 58 extra-base hits and 91 runs scored in 129 games played. Going into the 2012 season, Marte was ranked in Baseball America's top 100 for the first time at No. 73 and was a consensus top-five prospect in the Pirates farm system.
After 99 games played at Triple-A in 2012, where Marte hit 12 home runs, 13 triples and 21 doubles, the Pirates finally promoted the 22-year-old to the show. In doing so, Marte became the first graduate of the Pirates' Latin American complex, located in the Dominican Republic, to make it to the majors. It did not take Marte long to get acclimated either, as he hit a home run on the first pitch he saw off Dallas Keuchel.
The rookie would play 47 games down the stretch for the Pirates in 2012, where he hit .257/.300/.437, with 14 extra-base hits. Marte did strike out 50 times in 182 plate appearances (27.5 K%), but still showed enough to earn himself a starting job for the Pirates moving forward.
During the first years of Marte's career, the Pittsburgh Pirates were not in the lowly state that they are now. Instead they were a consistent playoff team, with an outfield that not only featured an up-and-coming star in Marte, but also a bona fide superstar in Andrew McCutchen.
In Marte's first full season, McCutchen won the MVP, part of a four-year stretch where he finished in the top-five every season. From 2013 through 2015, the Pirates were a Wild Card team every season, compiling a 280-206 record across that three-year span. Unfortunately for Pirates fans, they only won the game once in 2013. Marte went 2-for-5 with a run scored in that lone Wild Card victory.
Marte won his first of two Gold Gloves in 2015, but it wasn't until the following year that he really began to make a name for himself outside of McCutchen's shadow.
In 2016, Marte made the lone All-Star appearance of his career and won his second-consecutive Gold Glove. The then 27-year-old hit .311/.362/.456, with 48 extra-base hits and 47 stolen bases in just 129 games played.
Unfortunately Marte could not build off the success of his All-Star season, as he tested positive for PEDs and was suspended for 80 games on April 18, 2017.
Over Marte's final few years in Pittsburgh, he would eventually switch positions with McCutchen and take over center field for a Pirates team that was embarking on a lengthy rebuild. A rebuild that is still going on to this day. All told, Marte spent seven seasons and compiled a 24.0 fWAR across that span. Outside of McCutchen, Marte was the most valuable player on the Pirates from 2012 through 2019.
With only two years left on the team-friendly six-year, $31 million contract he signed back in 2014, the Pirates traded Marte to the Arizona Diamondbacks prior to the 2020 season.
In the COVID-shortened 2020 season, Marte would be the only player in the MLB to play more than 60 games, as he was traded to the Miami Marlins midseason and ended up playing an extra game.
While he was not great for the Marlins in 28 games played (91 wRC+), he did help them break a 17-year playoff drought. Then this past season, Marte got off to great start in Miami (138 wRC+) before ultimately being traded again.
The Oakland Athletics traded for Marte with hopes of putting them over the top in their push to make the playoffs. While the team ended up coming up short, Marte did not disappoint in his brief stint in Oakland.
Playing in his age-32 season, Marte found a fountain of youth in his contract year and swiped 47 bases. That tied a career-high he set in his All-Star campaign five years prior. Marte's 133 wRC+ in 2021 was by far the best mark of his career, as he has typically put up numbers closer to his career 118 wRC+.
Whether Marte can produce at that same level again is unclear at this stage, but even if he just plays to his career averages, there are many teams who could use a player of his caliber. There is only one free agent on the market that has proven they can be an above-average all-around contributor at the premium centerfielder position and that's Starling Marte.
Contract Projection
The one hesitation teams may have in signing Starling Marte is the fact that they would be paying for his age-33 through age-37 seasons if he lands a five-year deal. Still, Marte did everything he could to dispel those notions this season, showing that there is plenty of life left in those legs.
Marte's sprint speed in 2021 ranked in the 83rd percentile and he posted 4 OAA in center field. Even though he dealt with broken ribs and a lat injury, Marte still played in 120 games, a threshold he has eclipsed in every season of his career outside of the PED suspension. Overall this has been a fairly durable player.
A good starting place to predict what Marte will command in free agency is to look back at the contract Lorenzo Caine signed with the Milwaukee Brewers in 2018. Caine is a decent comp for Marte, as he too played centerfield and had a game predicated on his glove and his speed.
Caine was a year younger than Marte at the time, but also wasn't coming off nearly as productive of a season. He ended up signing a five-year, $80 million deal with the Brewers, that carried an average annual value of $18 million. This would be a good floor for what Marte should expect this offseason.
Last year, George Springer was the big-ticket free agent centerfielder, hitting the market prior to his age-31 season with a resume that included three All-Star appearances and two Silver Sluggers. It is fair to say that Springer was a more valuable free agent, but his contract sets a ceiling for what Marte could command,
Springer ended up getting a six-year, $150 million deal, which comes out to a $25 million AAV.
Contract Range: It is likely that Marte's new deal will fall somewhere between those two contracts, with a salary just north of $20 million over four or five years.
Potential Suitors
If you read my latest article for Just Baseball on how the New York Mets should sign Starling Marte now, just like they signed Curtis Granderson back in 2014, then you know where my bias has Marte landing. With Michael Conforto set to hit free agency, New York has a big hole next to Brandon Nimmo in the outfield that Marte could fill.
When it comes to other suitors though, Marte should be able to enjoy a healthy market, as there are not many starting caliber outfielders available in free agency. There really aren't any teams that couldn't benefit from having Marte atop their lineup, it is just a matter of who will be looking to pay him.
The New York Yankees seem like a logical landing spot, considering the fact that Brett Gardner still played 140 games at age-37 this past season. If the Yankees are in the mix, you can expect other big market teams like the Boston Red Sox, Los Angeles Angels and my aforementioned Mets will be interested as well.
There is also a chance Marte could sign with a young team that is ready to win now, like George Springer did last offseason with the Toronto Blue Jays. In our Detroit Tigers offseason outlook, Clay Snowden discussed how the Tigers could be a piece or two away from contending for the playoffs for the first time in awhile next season. Could Marte be the big splash that makes them a legitimate threat?
With an ability to play all three outfield positions at a high level, while still producing as a key cog in any lineup, Marte's list of suitors could be very wide-ranging.
Final Prediction
Mets: Five years, $110 million
You can call me a homer all you want, Marte signing with the Mets makes too much sense. Prior to getting traded to the Arizona Diamondbacks a few years ago, the Mets expressed heavy interest in trading for Marte themselves. Now they can just sign him as a free agent.
There may be a team option on the final year of that deal with a buyout, but Marte should be getting close to $100 million guaranteed when it is all said and done.
The expectation this offseason is that the Mets will be big spenders, so it would natural for them to address their greatest position of need with the best free agent outfielder on the market.