News
MLB Injury Report: Surging Reds Lose Hunter Greene
Hunter Greene has been suffering from hip discomfort, and was placed on the injured list for the second time this season.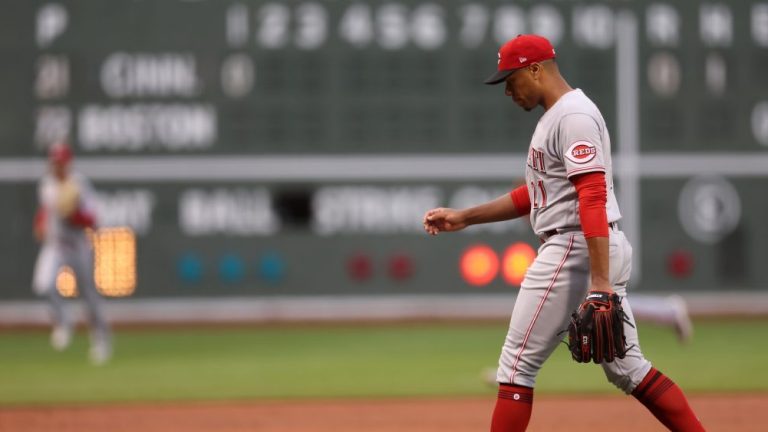 What a June it's been in Major League Baseball.
The Cincinnati Reds and San Francisco Giants are white-hot, while the Los Angeles Dodgers, Houston Astros and New York Yankees are all in third place in their respective divisions.
Each one of those teams is battling injuries, and so are many, many others.
Let's get to this week's report.
Coming in 3's: Reds' fireballer Hunter Greene joins Lodolo and Ashcraft on IL
Nobody is hotter than the Cincinnati Reds.
It's all coming together for "America's Team," as Jonathan India refers to them. The team has won 11 straight games, thanks to a barrage of stardom-destined prospects (you already know this group's obsession with Elly De La Cruz), and they're in sole possession of first place for the first time since April 2021.
But it's not all good news in the Queen City.
On Monday, the team placed flamethrower Hunter Greene on the 15-day injured list with right hip pain. This is something that's bothered him for a little while now. Greene skipped a start at one point because of it, and the problem flared up again during his last outing in Houston.
In three June starts, Greene's been good, pitching to a 3.12 ERA, with 20 strikeouts in 17.1 innings. Batters are hitting just .206 against him in that time.
But more than his stats, Greene's presence in the rotation was holding the unit together. Graham Ashcraft (calf) and Nick Lodolo (leg) are also on the IL, with Lodolo's return looking like it won't come until further into the summer. Ashcraft is set to come off the IL this weekend.
From what we're hearing, it doesn't seem like the hip will be too big of an issue for Greene, but if missing a few starts in June means he's fully healthy come September, I think Reds fans would happily take that trade.
A Giant Loss: San Francisco loses Alex Cobb to oblique strain
From one piping-hot team to another, the San Francisco Giants are winners of 10 games in a row.
They're getting contributions up and down the lineup, and across their pitching staff.
But they too, have a big injury to work around. Starting pitcher Alex Cobb hit the IL this week thanks to a left oblique strain.
This is a bigger injury than many might think. Cobb's quietly been one of the more effective starting pitchers in baseball. Across 78.2 innings, he sports a 3.09 ERA, with 76 strikeouts. He also has a 6.2 walk percentage, more than two percentage points better than league average. He also has 58.9 ground ball percentage, good for third in all of baseball.
Keaton Winn was called up to fill Cobb's slot in the rotation. He's pitched in two games this year, allowing two runs across nine total innings of work.
Oblique strains can be a doozy, to say the least. But if the Giants continue to play great baseball, they may be in the market to acquire a starting pitcher come the deadline.
Fallen Angels: Angels to lost Anthony Rendon, rookie sensation Joyce & Gio Urshela
We've already written about Anthony Rendon's injury history and its impact on the Los Angeles Angels.
Rendon already had an IL stint this year. That came back in the middle of May, when he strained his groin. He came back on June 6, and has gone just 2-for-30 in eight games since his return. Compare that to his 10 healthy games in May, when he went 14-for-34.
Now, he's back on the IL, after he was hit by a pitch on the wrist in last Thursday's game against the Rangers. It looked gnarly, but X-rays were negative and he was only diagnosed with a contusion.
While Rendon's injury is frustrating on its own, it stings even more considering both Gio Urshela and rookie Zach Neto are also nursing injuries.
And how's this for breaking news? As I sit here to write this report, I find this tweet from Angels' beat writer Jeff Fletcher. Apparently Urshela will have to miss the rest of the season with a fractured pelvis, a brutal midseason blow.
That to say, it's forced the Halos to rely on an infield alignment of Andrew Velazquez, Jared Walsh, Brandon Drury, Luis Rengifo and Michael Stefanic.
Not ideal.
Making matters even worse, the 103-mile-per-hour man and rookie sensation Ben Joyce is also on the injured list, diagnosed with ulnar neuritis. Here's a breakdown.
Luckily for the Angels, they're still playing good baseball. They have two studs to thank for that. Hopefully, they can get some guys back in the fold and continue making a playoff push.
Cleveland catastrophe – Triston McKenzie's elbow injury could threaten his season
Again, I present to you the AL Central, where it seems nothing can go truly right for any of the five teams.
The latest blow was dealt to the Guardians, who lost starting pitcher Triston McKenzie for a second time this year, this time to a sprain in his ulnar collateral ligament (UCL).
In his place, the Guardians' No. 3 prospect Gavin Williams made his debut Wednesday night, giving up four runs over 5.2 innings.
McKenzie's made just two starts all year. The first was a five-inning, no-run, 10-strikeout performance against the Twins. He followed that with a five-run, five-inning performance against Houston. But honestly, it's been hard to really judge those performances, considering he missed the first two months of the season with a scapula injury.
Now he's dealing with an elbow problem, which could keep him out even longer than that. And ultimately, it could be one of the reasons the Guardians sell at the deadline.
Tanner Houck hit with line drive; suffers facial fracture
This might be the most painful injury we've covered this year.
Red Sox starting pitcher Tanner Houck suffered a facial fracture after he hit by a batted ball in his last start against the Yankees.
Now, the Boston Globe is reporting Houck will need surgery to insert a plate in his face. While there's no timetable for him to toe the rubber again, Red Sox manager Alex Cora said he will pitch again this year.
While Houck's had a mostly disappointing year, it looked like he may've been turning a corner in his last two starts, both against the Yankees.
He was carving them up, allowing just three earned runs in 10 innings, while striking out eight and flashing the wipe out slider.
As for what the Sox will do without him, that's a bit up in the air. As of right now, they have four healthy starters – Brayan Bello, Garrett Whitlock, James Paxton and Butter Crawford.
Both Nick Pivetta and Corey Kluber have been mostly relegated to the bullpen, though one of them could fill the fifth slot. The Sox could also elect to go the opener route every fifth day, something they did against the Yankees with Kaleb Ort.
It's felt like the Red Sox season has been on the brink from game one. That stress is only going to intensify as the dog days approach.