Analysis
10-Game Winning Streak Shows How Special the Reds Can Be
After years of struggling through a rebuild, the Reds are one of the most fun teams in baseball, with a roster that is ready to win now.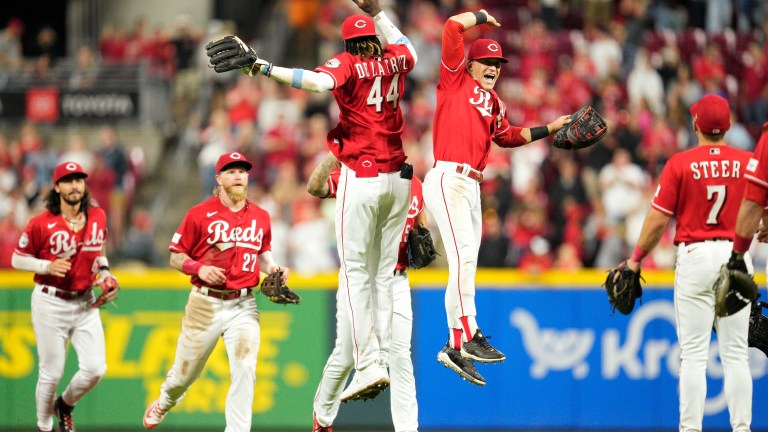 The last time the Reds won 10-straight Miguel Cabrera led the league in home runs. The iPhone 5 was just released and Lance Armstrong was stripped of his Tour de France records. The year was 2012, and the only regular in that lineup that is still in the league is Joey Votto.
Votto recently returned after missing the first part of the season due to injury and did so in memorable fashion. In his first game back, he hit a home run and delivering a clutch two-run single to help extend the Reds winning streak.
"This is a different energy than I have experienced in years, maybe even in my entire career the way these guys think about themselves, the way they play. I want to be a part of this and it feels so good. This is exactly what we deserve here in Cincinnati", Votto said in a postgame interview.
You can spot it from your couch. The energy that follows this team is different than anything we have seen in the past few years, if not longer. Each night someone different steps up and delivers a big moment.
Whether it be journeyman Ben Lively giving the rotation much-needed depth or Will Benson overcoming his early-season struggles to put his talent on display. Cincinnati has found something intangible you do not see year in and year out.
An infusion of young prospects mixed with players taking their game to a new level has made this Reds lineup exciting to watch, and the rest of the baseball world is taking notice.
National podcast and reporters are talking about the Reds, and not to discuss which players will be traded. For the first time in years, almost every player in the lineup night in and night out brings value in one way or another.
The best part about this? The Reds aren't going anywhere. The majority of their production is coming from players with multiple years of control who can, if the front office chooses, be around for awhile. A legit core is forming giving Cincinnati production now, and likely into the future.
Yes, this team is not perfect. The fact that Luke Weaver, Ben Lively, and Brandon Williamson make up the majority of your rotation is not ideal. They have had their moments, but I understand the doubt that comes with it being sustainable. The bullpen is has not perfect either. Lucas Simms and Alexis Diaz cannot pitch every single day. But the Reds have found ways to win. With the deadline just over a month away, the front office is willing to make moves to improve the team.
A surprising, yet refreshing quote to hear from an organization who's, rightfully so at times, been pegged as cheap. Just how aggressive will they be? Time will tell. We know the farm system is talented and deep enough to match most offers. A different discussion for a different day. For now, the Reds are rolling, and the vibes are high.
And as of June 21st, the Reds are in first place. "But the division is weak!" While that may be true, it should not take away from what this team is accomplishing or halt fans excitement.
With so little to cheer for over the past two decades, fan should absolutely soak this in. Be excited. Say outlandish predictions. Dream on a magical playoff run you'll never forget. Enjoy the ride and thrill that is a playoff hunt, no matter how long it last. And if I had to guess, it will last all summer.