Analysis
MLB Injury Report: Tyler Glasnow to Make 2023 Debut
The rich get richer, as the Tampa Bay Rays will finally get Tyler Glasnow back over the weekend. Here is all of the latest MLB injury news.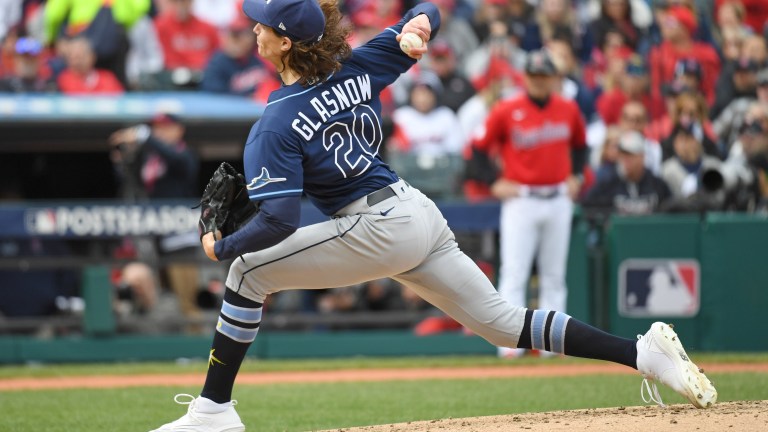 The Tampa Bay Rays have been the best team in baseball this season and yet have done so without one of their best pitchers in Tyler Glasnow. This weekend, they are set to get Glasnow back as they look to continue to build off their strong start to the season.
Glasnow headlines what is overall a pretty positive week of injury news, with many players on the mend to finally return off the IL.
Tyler Glasnow Set to Make His 2023 Debut
The Tampa Bay Rays are set to get a big lift this weekend, as Tyler Glasnow will finally make his 2023 season debut. The Rays flamethrower has dealt with plenty of injuries across his career, but when he finds his way on the mound, he's been special.
Since his first full season in Tampa back in 2019, Glasnow is yet to even eclipse 90 innings pitched in a given season. He underwent Tommy John surgery in 2021, and missed all but two starts last season, before pitching for the Rays in the playoffs.
An oblique injury in spring training delayed the start of this season for Glasnow, but now he looks to rejoin the Rays rotation this Saturday against the Dodgers.
Manny Machado Won't Return Just Yet
Manny Machado was hit by a pitch that fractured his hand back on May 15th and was eligible to return today. It appears like Machado will need more time on the IL though, as he is yet to take live batting practice and is only swinging off the tee for now.
When healthy, Machado has struggled mightily this season, hitting .231/.282/.372, with just five home runs across his 40 games played. The Padres need Machado to return to form whenever he rejoins them off the IL, as the team currently sits at 23-27 on the season.
Garrett Whitlock Returns to the Rotation, Corey Kluber to the IL
Garrett Whitlock will return off the IL and start for the Red Sox on Saturday, coming off an elbow injury. The 26-year-old has endured an injury-plagued campaign, with two different IL stints already.
He has made three starts this season and pitched to a 6.19 ERA. Those numbers aren't much better than what Corey Kluber has done this season, but Kluber has struggled over the far greater sample size up to this point, forcing a move to the bullpen to allow Whitlock to rejoin the rotation.
Kluber signed in Boston on a one-year, $10 million deal this offseason and has failed to meet expectations up to this point. He is currently pitching to 6.26 ERA, and will have to try to salvage his season in a bullpen role or be at risk to be DFA'd.
Guardians Rotation Getting Healthy in a Hurry
Triston McKenzie is one of the most exciting young pitchers in baseball and has been sorely missed by the Cleveland Guardians this year. Now he is on the mend, pitching 4 1/3 innings on Thursday with six strikeouts, two walks and four earned runs.
There is every chance McKenzie's next start can be in the big leagues, or he could require one more on his rehab assignment. Meanwhile the Guardians are also set to get Aaron Civale back in their rotation as well, having already made two rehab starts himself.
Civale last pitched on Tuesday, going 3 1/3 innings in which he allowed two runs on five hits and one walk, with five strikeouts. The 27-year-old made two starts with the big league club this year, allowing four earned runs across 12 2/3 innings pitched.
Like McKenzie, Civale could be back in Cleveland in short order.
Astros Rotation Remains Banged Up
The Houston Astros have not had a healthy rotation all season and they won't any time soon either. Lance McCullers Jr. remains on the injured list, as he endures yet another injury-plagued campaign.
According to Astros GM Dana Brown, McCullers isn't due back until July, and very well could be sidelined until after the All-Star break as he rehabs from a forearm strain. Last year, McCullers made just eight starts and he is trending towards a similar outcome in 2023.
Jose Urquidy is another Astros starter that is out indefinitely, although he could be back before McCullers as he attempts to come back from an early-season shoulder injury.
One pitcher who will not rejoin the rotation this year however is Luis Garcia, who underwent a successful Tommy John surgery last Friday.