Analysis
Corey Seager Might Just Be the Best Shortstop in Baseball
Health has always been the issue when it comes to Corey Seager, but when on the field this year, no shortstop has been more productive.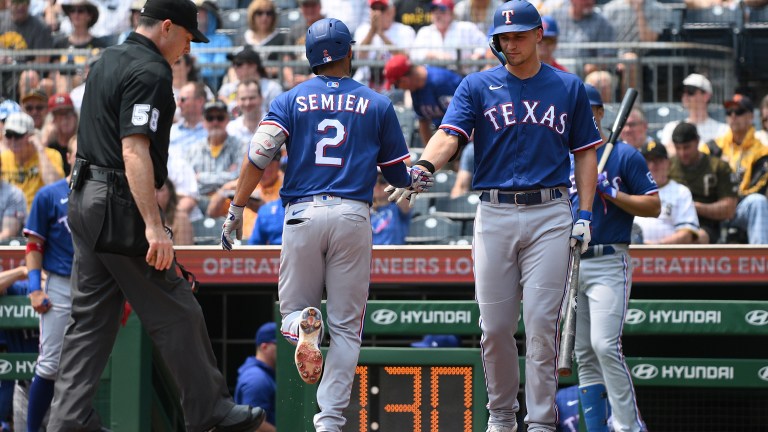 When we look at the shortstop position right now, it is the young superstars that are garnering most of the headlines.
Bo Bichette and Wander Franco are featured prominently atop the fWAR leaderboards as two of the best players in baseball this season. Elly De La Cruz is splitting time between third base and shortstop right now, but he is clearly looking the part as a generational talent who will star at the position for years to come.
Yet, despite all of the talent that exists, the player we rarely talk about when mentioning the top shortstops in the game is actually the one who brings the best bat to the position. Corey Seager.
When we ranked the top 10 shortstops in baseball prior to this season, Seager did crack the top-five, but trailed behind players like Trea Turner, Xander Bogaerts and Carlos Correa, all which signed massive contracts this winter.
Seager got his deal from the Texas Rangers a year prior, signing a 10-year, $325 million contract last offseason. At the time, many questioned the size and length of the contract, considering Seager's great injury history. What the Rangers realized that other teams didn't though, is that Seager is the type of bat that can carry a lineup. And when healthy, he is the best offensive shortstop in baseball.
This season, the Rangers have gotten the full scope of the Corey Seager experience. The 29-year-old missed a little over a month with a strained hamstring, but when he has been on the field, he's been one of the very best hitters in the game.
Top Five Hitter in Baseball This Season
While he doesn't qualify for the batting title, among hitters with at least 200 plate appearances on the season, only Luis Arraez has a better batting average than Corey Seager.
Hitting .345, Seager finds himself in the same conversation with some of the top hitters in the game, such as Ronald Acuna Jr. (.330), Bo Bichette (.323) and Freddie Freeman (.316). What makes Seager special is that he is also one of the top sluggers in the game as well.
Players in baseball who have reached 200 plate appearances on the season with a slugging percentage over .600:
1. Aaron Judge: .674
2. Shohei Ohtani: .654
3. Corey Seager: .608
That's the entire list. For Seager to be keeping company with Judge and Ohtani is pretty remarkable, and it's not just slugging percentage where he is rubbing shoulders with them either.
Again, among hitters with a minimum of 200 plate appearances, Seager comes in third with his 179 wRC+. Judge still paces the league with his 189 mark, meanwhile Ohtani earns the real crown as the only one of the three who has stayed healthy and is qualified with his 180 wRC+.
Through 48 games, Seager is hitting .345/.409/.608, with 10 home runs and 21 doubles. Bo Bichette and Wander Franco each have over 100 more plate appearances, yet it is Seager who is leading all shortstops in doubles. Seager is even tied with Bichette with his 47 runs batted in, with both trailing Francisco Lindor for the league-lead (54).
Keep your Fangraphs page sorted to shortstops with a minimum of 200 PAs and sort the following categories for the league leader: AVG, OBP, SLG, wOBA, xwOBA, and wRC+. In all of them, you will see Seager atop the list.
Seager trails in some of the counting stats due to games played, but still finds himself tied with Lindor for the sixth-best fWAR among MLB shortstops at 2.4. Since coming off the IL in the middle of May, Seager has paced the league (along with rookie Matt McClain) with his 1.8 fWAR.
There is every chance that Seager could pass up many of his fellow shortstops and even contend with Franco (3.5 fWAR) and Bichette (3.1 fWAR) for the top mark among shortstops by year's end.
If he stays healthy that is.
Health is the Only Thing Holding Seager Back
Last year, was a down-year for Seager offensively, as he got off to a very slow start playing his first season in Texas. He hit just .245/.317/.455, with 33 home runs, 83 RBIs and a 117 wRC+.
The thing that mattered more to the Rangers than anything though was the fact that he played over 150 games for the first time since his Rookie of the Year campaign. He also set a career-high with 33 home runs, showing the power was still very much there. Once comfortable, Seager was due to post big numbers. And, as previously mentioned, those have come around this season.
Across his career with the Los Angeles Dodgers, Seager hit below .290 on only two occasions, with one of them being in 2018, where he only played 26 games due to needing Tommy John surgery.
In his last two seasons with the Dodgers, Seager posted a wRC+ over 140 in both seasons. He was also the undisputed best player on a World Series team in 2020, which gets forgotten because it was the strange COVID season. Still, that doesn't take away the fact that Seager hit eight home runs in the playoffs, including five in the NLCS.
Seager won both the NLCS MVP and the World Series MVP, for which he hit .400 with a .556 on-base percentage in the Fall Classic. When the Rangers signed Seager, they were quite literally paying for a guy who can lead them to a championship, with the major caveat pertaining to his health.
Since 2016, the best five shortstops in baseball have pretty clearly been Francisco Lindor, Trea Turner, Xander Bogaerts, Carlos Correa and Corey Seager. This is the exact order that they rank in fWAR since 2016 and happens to be the same as where we had them slated after the 2022 season.
Each of these shortstops has signed nine-figure extensions, with Lindor, Turner, Bogaerts and Seager all earning commitments of at least 10 years and over $300 million. Injury risk is the main thing that can keep a player from get such a commitment, which was never more evident than with Correa this offseason.
Like Correa, Seager has missed a lot of time in his career due to injury, which will certainly be something to monitor throughout this contract. If he can stay healthy though, there is every chance Seager puts up the best numbers among all these guys.
Seager's 131 wRC+ is the top mark among these shortstops since 2016 as is his .499 slugging percentage, .210 ISO and .363 wOBA. Based on averages and trends, he's the most productive shortstop in baseball offensively, but as they say, "the best ability is availability."
When you compare Seager to Lindor, there is a reason why the latter is still the top paid shortstop in baseball based on both AAV ($34.1M) and total contract value ($341M).
Lindor has been available to play 1,043 games over the last eight seasons, compared to Seager at just 808. Across his career in Cleveland, Lindor missed just 30 games over six seasons. He dealt with the first IL stint of his career when he strained his oblique in 2021, but returned to play 161 games last season.
Last night, Lindor hit his 200th career home run, a category he has paced all shortstops in baseball since his debut. Lindor also leads all shortstops in RBIs and fWAR.
Because of his durability, Lindor has found a way to be more productive than Seager so far in their careers, but there is still time for Seager to change that narrative. The Rangers are in the midst of a fantastic season, which could certainly end in a long playoff run.
If Seager stays on the field and is productive down the stretch, we are going to have a long conversation this winter on who is the best shortstop in baseball moving forward.
There is one thing that is without a doubt right now though. If you had to build a lineup tomorrow and could only pick one shortstop's bat to pencil in, you would be hard-pressed to pick anyone other than Seager as the best in the game. That alone speaks volumes.