Analysis
MLB Best Bets Today: Predictions, Odds for Guardians vs. Astros, Marlins vs. Rays, Royals vs. Diamondbacks for May 24, 2022.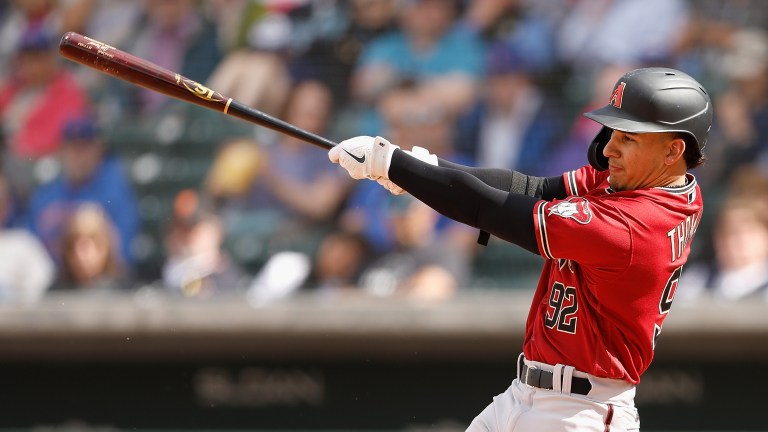 We went even yesterday on some late-inning heroics.
We took the Blue Jays ML as an underdog yesterday which ended up losing in the bottom of the tenth. The Blue Jays were winning 3-1 before the Cardinals tied it late, and then Goldschmidt ended the game with a walk-off grand slam. It was a great game, but sometimes it doesn't work out.
We took the Padres as a small favorite yesterday which ended up winning in the bottom of the 10th. The Brewers took an early lead before the Padres came back to tie it. Pinch-hitter Jose Azocar came up clutch in the bottom of the tenth with a single to center field to score Manny Machado.
We played contrarian yesterday and went even with our units. I'll take it!
Let's move forward with today's three MLB Best Bets.
2022 MLB Regular Season Record: 73-56 (57%) +12.76 units
Subscribe to my New Gambling/Fantasy Baseball Podcast: Not Gambling Advice.
_______________
Cleveland Guardians @ Houston Astros: 8:10 PM EST
Zach Plesac: (RHP, Guardians) [1-3, 4.42 ERA, 1.34 WHIP, 38.2 IP, 23 K, 12 BB]
Framber Valdez: (LHP, Astros) [3-2, 2.68 ERA, 1.26 WHIP, 47 IP, 39 K, 19 BB]
We head to Houston for the second game of a three-game set. The Guardians won the first game yesterday 6-1 with a stellar performance from the starting pitcher, Triston McKenzie. He held the Astros bats at bay while the Guardians scored four runs before the end of the fifth inning.
The Astros feature one of the best overall offenses in the month of May. While they struggled yesterday, their .774 OPS this month ranks near the top in baseball. They have an excellent matchup versus Zach Plesac, who's had a below-average year so far, but has also been lucky.
Plesac has struggled with command and the long ball this year. He's allowed six home runs in 38 innings, and his ground-ball rate has dropped six percent from last season. His savant page is ice-cold, as he's allowing plenty of hard contact, not getting hitters to chase out of the zone, and none of his pitches have any life to them.
His 5.78 xERA indicates some regression is coming, and he'll face not only one of the hottest lineups in the game with the third-best slugging percentage against right-handed pitching.
Plesac is also much worse when he's pitching on the road. In 2020 and 2021, his ERA was a full run better at home, and this season, his ERA on road is 5.74 while his ERA at home is 3.52.
He's also getting progressively worse. In April, he pitched to a 3.80 ERA, a 4.37 FIP, and a 4.36 xFIP. In May, those numbers ballooned. In three May starts, he has a 5.19 ERA, a 5.82 FIP, and a 5.40 xFIP. Regression is coming today.
The Guardians will face Framber Valdez, who's struggled with his command so far but that's been the only issue. His 66.4% ground-ball rate is elite and he's throwing a full mile-per-hour harder on his sinker and four-seam fastball. He should dominate the Guardians today.
The Guardians have been the worst offense in baseball this year against left-handed pitching. Their .594 team OPS, .203 batting average, and .303 slugging percentage rank dead last in Major League Baseball. Framber's ERA on the road is far worse than at home, but that's due to one bad start against the Angels who are one of the better teams against lefties.
This should be all Astros. I'd prefer to take them through the first five to isolate this starting pitching matchup, but I think the full game spread is a nice pick as well.
The Pick: Houston Astros First 5 Innings -0.5 (-135)
_____________
Miami Marlins @ Tampa Bay Rays: 6:40 PM EST
Pablo Lopez: (RHP, Marlins) [4-1, 1.57 ERA, 0.91 WHIP, 46 IP, 48 K, 11 BB]
Shane McClanahan: (LHP, Rays) [3-2, 2.33 ERA, 0.86 WHIP, 46.1 IP, 65 K, 10 BB]
We head to Tampa for the first game of a two-game set. These are two of the best pitchers in baseball right now, and both offenses don't match up well against them. While the Marlins bats have slightly started to heat up, the Rays have been one of the worst offenses in the month of May.
The Rays' offense has come alive lately, scoring at least six runs in their past five games. That has come against mediocre or below-average pitching, and now they'll face one of the best pitchers in the National League right now.
The Marlins' offense, while slowly getting better, it's still one of the worst offenses in the National League. They are tied with the Nationals with 168 runs scored this year, placing them tied for 11th in the NL.
Pablo Lopez will get the ball for the Marlins today, who should be considered the front runner for NL CY Young if the voting ended today. He's had two "rough" starts this season, allowing three runs to the Nationals and Diamondbacks. If you can believe it, both of those offenses have a better Team OPS against righties than the Rays do this year.
Lopez has been dealing on the road this season. He's made three starts on the road, throwing 19 innings and only allowing one earned run. That works out to a 0.47 ERA and a .195 FIP.
Both teams are also dealing with some injuries at the moment. Manuel Margot, the Rays' best hitter this year, is on the 10-Day-IL. Wander Franco was held out of Sunday's game with a quad injury and is currently day-to-day. Yandy Diaz is also day-to-day after being held out of Sunday's game with a shoulder ailment.
Joey Wendle remains on the IL for the Marlins, and Jazz Chisholm and Miguel Rojas are also day-to-day.
Shane McClanahan gets the ball for Tampa, who's been masterful this year. He's second in baseball in strikeouts and his command has improved tremendously from last year. My Co-Host on Not Gambling Advice, Colby Olson, just wrote about why McClanahan is an ace in this league.
The Marlins are one of the worst teams in baseball against left-handed pitching this year. Their .208 batting average ranks 28th, and their .274 OBP ranks 29th in baseball. All together, they are working with the 25th ranked Team OPS vs lefties.
This game should not see a ton of run-scoring. We have two of the best pitchers in baseball right now going up against offenses that don't match up well.
The Rays will deploy an elite rested bullpen unit on top of McClanahan, while the Marlins are working with the sixth-best bullpen ERA in baseball, and also had the luxury of an off-day.
I'll ride the under in the full game, as the first five innings line gives us almost no room for error. I think this game ends 3-2 in favor of the Rays, so I'm happy with 6.5 total runs.
The Pick: Marlins vs. Rays Under 6.5 (-110)
____________
Kansas City Royals @ Arizona Diamondbacks: 9:40 PM EST
Jonathan Heasley: (RHP, Royals) [0-2, 4.32 ERA, 1.80 WHIP, 8.1 IP, 2 K, 7 BB]
Zac Gallen: (RHP, Diamondbacks) [3-0, 1.14 ERA, 0.71 WHIP, 39.1 IP, 39 K, 8 BB]
We head to Arizona for the final game of a two-game set after the Diamondbacks won the first game 9-5. Seven of the 14 runs scored in this game came in the first inning off five home runs.
While I normally like to tail the team coming off a loss in this situation, the starting pitching matchup is so lopsided that I have to tail the Diamondbacks.
Jonathan Heasley will get the ball for the Royals, who seems to be a filler for them as they wait for their arms to get healthy. He's lost both starts he's pitched in and has serious command issues. He doesn't have an arsenal with any wipe-out pitches, so strikeouts will continue to come at a premium for him.
He'll face a Diamondbacks lineup that's been hot lately. Arizona's offense has been fantastic in May, and they've scored 30 runs in the past four games.
Arizona has also been solid against right-handed pitching this year. They have the 13th best slugging percentage against righties and they are second in walks to right-handed pitchers. They see plenty of pitches in order to make the starter work.
That bodes well for them today, as Heasley can't command the ball.
Zac Gallen will toe the rubber for Arizona, and he's been underrated by many, especially me. We just came out with our top 3 for NL CY Young, and he was left of it. He's easily in the conversation right now, and only has one start this year allowing two runs or more.
He's at his best at home, rocking a 0.75 ERA and a 2.06 FIP through 24 innings.
This is no fluke for Gallen. He's throwing harder than last year and ranks in the 97th percentile in xERA at 2.03. He'll face the seventh-worst offense against right-handed pitching all year.
The Royals are at their best when they can work their way on base and break havoc on the basepaths. Gallen has impeccable command right now, working with a minuscule 5.3% walk rate.
If Gallen can repeat his past performances against a worse offense, we should cover the first five innings with ease. Heasley does not look big-league ready and the Diamondbacks should have a field day with him.
The Pick: Arizona Diamondbacks First 5 Innings -0.5 (-135)
__________________________
I've written up a quick guide with critical terms and helpful tips.