Feature
The Just Baseball Guide to Sports Betting
Here are the hot tips you need to make successful baseball wagers.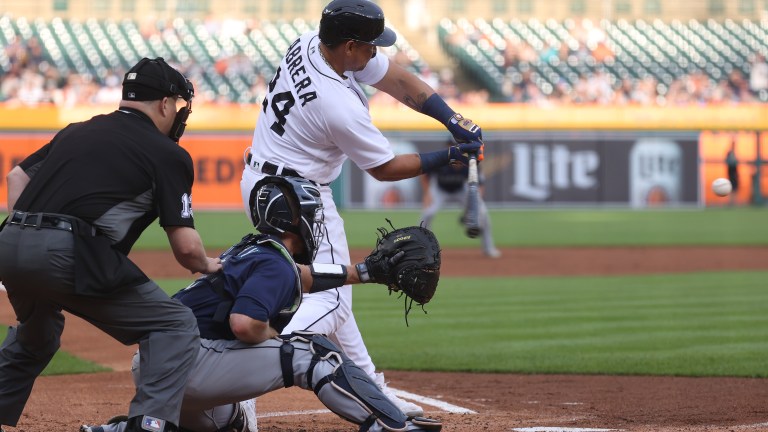 Each day for the past several months, I have been giving out three free MLB best bets on TikTok and Instagram in hopes of providing people with winners. No gimmicks, no payment, just winners. Every bet does not hit, obviously, and many times I'm left in disgust after traversing the heartless gambling terrain that is a daily slate of baseball games. Here, on Just Baseball, I'll continue to do the same and, in an effort to orientate you to the baseball gambling world, I've written up a quick guide with both key terms and helpful advice if you so choose to tail my picks.
For anyone who enters into this frustrating yet exhilarating hobby it's essential to have a gameplan in order to avoid just throwing darts. What I've done here is written that plan of attack for you. It's crucial to remember that picks themselves and the reasons I give for those picks are nothing more than a research tool, not a guarantee to make money. Gambling is hard, really hard. However, I believe that with the proper research and strategy, money can be made consistently.
Key Terms
Moneyline: The "Moneyline" is picking the team to win the game outright. For example, if the Padres are -150 money line favorite, that means you would have to place a $150 bet to win $100. If the Padres are +150, it means they are underdogs; you only have to place a $100 bet to win $150. A quick way to find the favorite in the game is to look for the minus (-) and, similarly, the quick way to spot the underdog is to look for a plus (+).
Spread: Betting on a spread that's listed at -1.5 means you are betting on the team to win by at least two runs or more. Baseball spreads can be challenging, especially considering a baseball team can dominate the game but only win by one run. On the flip side, taking a +1.5 spread means the team can lose, but by no more than one run. My general advice is to stay away from spreads, but you will see me take them on occasion when I think the matchup allows for it.
Over/Unders: These allow you the opportunity to bet on the potential number of runs scored in the total game. For instance, if the O/U is 8, and you bet the "over", you are betting that the two teams score more than eight runs combined. Betting the "under" is simply betting the opposite of that, as you think the two teams will score a combined total of less than eight runs. Additionally, there are lines where you can bet the O/U through the first couple innings or something in between. Over/Unders can be good bets to make. Two bad pitchers and two scorching offenses? Good idea to hit the over. Two stud aces against two struggling offenses? Good idea to hit the under.
Unit Betting: A "unit" is considered to be a certain percentage of your bankroll, which is determined by you the bettor. I would advise that you make your "unit" no more than 1% of your bankroll, but that is entirely your call. So, if you have a $100 bankroll, and you decide to set your unit at 1%, a unit for you would equate to $1. Setting a unit is vital for tracking your bets, remaining consistent, and not overextending yourself. If you make it a priority to stick to the same unit style, you have a better chance of being successful in the long run. Using a unit-style system with a 1-5 confidence interval will help you gauge how much to bet.
Confidence Interval: I use a 1–5 scale on how confident I am in a game. Five being the highest, one being the lowest. Based on each game, I assign my confidence interval and bet that unit size. For example, with a unit size of $100, assigning the bet a "5" would mean placing a $500 bet. In the example under "unit betting" above, if you assigned a bet a "5", you would place a $5 bet, and so on.
Set Realistic Goals and Expectations
Why are you even gambling? Have you taken time to give that some thought? We enter into it for a variety of reasons – for fun, to make the game more exciting, a source of income, etc. Whatever your reason for gambling, that reason should be calculated into your strategy. Setting a plan for yourself with that in mind will set you up for a far greater chance of success and help you avoid the pitfalls of misguided optimism.
Once you've spent some time understanding your why, don't hesitate to reevaluate and recalibrate your goals as you go along. You need to have a sober and realistic outlook on sports gambling before you embark on this journey. Gambling on sports will no doubt be an emotional rollercoaster, walking into it with unbridled confidence could be to your detriment. Do not expect to win every bet; understand that it simply will not happen. Professional handicappers are in the mid-to-high 50% range in regards to success rate, and they are the best in the world. Nobody goes 100%; it's actually extremely difficult to be above 60%. Understanding the ups and downs will allow you to keep emotion out of it and move forward with measured confidence.
Gambling on sports is a game of edges and tiny windows. If done correctly, the money will accumulate over time, if not, you'll see both your bank account and emotions drain at warp speed.
Unit Betting and Bankroll Management
You understand why you are doing this and you've set realistic goals for yourself. Now you're ready to determine how much money should be put on each bet. It is imperative for your overall strategy to know how much money you are willing to lose before placing anything. To make it simple, as alluded to above, I advise spending no more than 1% of your bankroll. That means, if you have $10,000 dollars in your bank account you should never place a bet larger than $100. It is obviously your choice if you'd like to bet more, but managing your bankroll in this way should help keep you comfortable with your losses.
Varying your bets on which team you expect to win is a good strategy, but I would advise against going above a five-unit variance. Here's an example, say your unit is $100 per bet, and you LOVE the Red Sox to win, but only LIKE the Blue Jays and Cardinals to do the same. I'd bet 3 units on the Red Sox (because I have higher confidence) but only 1 unit on both the Blue Jays and Cardinals. I stay right at that five-unit strategy, only betting a total of $500. I've varied my teams but haven't overextended myself.
Promotions and Line Shopping
If you are starting out in the gambling world, don't worry about shopping around for different lines. It's actually best to get acclimated to the website of your choosing. That being said, as you get more comfortable, line shopping is a must. Not every book offers the same lines, so having accounts set up on multiple platforms will help you get the best line. Example: one book may have the Dodgers ML at -150, but another book could be showing -140, if you can you obviously take the latter. You can get better value by doing the research and keeping your options open. Don't discount those tiny edges for a second, they add up if you are betting consistently.
ALWAYS DO PROMOTIONS! Especially if you are just starting out. Almost every single book will give you an incentive to join. A typical line you might see here is "Place your first bet and get $100 free!". Take those every time. You'll never get that again once you start, and taking advantage of free money is always a smart move.
Timing is Everything
Betting lines are constantly shifting up and down based on new developments before each game. Has the weather changed? New starting pitchers? A vital hitter in the lineup is now hurt? How does the umpire call the game? Forecasting these changes before they happen will allow you to maximize the value at the perfect time. I always advise checking out the lines the night before and writing down any changes in the lines as well as why they've been changed. You will start to notice patterns and pick up on information that Vegas is telling you if you're willing to put in the work.
Stay Away From Props and Parlays
This is not the be-all, end-all, but a general rule of thumb is to stay away from prop bets. Yes, prop bets (a bet on a specific event within the game, not the entirety of the game itself) can be enticing, but the value on these types of bets is lacking. For example, betting on DJ LeMahieu to get more than two hits in a game +175 sounds enticing, but the likelihood of gamblers getting consistent paydays on these bets are slim.
Parlays are scary. Parlays look like your best friend and then they leave you in the dust. A parlay is a bet combining multiple picks for a larger payout. For example, I place a $50 bet on the Marlins ML (-185) and the Rays ML (-225) and, if both teams win, I make $61.25. Due to the odds of both teams winning, the odds are actually higher, but does this mean you should hammer parlays? NO. Parlays are built for you to lose. I could dive into a deeper analysis on this, but please stay away.
Consult the Voice in your Head
My final, and most important, piece of advice is that you prioritize your mental health. Say what you want, but it's crucial to remain steady and realize that you won't win every bet. Even the most enormous "locks" in the world lose, and knowing that it's a marathon and not a sprint will keep you even-keeled. Gamblers who are controlled by emotion most likely aren't gambling anymore. People who understand that this is a long process, one full of trials and tribulations have a better chance of coming out on top. Above all else, let it be fun, as it's just baseball at the end of the day. And, without a doubt, if you feel as if you may have a problem, you absolutely must seek help.
Best of luck! Not Gambling Advice.