Analysis
Meet The Rays' Newest Ace: Shane McClanahan
The 25-year-old left-hander is turning heads in the early season with an improved four-pitch arsenal.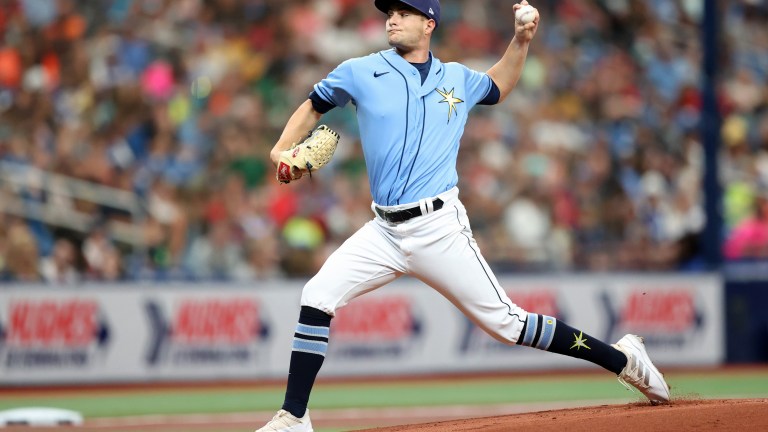 The Tampa Bay Rays are unconventional in their approach to all things pitching usage, especially in how they deploy their starting rotation. As of Sunday, their starting pitchers had combined for the least amount of innings in all of baseball. This is a product of two things: using relievers in a starting role as openers and pulling their more traditional starters at the first sign of trouble.
The most famous instance of this practice by the Rays was during the 2020 World Series when Blake Snell was pulled in the sixth inning of Game 6 with one out and one on. Snell had struck out nine Dodgers while surrendering just two hits and no runs and had thrown just 73 pitches, but Kevin Cash opted to pull his ace.
Nick Anderson, who had given up runs in six-straight appearances, relieved Snell and would give up a double to Mookie Betts. The Dodgers went on to win the 2020 World Series and the rest, as they say, is history.
The New Ace of Staff
The Rays in 2022 continue to lean even more heavily into their short stint pitching approach, but are not any less hungry to prove they can finish the job after the World Series loss in 2020 and an ALCS loss to the Red Sox last postseason. Without Tyler Glasnow, who will likely miss most of 2022 recovering from Tommy John surgery, the Rays needed a true ace of their staff.
At one time, Corey Kluber would have been the easy answer to fill in as the leader of the rotation, but at 36 years old, his best days are behind him and can only be counted on as a middle of rotation arm. On the other end of the spectrum, the Rays have righty flame thrower Shane Baz. He has the pedigree as one of the top pitching prospects in all of baseball, but at 22 years old with just 13.1 major league innings under his belt, his time is yet to come.
In steps Shane McClanahan, a 6'1 southpaw that can reach north of 100 MPH on the radar gun and boasts one of baseball's best benders. Drafted with the 31st pick by the Rays in 2018 out of the University of South Florida, he rose quickly through the minor league ranks in 2019, going from Low-A to Double-A in one season.
He finally made his debut in 2021 and flashed ace-like stuff, but lacked command and paid for his mistakes, giving up the third-highest hard hit rate against in baseball. All in all though, it was a major success of a rookie showing, as he finished with a 3.43 ERA and 3.31 FIP while striking out more than 27% of hitters faced.
So far this season, McClanahan has a 3.00 ERA and has struck out seven or more in each of his five starts. His dominance was on full display against the Twins on Saturday. He struck out 11 batters over five innings, although he did surrender two home runs.
His knack for giving up home runs has been the only blemish on an otherwise perfect resume thus far as he's given up four long balls through five starts. Regardless, it appears McClanahan came into this season with a new plan of attack in a hope to neutralize hard contact.
Breaking Out Of His Shell
For a pitcher that throws as hard as McClanahan does and already saw early success in his first season, it can be a giant leap to make major changes, but the Rays lefty has been a completely different arm in 2022 than we saw in his debut season.
Not to say he's changed everything. He's still overpowering hitters with a 96.8 MPH heater, which is the 14th highest average fastball velocity among all pitchers. It's that McClanahan is attacking hitters in a completely different way with slight changes to his pitch movements allowing him to truly become a top tier starting pitcher.
Let's start with the approach changes McClanahan has made.
A theme across baseball in recent years has been an emphasis on throwing secondary pitches more and fastballs less. In 2015, starting pitchers threw fastballs north of 56% of the time, but so far in 2022, we're seeing starters use fastballs an all-time low 48% of pitches. It makes sense too, as fastballs are the pitch that hitters crave in the box. Hitters this season have a .340 wOBA against fastballs, but just a .264 wOBA against curveballs, changeups and sliders.
The Rays are a smart organization when it comes to pitching development, if not the smartest. They know the numbers listed above and they know McClanahan was beaten up on his fastball in 2021. He gave up nine home runs and a whopping .378 wOBA against the heater. The issue was that he was throwing his fastball more than 40% of the time, giving hitters ample opportunity to attack it.
Naturally, McClanahan has decreased usage of his fastball this season, while increasing usage of his changeup and curveball, enabling him to keep hitters on their toes by varying between three different speeds. Aside from decreasing fastball usage, he's cut his slider usage in half from 34% to 17%. An interesting change as his slider performed well last season, but his curveball has been an even better pitch, holding opponents to a .132 average with a 45% whiff rate.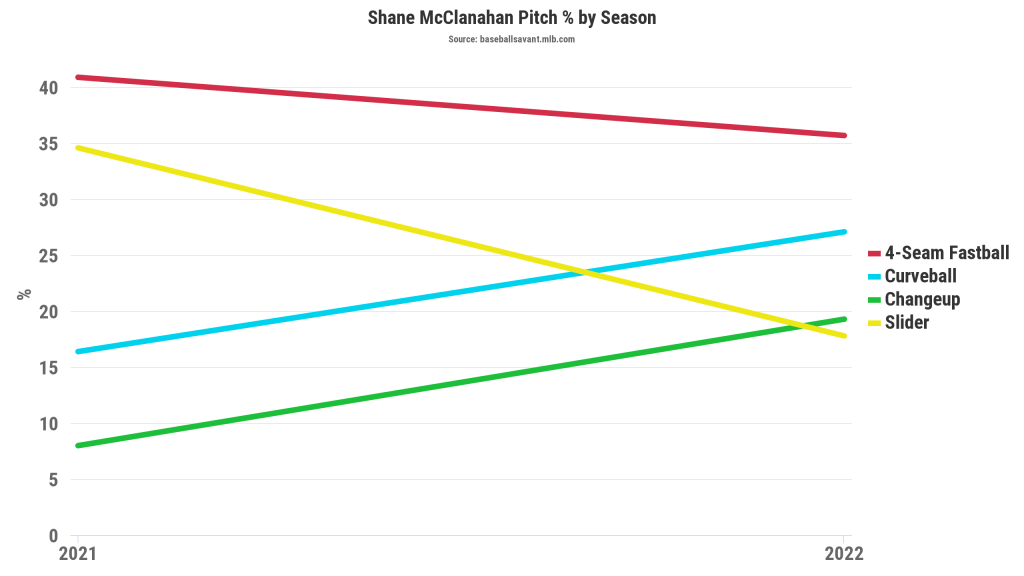 I mentioned the uptick in curveball usage, but you'll see in the graphic above a drastic increase in changeup usage and I believe that's been the biggest accelerator to McClanahan's dominance thus far. At almost 88 MPH, it's the perfect pairing for his 88 MPH slider and gives hitters four directions of movement to account for. His changeup is getting whiffs on 57.9% of swings, which is the third-highest changeup whiff rate behind Brandon Woodruff and Patrick Sandoval, who both have elite changeups.
More Sweep The Merrier
McClanahan has altered the amount he's throwing each of his four pitches, but he's also tinkered with the characteristics of his pitches as well.
By now, you may be familiar with the "sweeper" revolution that has taken baseball by storm, but in case you haven't, here's a quick synopsis. Basically, research has shown that pitches that maximize horizontal movement perform better, so many pitchers have added more horizontal movement to their sliders and even curveballs.
It seems Shane McClanahan has followed the trend. He's added nearly three inches of horizontal movement to his curveball on top of an extra three inches of vertical movement without sacrificing velocity. He's created a nightmare of a pitch.
His new favorite toy, the changeup, has also been manipulated to add more movement. By decreasing his changeup's velocity from 89 MPH to 87 MPH, McClanahan was able to add 3 inches of vertical drop and over an inch of horizontal movement. This creates a pitch that has more velocity separation from his fastball as well as more movement to fool hitters. It's no wonder he finds himself with the third-highest changeup whiff rate in baseball.
What's in Store?
Shane McClanahan has made baseball a simple game for himself. He's throwing his best pitches more and his worst performing pitches less. He's getting more ground balls and giving up less hard contact to mitigate home runs. He's become a four pitch pitcher, something that a starting pitcher must do in order to go deeper into games. He's also proven able to alter his pitches to get more desirable movement. These are all characteristics of a pitcher with a bright future and at the age of just 25, he's showing that the best is yet to come.
For now, he's on a short list of young pitchers with the potential of being a top-10 pitcher in the sport, but he's first going to have to justify that he can keep home runs to a minimum and go deeper into games. The Rays have found their ace and baseball as a whole may have found another generational talent.