Analysis
Who Are the Biggest Snubs From the 2022 MLB All-Star Game?
Zack Wheeler, Dylan Cease and Ty France headline the list of players that were snubbed from the 2022 MLB All-Star Game.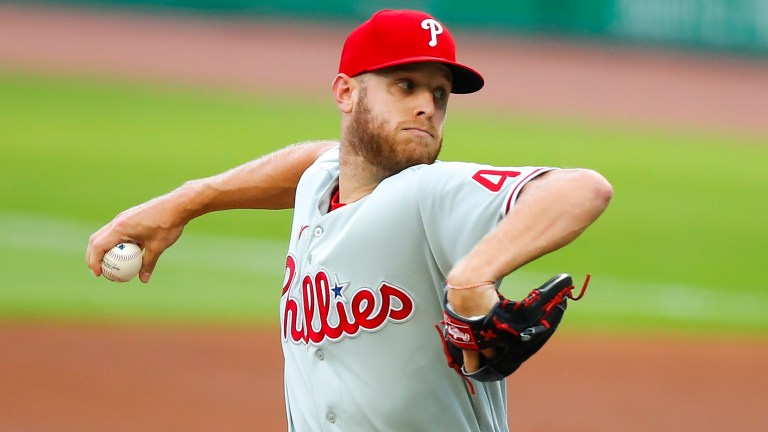 This is a recurring cycle us fans go through every single season. Once the full lineups for the MLB All-Star game drop in any given season, there's always a group of notable omissions. And as fans, it sparks up an incredible debate. Another Midsummer Classic is upon is. And with the full slate finally being released, some selections are downright horrifying over others.
Last week, I ran through both the AL East and Central, finding the worst snubs who didn't qualify for the starting positions. Most of my complaints have been met with selections for some individual players. But now, we have to point out some of the obvious flaws in these squads.
Adding pitcher's into the equation (which we couldn't even vote on) creates even more snubs. There has to be a way to vote on some of our favorite aces in baseball!
With that being said, let's jump into the biggest snubs from the 2022 All-Star Game. Reminder, some of these guys could still make it into the game due to a selected player being injured.
Ty France, First Baseman, Seattle Mariners
I mean, come on. This one isn't serious, right?
France has enjoyed an incredible breakout campaign in Seattle this season. Among first basemen, France is second in wRC+, third in fWAR, and fourth in slugging percentage. While I've already bagged enough on the Vladimir Guerrero Jr. selection, France trumps Guerrero in two of those three statistics.
The Mariners first baseman has a higher batting average (.306), on-base percentage (.379), and wOBA (.367). Some may point to the fact that France spent a tad bit of time in the IL, but that doesn't matter to me. He's still a qualified player with 328 plate appearances and deserves to be in the All-Star Game. My hope is that he still finds his way onto this roster somehow, but he should already be there.
Josh Bell, First Baseman, Washington Nationals
Josh Bell has been one of the best hitters in the National League this season, and some could argue he's been swung it better than teammate Juan Soto in 2022. Unfortunately, he is not on an All-Star roster. While there are an abundance on NL first basemen who all had a case to make the NL squad, Bell might have the best one.
He ranks third among National League first basemen in wRC+, fWAR, OBP, wOBA, fifth in slugging percentage, and is one of five at his position hitting over .300.
Bell has been incredible for a Nationals team that is among the worst in baseball this season. His numbers may not necessarily top the likes of Freddie Freeman (another snub), Pete Alonso, or Paul Goldschmidt, but Bell certainly deserves a shout. He also could be a big piece on the trade market come the deadline, so keep your eyes peeled for that!
Austin Riley, Third Baseman, Atlanta Braves
The defending world champion Atlanta Braves will send five All-Stars to Los Angeles next week, but there's probable cause for there to be a sixth making the trip. Austin Riley continues to be one of the most underrated players in baseball and was snubbed for another All-Star selection this year.
Riley is tied for second among NL third basemen in wRC+, right alongside Nolan Arenado. Riley has hit the most homers at the position with 24, second at the position with 57 RBIs, and second in hits. And isn't an All-Star. Blasphemous.
Nolan Arenado's hot start seems to have won over the voters, but he's tailed off as the season has progressed. Riley has been right on his heels, and he barely missed out. Riley's fWAR of 3.2 is a whole point lower than both Arenado and starter Manny Machado.
While I understand why he wasn't included as a third baseman due to the sheer amount of talent above him, he should clearly be at the DH spot. He's been one of the best hitters in the sport this year, and there's no reason why he shouldn't be in LA at the position.
Will Smith, Catcher, Los Angeles Dodgers
The Just Baseball golden boy Will Smith will not be playing at his home stadium in the All-Star game.
Should he be? Absolutely.
While the inclusion of Travis d'Arnaud is a heartwarming story, there isn't a chance that he's been better than Smith this year. Outside of Willson Contreras, the Dodgers catcher has been the second best at his position in 2022. Smith trumps d'Arnaud in an exponential number of statistical categories. I have no idea what the voters were thinking with this one.
Diving into the numbers, let's compare the two. Smith has a higher wRC+ (129), on-base percentage (.352), wOBA (.351), xwOBA (.397), more home runs (13), and a higher fWAR (2.1). The two are practically identical in batting average, and d'Arnaud has more RBIs.
So, we can fully make the conclusion that the selection should be Smith. It isn't like the Dodgers have an egregious number of selections either, they only have three representatives. Hopefully Smith finds his way onto this roster somehow, because he's deserved it in 2022.
Dylan Cease, Starting Pitcher, Chicago White Sox
Cease seemed like a shoo-in for the Midsummer Classic following an incredible first half. Dylan Cease has a 2.30 ERA. He has the most strikeouts in baseball at 142.
Unfortunately, he was not chosen for the American League All-Star team. With basic counting numbers like that, and an 8-4 record, he should easily be there!
This one I cannot wrap my head around. Cease is a top-three AL Cy Young contender and has been a better pitcher than the highest-paid pitcher in baseball with Gerrit Cole. Cole is here, Cease is not.
Where it gets even more puzzling is when you compare the starter to two other guys who made the team in Paul Blackburn and Nestor Cortes Jr.
I love Nestor. The joy he's brought us Yankees fans early in the season was magical, and so much fun. But there isn't a chance he's been better than Cease in 2022.
Blackburn had to be included because of the representation rule, but a 3.36 ERA isn't really cutting it. Comparing the three together, Cease wipes in every single statistical category. He has more wins, more starts, more innings pitched, a lower ERA and FIP, more strikeouts and quality starts, more strikeouts per nine, the lowest opponent OPS and so on, I could go on for days.
The bottom line is, Dylan Cease should be an All-Star. If his walks and control are what's holding him back from getting the vote, then so be it. But he should be on this roster without a doubt.
Zack Wheeler, Starting Pitcher, Philadelphia Phillies
Zack Wheeler entered 2022 as a top-10 starter in the sport according to our guys over here at Just Baseball, and he's continued this production over his 16 starts thus far.
Placing second in the NL Cy Young race last year, he was set to dominate this campaign. Wheeler has pitched to the tune of a 2.46 ERA this year, the ninth-lowest mark in baseball. He's struck out 100 hitters, good for 27.2% of the time, and is only dishing out walks at a 5.5% clip.
Wheeler's elite ground ball percentage of 45.5% makes him one of the most effective twirlers in the game, racking up 3.1 fWAR so far. And guess what, he isn't an All-Star! Who would've guessed?
Wheeler was the May NL Pitcher of the Month and has continued to dominate since then. Very similar to Cease versus Cortes and Blackburn, the Phillies ace was snubbed in favor of Reds starter Luis Castillo.
While yes, Castillo has been excellent this season, Wheeler has just flat-out been better. ERA, FIP, strikeouts, K/9, xERA, SIERA, I could keep going. But again, the Reds have to have a representative. This isn't a knock-on Castillo whatsoever; the greatness of Wheeler just has to be appreciated. And yes, he is fully deserving of the nod. We just saw Carlos Rodon fill in as a replacement on the team, and maybe we'll see them same for Wheeler soon.