Analysis
Nolan Arenado Is Back (Because He Never Really Left)
The superstar third baseman has put any and all concerns about his potential decline to rest, busting out of his slump in remarkable fashion.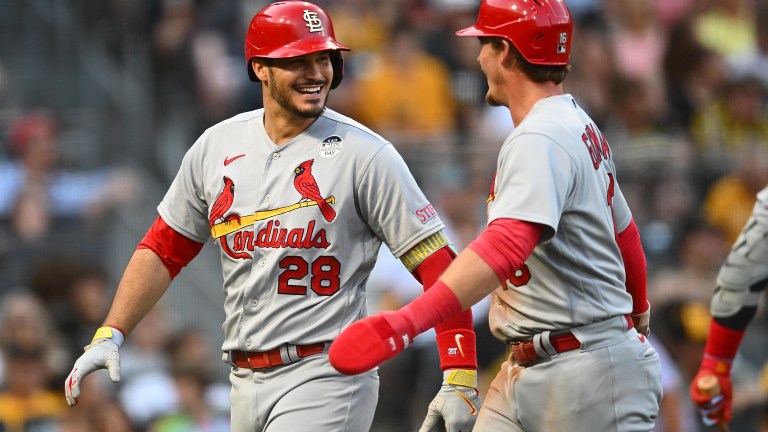 There aren't many ballplayers with more impressive resumes than Nolan Arenado. In addition to his myriad defensive awards and achievements, the Cardinals' third baseman is a seven-time All-Star, five-time Silver Slugger, and three-time NL home run champ. Sure, playing in Coors Field helped to juice his numbers a little bit, but as he proved with his MVP-finalist campaign in 2022, Arenado doesn't need a hitter-friendly home ballpark to be one of the best players in the game.
Yet as the 2023 season began, a dreadful slump had fans questioning his skills.
One might have thought that Arenado's long track record of success would earn him the benefit of the doubt, but then again, his performance really wasn't doing him any favors. By nearly every offensive statistic you can think of, this past April was the worst of his career. Never before had he gotten off to such a slow start.
April Fool
In 121 trips to the plate, Arenado slashed .239/.281/.319 with a 65 wRC+. By OPS, wOBA, and wRC+, he ranked among the ten worst hitters in the National League. The month of May didn't start much better; he hit .207/.281/.345 with a 76 wRC+ across his first seven games.
As the slump continued, whispers about the 32-year-old Arenado entering his decline were getting louder. Screenshots of his all-blue Baseball Savant page began to circulate.
I have to admit, I was concerned myself. His numbers were awful across the board, from his plate discipline to his quality of contact to his actual results. I was sure this must have been the worst stretch of his career.
But it wasn't. Ironic though it may be, Arenado seems to have an "uncharacteristic" six-week stretch almost every year. On May 11, I wrote about some of those cold stretches, ultimately concluding that he breaks out of his slump every time. Lo and behold, Arenado has been a completely different hitter since that very day.
Nolan Is Rollin'
On May 12, Nolan Arenado hit a home run. He hit another the following day, and yet another the day after that. He went on to homer in five straight games (and six of seven). And that was just the beginning.
Over the past month, Arenado has posted a .340/.387/.710 slashline. His 191 wRC+ ranks fourth in baseball. He has driven in 26 runs in 27 games, thanks in large part to his 10 home runs and 16 extra-base hits.
Arenado has raised his full-season numbers out of the basement and into respectable territory. He now has an .815 OPS for the season; at this rate, he should have no trouble earning his eighth straight All-Star selection. He ranks second among qualified NL third basemen in wRC+ and fourth in fWAR:
| | | | | | | |
| --- | --- | --- | --- | --- | --- | --- |
| Player | AVG | OBP | SLG | wOBA | wRC+ | WAR |
| Jeimer Candelario | .251 | .330 | .446 | .335 | 109 | 1.9 |
| J.D. Davis | .286 | .371 | .483 | .369 | 134 | 1.8 |
| Ke'Bryan Hayes | .261 | .304 | .415 | .311 | 93 | 1.3 |
| Nolan Arenado | .276 | .327 | .488 | .346 | 121 | 1.3 |
| Max Muncy | .191 | .323 | .474 | .340 | 115 | 1.2 |
| Ryan McMahon | .261 | .335 | .479 | .350 | 106 | 1.1 |
| Austin Riley | .270 | .335 | .452 | .339 | 110 | 1.1 |
Even better, Arenado isn't just putting up great results – he's doing so with a masterful approach at the plate. He has cut down his strikeouts without sacrificing walks, a particularly welcome sight. Over the first six weeks of the season, he was striking out at a surprisingly high rate.
What's more, Arenado is hitting the ball harder, and he's been rewarded for his efforts. His average exit velocity and hard-hit rate are way up, which explains how he managed to triple his extra-base hits total over the last month. Slowly but surely, the sliders on his Baseball Savant page are moving into the red.
Putting the Slump Behind Him
Long story short, Nolan Arenado isn't ready to "decline" – not even close. Heck, I'm not even sure he knows the meaning of the word.
Fish swim, birds fly, and hitters go through slumps; that's just the way it is, and Arenado is certainly no exception. However, with each passing day, he is putting this particular slump further behind him.
Simply put, Arenado remains one of the most dangerous players in the game. He may not have looked so fearsome in April, but the sheep's clothing is coming off and the fangs are coming out. The real Arenado is here to play.