Analysis
Fernando Tatis Jr. Proving His Brilliance Was Never in Question
...Or, at least, he's proving why it never should have been.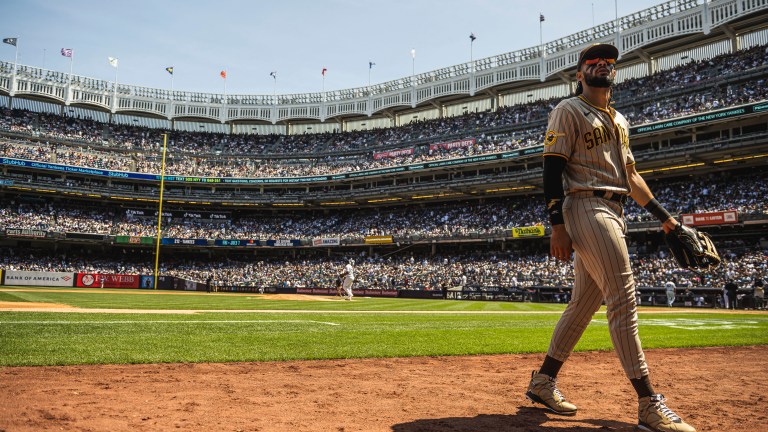 No one knew quite what to expect when Fernando Tatis Jr. returned from his 80-game suspension, but the Padres superstar is showing there was never any reason to doubt him.
With 3.0 fWAR and a 152 wRC+, Tatis ranks fifth in the National League. He also ranks within the top ten in home runs, batting average, and isolated power. He's been a valuable baserunner too, swiping 12 bags in 14 attempts, and a surprisingly comfortable defender in right field.
On a per-game basis, no position player is racking up wins above replacement at a faster pace. With 3.0 fWAR in 53 contests, Tatis would be on pace for 9.17 fWAR in 162 games. Catchers Sean Murphy (8.81 fWAR/162) and Will Smith (8.25) are the only qualified hitters playing at an 8-WAR clip, while Corbin Carroll (7.99), Ronald Acuña Jr. (7.77), Wander Franco (7.76), and Freddie Freeman (7.10) are the only others producing at a 7-WAR pace.
Only four position players have had a 9-fWAR season in the last decade: Aaron Judge, Mike Trout, Bryce Harper, and Mookie Betts.
It goes without saying that Tatis isn't going to play all 162 this season, so he'd have to produce at an even higher level to finish with 9 fWAR. But that's beside the point. He's played in every game since his return, and he's been the most valuable player in baseball in that time. He has forced his way into the NL MVP race with fewer games played than all the other contenders.
Tatis is every bit the player he was when he last took the field in 2021. He hasn't missed a beat.
Tatis hit the ground running in mid-April, batting .304 with a 124 wRC+ in his first ten games. However, he wasn't in proper superstar form until a couple of weeks later, when he hit .333 with a 172 wRC+ from May 5 to 15.
He slowed down in the latter half of May, but the slump was short-lived. Tatis has gone nuclear in June, batting .400 with a 249 wRC+. It's this ongoing stretch that has rocketed him to the top of so many leaderboards.
Perhaps the most impressive thing Tatis has done this season (aside from being his typical impressive self) is cutting down on his strikeouts. Plate discipline was his one weakness over his first three big league seasons; he whiffed a ton and struck out 27.6% of the time.
This year, Tatis has struck out in only 18.8% of his plate appearances, a huge improvement. His whiff rate has gone from dreadful to simply below average, another big step forward. He's making more contact, and for a player who hits and runs as well as he does, that should portend success. Thus far, it certainly has.
Apparently, there was no reason to worry about how Tatis would re-adjust to big league pitching after more than a year away. Instead, it's big league pitchers who need to worry about facing Tatis.
While his offense is his primary superpower, the 24-year-old has also been turning heads in right field.
Now that Xander Bogaerts is manning short in San Diego, Tatis has become an everyday outfielder. He was never the greatest defensive shortstop, and he struggled during a brief outfield cameo in 2021. There was always a chance the "Tatis to right field" experiment would prove to be a disaster.
Instead, he has taken to his new role with ease. In 51 games as a right fielder, Tatis has accumulated 14 DRS, 4.9 UZR, and 7 OAA. By all three metrics, he's been the most valuable corner outfielder in the National League.
His elite speed plays well in the outfield, and his strong arm is also an asset. Among primary right fielders, only Ronald Acuña Jr. throws the ball harder.
While he isn't the most well-liked player these days (and that might be an understatement), there's no denying that Fernando Tatis Jr. is one of the most extraordinary talents of his generation. Injuries and suspensions may have kept him off the field, but they did nothing to slow him down.