Analysis
Miami Marlins Offseason Outlook
Lofty expectations and expensive signings backfired on the Marlins in 2022. How will general manager Kim Ng right the ship heading into 2023?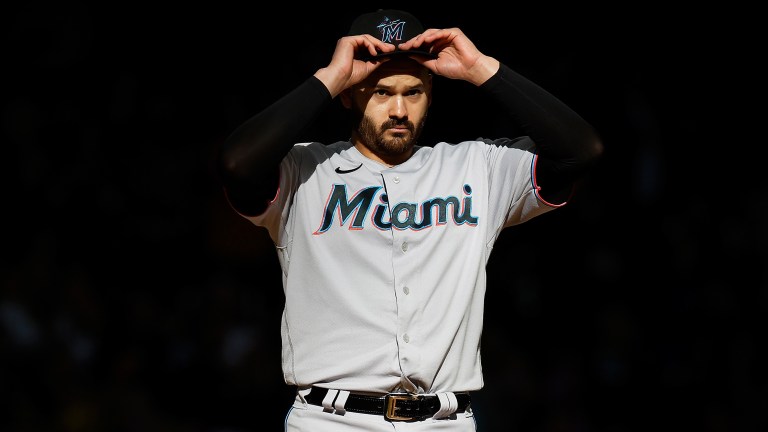 There's no way around it. It was a rough year for the Miami Marlins at a crucial point for the franchise. New ownership promised better days ahead, yet CEO Derek Jeter resigned before the season started and the team went on to lose at least 93 games for the fourth consecutive full season.
This season's struggles seemed to sting a bit more because of the loftier expectations set for them. An extremely talented young pitching staff, led by NL Cy Young favorite Sandy Alcantara, was complemented by $90 million in financial commitments to outfielders Avisail Garcia and Jorge Soler. The Marlins also traded for their starting catcher in Jacob Stallings and super-utility infielder Joey Wendle.
Even at the time, none of those offensive additions were earth-shattering moves, but general manager Kim Ng and the Marlins seemed to believe that their pitching could lead the way while they piece together the offense.
The aforementioned acquisitions were about as much of a disaster in their first season in Miami as possible, combining for an fWAR of 0.6 this season. With Soler and Garcia all but certain to be on the books for a combined $27 million next season, the stingy Marlins may be disinclined to spend much to improve the lineup this offseason.
If you look at last year's offseason outlook for the Marlins, you'll notice many of the same gaps for the team. The Marlins ambitiously believed rookie Jesus Sanchez could be an everyday centerfielder with no contingency plan. In regards to catcher, they at least tried to upgrade the position by acquiring Gold Glove backstop Jacob Stallings, but he regressed as much as any player in Major League Baseball in 2022.
A somewhat-diminished farm system leaves the Marlins with one option to improve the lineup: trade from the team's surplus of starting pitching. Miami reportedly looked to do this at the deadline, shopping starter Pablo Lopez up until the clock struck 6:00 p.m. ET.
Ultimately, Ng decided that none of the offers put forth were enough for the Marlins to part with their No. 2 starter and his more than two years of control. The team will surely revisit talks this offseason, with other starting pitchers likely being on the table.
What Do They Need?
I'll start with center field, because this will be the second consecutive offseason where the Marlins very obviously need help up the middle. I'll get into specific names and targets in the third part of this piece, but most of the center field options are probably irritating for some Marlins fans to hear about at this point.
While you could argue that the Marlins still need help at catcher, I'd be surprised to see them address that spot. After trading a decent package to the Pirates for Stallings, it would be out of their nature to so quickly throw in the towel on the veteran catcher who does have a good rapport with the Marlins staff.
25-year-old backup catcher Nick Fortes has been solid since he debuted late in 2021, and offers a decent contingency plan if Stallings' struggles continue into 2023. In 86 career games, Fortes has posted a 107 wRC+ with solid defense (1.7 fWAR).
Two of: left field, right field and DH will be claimed by Soler and Garcia next season, setting the Marlins up to make a tough decision on Garrett Cooper. An All-Star in the first half, it was a much-too-familiar story in the second half as Cooper missed large chunks of time with different injuries. But, even with the injuries, Cooper set a career-high in games played with 119 this season.
Though the inability to stay on the field is frustrating, the Marlins are too deprived offensively to move on from Cooper, but should go into next season with the expectation that he cannot be an everyday player.
Ideally, Cooper would see action at the DH spot to mitigate as much injury risk as possible, leaving first base potentially open. The easiest position to fill in terms of cost for production, Marlins first baseman only produced a 94 wRC+ last season (21st in MLB). While not a priority, it could be the easiest and cheapest spot to make an impact on the offense.
Another big decision for Ng is the middle infield. Team captain Miguel Rojas is under contract for next season and is a contender for a Gold Glove at shortstop, but saw his offensive numbers taper off dramatically this year, slashing .236/.283/.323.
The best development on the position player side of things this year for the Marlins was Jazz Chisholm, who despite playing only 60 games, led or ranked near the top of the team in virtually every offensive category.
A natural shortstop, the Marlins moved Chisholm to second base last season where he thrived until going down with a fracture in his back and a torn meniscus. Another banged up season for the 24-year-old does not necessarily make moving him back to shortstop enticing, but the Marlins may not have a choice.
Moving Chisholm to short would allow the Marlins to give recently acquired prospect Jordan Groshans a longer look at second base, with Joey Wendle and Jon Berti as other options. Again, I will highlight potential upgrades a bit later.
With Brian Anderson projected to make around $5 million in arbitration, the Marlins may feel as tough he and Cooper are redundant. With Cooper proving to be a more consistent hitter and the Marlins possessing plenty of infield options, I would not be surprised to see Anderson go non-tendered. Especially when you consider his struggles defensively in the outfield this season.
The Marlins have emphasized a desire to get away from what hasn't worked in the past philosophically, instead taking a different approach. Rather than pursuing the high variance, high power players, the team plans to take a speed and contact oriented approach to its roster construction moving forward.
Who Should They Deal?
This is where things can get tricky. There's a case to be made for dealing several different pitchers, but you could also make an argument as to why the Marlins should hold onto each of their arms. Craig Mish of the Miami Herald reported that the team would likely be willing to listen to offers on any of their pitchers not named Sandy Alcantara and Eury Perez.
Lopez still seems like the most likely candidate to go, but the Marlins may need to make multiple moves if they truly want to right the ship. Another hurdle in a potential Lopez deal is that rebuilding teams would likely prefer to pluck one of the Marlins younger, more controllable arms, while contenders will be more interested in the established righty, as we saw at the deadline with the Yankees and Dodgers inquiring.
If the Marlins want big league bats for Lopez, their list of trade partners may be somewhat limited. A three team trade could open up a lot more options for the Marlins as Lopez should command a pretty hefty price still.
As the wunderkind that is Eury Perez (our No. 7 overall prospect) pushes towards a 2023 debut, it becomes a legitimate question as to who could be the odd-man out even if Lopez is dealt. The Marlins may have to answer that question in advance via trade this offseason.
Trevor Rogers, Jesus Luzardo and Edward Cabrera will probably be asked about the most, but there's a reason to hold onto each of them. While teams probably still hold the talented Rogers in a good light, it is impossible to avoid selling him at a discount after his struggles this season. Luzardo–a hometown kid–broke out in a big way this year and easily has more upside than the former Rookie of the Year runner-up Rogers.
Cabrera is in a similar position to Luzardo. Elite stuff that we saw come together impressively this season. Marlins pitching coach Mel Stottlemyre Jr. even highlighted Cabrera as arguably the most talented arm he's ever seen. All three pitchers battled injuries this season, but Cabrera and Luzardo's injury history is more alarming than that of Rogers.
The team also enjoyed a surprising emergence from former first rounder Braxton Garrett. Another southpaw, Garrett's stuff ticked up and he turned in a 3.58 ERA in 88 innings with a 24% strikeout rate. At 25 years old, Garrett looks like a solid back end of the rotation arm, but lacks the ceiling of the aforementioned starters.
In regards to prospects, the Marlins still have quite a few arms that teams would be interested in. 21-year-old lefty Dax Fulton enjoyed a great season between High-A and Double-A looking very much the part of a top 100 prospect towards the end of the season.
Another left-hander in Jake Eder is set to return from Tommy John surgery after dominating Double-A to a 1.77 ERA in 71 innings during his professional debut in 2021. They also have Max Meyer who is out for the entire 2023 season after undergoing Tommy John surgery.
The Marlins could get an impact bat via a Lopez trade then try to package Garrett with one of their left-handed pitching prospects to potentially add another piece or trade multiple prospects. If a more enticing (and expensive) option presents itself, the Marlins could try to pry another impact bat from a team with a package headlined by Rogers, Cabrera or Luzardo. Ideally, the Marlins hold onto that trio.
A rotation of Sandy Alcantara, Jesus Luzardo, Trevor Rogers, Edward Cabrera and Eury Perez could be one of baseball's best if they can stay healthy. The issue is, Perez may not be deemed MLB ready at the start of the season and a trade of both Pablo Lopez and Braxton Garrett would leave the Marlins with an open rotation spot until he or Jake Eder get the call. Other options to fill in for the first couple months could be Dan Castano or Elieser Hernandez, but Marlins fans probably sighed as they read that.
Even the deepest of teams pitching-wise can see their rotation ravaged by inevitable injury. A 162 game season often becomes a war of attrition between pitching staffs. Given how injuries have ravaged the Marlins and the risk presented by every arm not named Sandy, the Fish could be more inclined to trade multiple prospects instead of two rotation pieces. After all, the Marlins did draft 14 pitchers in this year's draft and have enjoyed a nice track record of developing their arms.
The Marlins bullpen fell even further victim to the injury bug with less depth and talent. The subtractions of Anthony Bass and Zach Pop to get Jordan Groshans–a good trade–further the need for bullpen help.
I expect Cole Sulser to bounce back next season and the Fish have some intriguing Minor League relief options who are close to MLB ready, but they need to add experience to the bullpen. Michael Fulmer, David Robertson, Adam Ottavino and Corey Knebel represent some of the affordable options on the free agent market.
Who Should They Target?
It's important that we are realistic with potential targets for the Fish. They're unlikely to pursue any marquee free agents, but the good news for the Marlins is that this free agent class is rather deep offensively.
Mets center fielder Brandon Nimmo is the best fit imaginable, but he will likely command more than the Marlins can afford. When it comes to center field, trade targets are again the better and more attainable option.
Outfielder Michael Brantley is limited to a LF/DH role at this point in his career, though he is everything as a hitter that the Marlins lack. The 35-year-old was enjoying another patented Brantley season, hitting .288/.370/.416 with more walks thank strikeouts before a shoulder injury put an end to his season 64 games in.
Brantley provide offensive consistency that the Marlins desperately need along with veteran leadership for a clubhouse that dealt with some rifts this season. If the Marlins decide to hire Astros bench coach Joe Espada as their next manager, Brantley could be enticed to play his final couple seasons in Miami. His age and injury could make him affordable for the Fish.
Reports have begun to swirl that Jose Abreu and the White Sox could head in different directions as the 35-year-old hits free agency. Abreu saw his home run output dip last year, but posted the best BB/K ratio of his career and his highest wRC+ (137) in a full season since 2017.
A native of Cuba, the Marlins had interest in Abreu back in 2013 when he defected and there could be some appeal for the veteran to play closer to home. The Marlins were historically bad against left-handed-pitching in 2022 and Abreu could immediately help in that department with his 150 wRC+ in his career against southpaws.
The same names of Bryan Reynolds and Cedric Mullins will likely come up at some point with the former being a more likely option. Both outfielders were noted targets of the Marlins last offseason, but the Pirates and Orioles were asking for too much in the Marlins eyes. The two outfielders had down seasons from what they did in 2021 and the Marlins will probably check back in with both teams.
The Orioles make the most sense as a trade partner for the Marlins. The O's enjoyed a magical season that saw them playing meaningful games until the final days of September. Pitching is an obvious deficit still for the Orioles, but they have a wealth of young, controllable position players.
There is a match here if the Orioles are willing to move off of Mullins with the quick ascension of first-round pick Colton Cowser, as well as Kyle Stowers. There's also a chance that the Orioles want to keep the roster intact and trade from their prospect wealth to acquire pitching.
Though neither are a proven option, the Marlins could have interest in a deal for Cowser or Stowers. Our No. 23 prospect in baseball, Cowser mashed his way to Triple-A in his first pro season. The 22-year-old hit .278/.406/.468 with 19 homers and 18 stolen bases while playing a good centerfield.
A less sexy option would be Stowers, but he's no slouch either. The 24-year-old has produced every season since being drafted in the second round of the 2019 draft and impressed in 34 big league games last year after cutting his whiff rate down by a good margin in Triple-A.
Stowers would crack the Opening Day roster, while Cowser might need a little bit more seasoning. Regardless, both would be everyday players up the middle for the Marlins early in the season. The Orioles have solid infield prospects like Joseph Ortiz, Cesar Prieto and others who could help sweeten the deal as well.
Mullins is a better fit for the Marlins "new approach" as a speed, contact and defense guy, but again, I wouldn't blame the Orioles for wanting to run it back with the same big leaguers and satisfy their pitching gaps by dealing prospects.
The Blue Jays are an impossible fit to ignore as well. There have been rumors of the two teams discussing a Lopez trade over the last year, but nothing really got serious. With the dramatic struggles of Jose Berrios and few reliable starting pitching options outside of Alek Manoah and Kevin Gausman, it is easy to see where the Marlins and Blue Jays line up.
The Marlins have long had interest in outfielder Teoscar Hernandez and the Jays could probably afford to dish the slugger as they try to find a consistent spot in the lineup for the fifth best prospect in baseball Gabriel Moreno.
Though he wouldn't be a plus outfielder in center, Hernandez has put together seasons where his defense is average out there, more than what the Marlins can say with their center field group in 2022. Hernandez would instantly become the Marlins best hitter though he is due to be a free agent after next season. If the Jays packaged infield prospect Addison Barger with Hernandez, the Marlins could be more inclined to overlook the singular year of control Hernandez comes with.
The Marins could ask on Moreno instead of Hernandez in a Lopez deal, but the team seems disinclined to move the talented catcher even with the emergence of Alejandro Kirk. As mentioned earlier, the Marlins gap in center field and the presence of Stallings and Fortes leads me to believe that the Ng will use her most valuable asset (Lopez) to satisfy another hole in the lineup rather than meet the presumably exorbitant asking price required to pry away Moreno.
The St. Louis Cardinals will be busy on the starting pitching market as well. The Cardinals pieced together the rotation this year but could use proven controllable arm talent. The wealth of outfield talent both in the big leagues and in the upper minors for the Cardinals could make one of their outfielders expendable with Dylan Carlson as the most ideal fit.
Still 23 years old, Carlson could be extremely difficult to pry from the Cardinals. Though risky, Tyler O'Neil could be a worth the chance for the Marlins if the Cardinals were willing to move off of the 27-year-old slugger. With only two years of control and plenty of contingency plans, this could be the time for the Cardinals to cash in on O'Neil even after a banged up season.
2023 Outlook
There's probably another half-dozen trade candidates that I could have listed, but at a certain point it becomes redundant. We know Lopez will be trade bait, though it's still too early truly know which team's could nibble as free agency often influences the market in both directions.
Step one for the Marlins will be to hire a manager. According to the Craig Mish, candidates include: Astros bench coach Joe Espada, Royals bench coach Pedro Grifol among others. The new manager will select their staff, but pitching coach Mel Stottlemyre Jr. should be a priority for whoever is at the helm.
Marlins GM Kim Ng has a chance to clean house from many of the Jeter/Denbo hirings, many of which were Yankee castoffs. It may take time to see changes from a developmental standpoint. What fans should have no patience with is another year of subpar MLB product.
I'm not saying that the Marlins need to win the World Series next year or even win the division, but Ng needs to break the trend of predictable disappointment. Many feared that center field and the bullpen would be an achilles heel for the Marlins in 2022, and it was unfortunately a reality.
The Marlins can't afford to enter a season hoping that certain roster questions will naturally answer themselves. Even if the Marlins do not spend big money this offseason, there needs to be a tangible change in approach by the franchise. There's enough tradable assets to put this team in a position to be somewhat competitive, but the margin for error becomes razor thin when you're cheap.