Analysis
Marlins Set Up for a Pivotal Offseason
The clock is ticking on Derek Jeter and Bruce Sherman.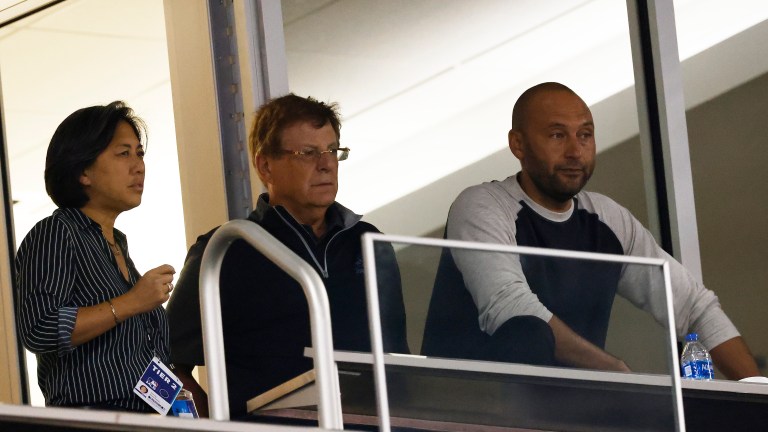 It was a strong MLB Trade Deadline for the Marlins, given the circumstances. The circumstances being the Marlins were already out of contention in July, and had to operate accordingly.
The plan was clear, sell off any assets which are not a part of the team's long term future. Holding onto expiring veterans in a lost season is just flat out malpractice (I'm looking at you, Rockies). Outbound for the Marlins were: OF Starling Marte, OF Adam Duvall, RP Yimi Garcia and RP John Curtiss. In return, the Marlins brought in: LHP Jesus Luzardo, C Alex Jackson, OF Bryan De La Cruz, RP Austin Pruitt, and C Payton Henry.
Deadline Analysis
Among the players the Marlins dealt, only John Curtiss came with team control through next season. While none of the deals were needle movers for the franchise, the Jesus Luzardo deal stuck out in particular as a great move with major upside. The 23-year-old former top 10 prospect in baseball has struggled this season, but boasts some of the best stuff from a southpaw in baseball. A change of scenery back home for the kid from Parkland along with the Marlins recent track record of developing arms leaves me optimistic for his future in Miami.
There were two pretty surprising aspects to the Marte for Luzardo swap. The first being that the A's were willing to part with Luzardo at all. The second is that the Marlins kicked in $4 million to cover Marte's salary and attain a player of Luzardo's caliber. Miami's lack of spending heading into this season was understandably frustrating for fans, but this move could be a sign of a potentially encouraging offseason.
The Marlins no doubt have some major holes to address at the catcher and center field positions. The team was aggressively canvassing the trade market for answers at both spots. The Miami Herald's Craig Mish reported that the Marlins had been deep into talks with the Angels about a swap of Brandon Marsh for Max Meyer, but the deal fell through. The almost trade brought mixed opinions in the Marlins community, however I will continue to go on record saying the 1-1 swap is an easy deal for the Marlins to make.
Continuing to do their due-diligence, Kim Ng and the Marlins front office also reportedly checked in with the Pirates on their All-Star center fielder Bryan Reynolds. The price for the 26-year-old slugger was reportedly "three top guys" forcing the Fish to move another direction. The Marlins didn't need to force a trade at the deadline given the fact that the season is lost. They can ride this uninspiring lineup into the offseason, then reassess the trade market.
In the meantime, the Marlins will likely audition their new acquisitions to see if they may have found a diamond in the rough. Bryan De La Cruz was plugged right into the lineup after being sent to Miami for reliever Yimi Garcia and will likely get a lot of AB's the rest of the season. De La Cruz was enjoying a break out season in Triple-A for the Astros prior to being dealt. The 24-year-old mashed to a .324/.362/.518 line with 12 homers and a respectable 20% K-rate.
It is worth noting that De La Cruz was playing in the Triple-A West league, which is the most hitter friendly league in the minors. The average Triple-A West player is OPSing .821. This is one of those instances where wRC+ is really helpful as the statistic takes competition and park factors into account among many other things. De La Cruz's wRC+ was 113 in his 66 Triple-A games, so the outfielder was still 13% above average according to the statistic. An above average runner who takes good routes to balls along with a solid arm, he should have no problem sticking in center. To even have a shot at finding an answer in center field for an expiring reliever who has struggled at times this year is a win even if De La Cruz winds up being a fourth outfielder.
I expect a similar situation with catcher Alex Jackson who was acquired in the Adam Duvall deal with Atlanta. Jackson will likely get a lot of at-bats as the Marlins feel out what they have in the 25-year-old catcher. Miami will almost surely move on from catcher Jorge Alfaro after this season, however the free-agent market is rather thin for a position that is thin in general. Jackson has the makings to be a starting catcher in the big leagues, but it will be a matter of whether he can hit consistently enough. Tell me if you've heard that one before.
The former 6th overall pick in 2014 by the Seattle Mariners boasts plus raw power and solid defense behind the dish. Jackson has dismantled Triple-A pitching this year to a .287/.366/.694 line with 11 home runs in just 30 games. At the big league level, Jackson has only mustered one hit in 23 at-bats. Swing and miss is always going to be a part of Jackson's game, but he demolishes left-handed pitching at an absurd clip, making a Mike Zunino type of outcome a possibility.
Offseason Plan
The good news is, the Marlins don't need to worry about pitching. The bad news is, the two positions of need (catcher and center field) are scarce on the free-agent market. The easiest solution for the Fish would be to sign veteran backstop Travis d'Arnaud this offseason, then allow Alex Jackson and Payton Henry to battle things out. A backstop of a healthy d'Arnaud and the better of Jackson or Henry could be in the better half of the league. A far cry from the Marlins league-worst production from their catchers this year. But if the team wants to make a splash, the much talked about Wilson Contreras possibility is just too glaring to ignore.
A deal centered around Jake Eder, plus complementary pieces could get the deal done for Miami, especially now that Contreras is only one year from free agency. Other possible trade targets include Mitch Garver (Twins), Max Stassi (Angels), and Jacob Stallings (Pirates). If d'Arnaud is attainable in free agency, it may be hard to justify giving up assets for Stallings or even Garver, though Stassi could be a great option.
On the outfield side of things, impending free agent Chris Taylor would be a dream though it would be hard to imagine that the Dodgers won't want to bring him back or that he would not want to return to LA. A more attainable target is Mark Canha, who has made 21 starts in center field this season and 169 in his career. Ironically, the Marlins lost Canha to the Rule 5 Draft back in 2014 after drafting him in the 7th round in the 2010 MLB Draft.
Canha is 32-years-old, but likely won't as for the four years that Starling Marte demanded prior to being dealt. Even if he does, Canha is a year younger and his game is not as dependent on his athleticism. Dating back to the start of 2018, Canha has produced a .258/.374/.461 slash line, along with a 133 wRC+. Canha won't necessarily be cheap, but a deal with the Athletics outfielder could fit their description of spending.
After a season full of blown saves and trading away some of the veteran bullpen arms, the Marlins need to address the bullpen. There are plenty of veteran relievers available on the free agent market after this season, and the Marlins have learned the hard way how important experience is in the back end of a team's stable.
Free agents Mychal Givens, Raisel Iglesias, Brad Hand, Ryan Tepera, Daniel Hudson and others all present more of a track record than any Marlins reliever slated to return next year. Generally, I am a bit weary of trading assets for relievers given the volatility of the position, but if certain stand out back end guys are available, the Marlins could pull the trigger.
It is always possible that the Indians could make one of Emmanuel Clase or James Karinchak available. The Cardinals could also look to deal Giovanny Gallegos if it can net them some starting pitching help. The reliever market is always shifting and changing thanks to the fluidity of the position, so the options are endless for the Marlins. The most important thing is that the team actually looks to address the bullpen whether it be with money or prospects (the former is preferred).
2022 Lineup
The hope for the Marlins is that at some point in 2022, the Marlins upper level prospects will start to break through to the big leagues. As we've seen in the past and this year, counting on prospects to make a Major League impact can set you up for failure. A lot can change in the next six months, but the lineup below is what I think is attainable prospect wise and financially for the Marlins.
Jazz Chisholm – 2B
Mark Canha – CF
Jesus Aguilar – DH
Wilson Contreras – C
Garrett Cooper – RF
Lewin Diaz – 1B
Brian Anderson – 3B
Jesus Sanchez – LF
Miguel Rojas – SS
Obviously, this lineup is under the assumption that Major League Baseball doesn't trip over itself and actually implements the DH. The Marlins would have more than enough prospect capital to acquire Contreras and still have a top 10 farm system, plus the financial means to lock up Mark Canha.
Should Lewin Diaz struggle, the Marlins can move Cooper to first base and call up one of JJ Bleday, Peyton Burdick or Griffin Conine to slot into right field. Same could be said if Jesus Sanchez struggles or if Aguilar goes down with an injury. In this instance, Bryan De La Cruz would be a high end fourth outfielder and great bat off the bench as well.
That lineup along with a rotation that features five of: Sandy Alcantara, Trevor Rogers, Pablo Lopez, Sixto Sanchez, Elieser Hernandez, Jesus Luzardo, and Edward Cabrera would be an incredibly competitive team. And if they are competing, the Marlins could use their massive prospect bank to add reinforcements.
Add Raisel Iglasias and Brad Hand to a bullpen with Anthony Bender, Dylan Floro, Richard Bleier, Jordan Holloway, and Zach Pop, and this is a team that could give the National League headaches.
Make or break may sound a bit extreme, but if the Marlins cannot turn things around in this offseason, it may be time for the ownership and front office to look itself in the mirror. A lack of eagerness to field a competitive ball club given the team's prospect depth and increased revenue/financial flexibility would leave Miami baseball in a dire state.