Analysis
Max Scherzer Hits the IL Again, as Injuries Hamper Cy Young Season
When healthy, no one has pitched better than Max Scherzer this season. But health continues to be a concern, as he just went back on the IL.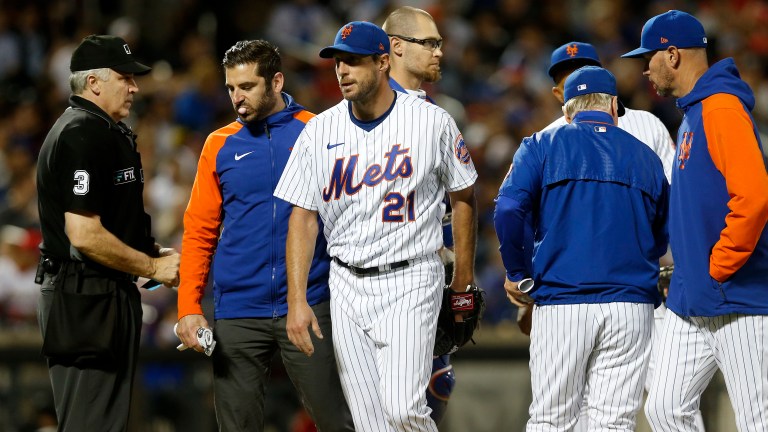 When Max Scherzer made his last start on Saturday, he exited the game after five innings pitched due to a side injury. Scherzer explained after the game that he only left because he felt fatigue in the same left side that landed him on the IL earlier in the season.
Instead of pushing through it and pitching the sixth inning, which Scherzer felt he was capable to do, he decided it was better to be cautious to avoid potentially hurting himself to the point where he would have to go on the IL again. Apparently that caution will carry over a bit longer than Scherzer first expected, as manager Buck Showalter announced today that he will in fact hit the IL again.
The Mets are playing it safe with Scherzer and for good reason. While they are still in the midst of a great division race with the Atlanta Braves, the Mets will be a playoff team this year, regardless of if they win the NL East.
The Mets strength come October is having a healthy Scherzer and Jacob deGrom to give them an edge in any playoff series. The only problem is they are relying on two pitchers who suddenly have real injury concerns, who are pitching in their mid-to-late 30s. Time well tell how they hold up down the stretch, but so far, the impact they have provided when healthy cannot be understated.
When on the mound, Scherzer has once again pitched like a Cy Young this season, with numbers that rival any of the top candidates. That is why he was still among the top-five in odds when we looked at the updated odds in the Cy Young race earlier this week.
Missing at least two more starts all but eliminates Scherzer from Cy Young contention, but that does not erase the incredible value he has brought to the Mets in his first 20 starts in Queens.
Aging Like a Fine Wine
Through his first 20 starts with the Mets, Max Scherzer is pitching to a 2.26 ERA with 153 strikeouts in 127 2/3 innings pitched. If he maintains that ERA, it would be the lowest mark of his career.
Scherzer has done two things really well this year that have helped him produce such a minuscule ERA. He has limited his walks allowed and has kept the ball in the yard. Scherzer's 1.62 BB/9 is the second-lowest mark of his career, while his 0.70 HR/9 is the lowest, as is his 6.4% HR/FB. With a 10.79 K/9, Scherzer has now averaged double-digit strikeouts for 11 years.
One great stat we can use to measure a pitcher's performance is ERA+, which takes a player's ERA and normalizes it across the entire league. It takes external factors like ballparks and opponents into account, then adjusts it, so a score of 100 is league average.
This year, Max Scherzer has posted an ERA+ of 172, or 72% better than league average. That would be the best mark of his career outside of the 2017 season, when he pitched to a 178 ERA+.
Of the 20 starts Scherzer has made, he has pitched at least six innings in all but three, with two of those short starts coming as a result of injury. He has 14 quality starts this season and has pitched into the seventh 12 times. Bottom line, he has anchored this Mets staff, which missed Jacob deGrom for a majority of the season.
Since the 2021 season, Max Scherzer has a 2.37 ERA. That is the best mark in baseball among pitchers who have pitched at least 200 innings pitched. At 38 years old, few pitchers have been more effective than Mad Max.
Cy Young Case if Not For Injury
Among pitchers who have thrown at least 100 innings this year, Max Scherzer's 2.26 ERA is the second-best mark in the National League behind only Tony Gonsolin.
As we look at all of the statistical measurements it is clear Scherzer has been a top-10 starter in the NL this season. His 2.92 xERA is 6th, 2.54 FIP is 4th, 3.31 xFIP is 9th and his 4.1 fWAR is 6th. If we were to average out his stats with an additional seven starts, Scherzer would suddenly have a compelling case to win the Cy Young.
If Scherzer had been healthy all year, pitching to the same averages over 27 starts, he would be looking at an fWAR of around 5.5, which would be the top mark in the NL. Add in an additional 50 strikeouts and he could be atop the leaderboard in that department as well.
Scherzer ranks in the 85th percentile or higher in HardHit%, xERA, xBA, K%, BB%, Whiff%, Chase rate, fastball spin, curveball spin. He is one of two pitchers in baseball with two pitches that rank among the top-50 in run value this season.
His slider has generated a whiff rate against of 47.8% in 2022 and has been worth a run value of -17, which is the seventh-best mark of any pitch in baseball and is the fourth-best slider behind Edwin Diaz at -18. Scherzer's fastball has a -11 run value, ranking in the top-50 as well.
Even with diminished velocity compared to his peak, Scherzer has continued to have some of the nastiest and most effective stuff in all of baseball. With two years left on his three-year, $130 million contract, Scherzer has been worth every penny so far.
The only issue has been injury.
Scherzer missed around six or seven turns in the rotation when he hit the IL with an oblique injury back in May. Now Scherzer is set to miss two additional turns with a minor version of the same injury.
If the Mets don't get a healthy Scherzer down the stretch, it would really hurt their chances of making a deep run come October. Hopefully the Mets caution putting him on the IL now, will result in a string of full health to close the season.