Analysis
The Dodgers Are Having One of the Greatest Seasons in MLB History
Featuring stellar starting pitching and three of the game's best superstars, the Dodgers have quietly put together a remarkably great season.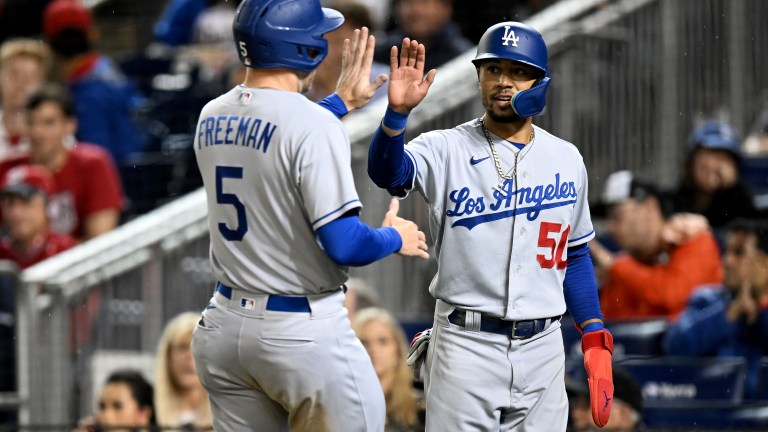 Expectations can create interesting narratives in sports. When a team is not expected to be great and they are, a narrative is built around them with how special a season has been. But when a team has the expectation of greatness, we can sometime overlook it in real time.
The 2022 Los Angeles Dodgers have put together one of the greatest regular seasons in MLB history, yet we often don't even bat an eye because they have consistently been the best team in baseball for the past decade.
On Sunday, the Dodgers officially clinched the top overall record in the National League, securing home field advantage through at least the NLCS. They are nearly 60 games over .500 and are 21 games ahead of the second place San Diego Padres in the NL West.
The Dodgers have scored more runs than any team in baseball, while allowing less than any other team. This has led to a run differential of +322, which is nearly 100 runs better than the next closest team (the Yankees are at +227). Simply put, the Dodgers are head and shoulders better than every other team in baseball and it really isn't even that close.
An Acquired Superstar Trio
If we look at some of the other best teams in baseball, a lot of their best players are homegrown talent. The Dodgers have an abundance of homegrown talent, but they also have acquired some of the game's best superstars over the last few years, who have really drove winning this season.
Namely, we are talking about Mookie Betts, Trea Turner and Freddie Freeman.
Betts is in his third season with the Dodgers, but this is the first where he has been healthy and has looked like himself for a full 162. The 29-year-old former MVP has posted a 6.2 fWAR, leading the Dodgers with 35 home runs and 112 runs scored.
Freddie Freeman is the newest superstar addition to the Dodgers and he is having an MVP-caliber season with his new club. Another former MVP, Freeman is leading Major League Baseball with his .328 average and is currently tied with Francisco Lindor for the fifth-best fWAR at 6.8.
Meanwhile Trea Turner, who was acquired at last year's trade deadline, is the best third-banana in the game, currently leading the team with 97 RBIs and 25 stolen bases. All three players were acquired from other clubs via trade or free agency and have formed one of the best trios this game has ever seen.
Sensational Starting Pitching
It isn't easy to pitch to a sub-3.00 ERA, especially as a starting pitcher. This season, there have only been 26 pitchers across baseball that have pitched to an ERA below 3.00, who have accumulated at least 100 innings. The Dodgers have four of them in their starting rotation.
Clayton Kershaw and Julio Urias are a pair of homegrown lefties on opposite ends of their career. Urias is at his absolute apex when it comes to his prime, pitching himself into the Cy Young conversation with a sparkling 2.25 ERA, which is the best mark in the National League.
Kershaw is at the tail end of his prime, but remains extremely effective, pitching to a 2.42 ERA across 20 starts this season. The performance of these two southpaws was generally expected considering their track record, but what was not expected is for the third lefty in their rotation to pitch at the same level.
Tyler Anderson entered this season with a career 4.62 ERA. Among all pitchers in baseball who have thrown at least 600 innings since his debut in 2016, that is the seventh-worst ERA. Yet somehow Anderson has pitched to a 2.52 ERA across nearly 170 innings pitched this season, turning in the first All-Star campaign of his career.
Tony Gonsolin is the last member of this starting rotation who has pitched to a sub-3.00 ERA in over 100 innings pitched and if not for injuries, he might be giving Urias a run for his money in the race for the ERA title as he currently sports a 2.10 ERA.
Andrew Heaney (3.06 ERA) and Mitch White (3.70 ERA) have taken effective turns in the rotation this year as well, which leads us to really the most incredible stat in regards to this electric Dodgers rotation. Among starters who have taken the ball at least 10 times for L.A. this season, Walker Buehler had the worst ERA at 4.02.
Post-June Rampage on the League
As incredible as this Los Angles Dodgers team is, they did not look like it during the month of June. In 26 games played, the Dodgers were only two games over .500, going 14-12 with a run differential of just +15. The down-month lit a fire under this sleeping giant and they have responded in resounding fashion ever since.
In July, the Dodgers added more than 150 points to their June winning percentage, taking 21 of the 26 games they played. That success carried over into August, where they went 22-6, all but clinching up everything before we even got into the final month of the season.
The Dodgers clinched their division two weeks ago, needing just 141 games to claim the top spot in the NL West. This set a franchise record for the fastest they have ever clinched the division since moving from Brooklyn to Los Angeles in 1958.
Since the Dodgers struggles in June, they have gone on to win 59 of their last 78 games. That is a .756 winning percentage, which would put them on pace to win 122 games over a full season. Their run differential over that span of +191 has them beating other teams by over two runs on average.
There have only been six teams in MLB history that have won over 110 games in a season and the Dodgers are four wins away from making that seven. If not for their one bad month, the Dodgers likely would have challenged the record set by the 1906 Cubs and 2001 Mariners for having the most regular season wins in MLB history at 116.
The Dodgers have reached the point where the regular season is rather insignificant. It is World Series or bust every year and this season is no different. Still, the success that they have had in the regular season should not go overlooked entirely, as this is still one of the best years any team has ever put forth ahead of.