Analysis
Luis Arraez and Jorge Soler Have Put the Marlins in Position To Buy
Thanks to All-Star performances from Luis Arraez and Jorge Soler, it finally makes sense for Miami to be aggressive at the trade deadline.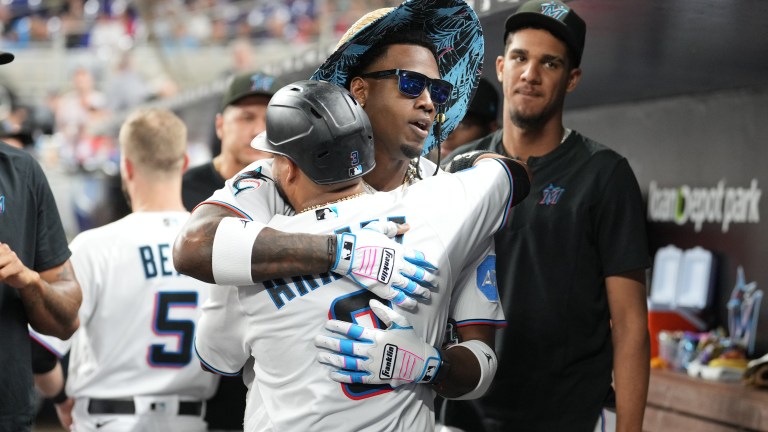 The last time I wrote about the Miami Marlins, I did not buy into them as a postseason threat at all. I thought they would fizzle out, meddle in mediocrity for another year, sell at the deadline and torch this fanbase once again.
Since then, quite the opposite has happened. The Marlins began a three-game series with the A's on that day, June 2, sitting at 30-28. They would sweep that series in dominant fashion, and they've gone 21-9 overall since. During that stretch, their 105 wRC+ is ninth in the bigs and their pitching staff's 3.60 ERA is third best. The Marlins' run differential that day sat at -50. Now? They've got it back to -7, and it was even before they had to face the mighty Braves last weekend.
This all goes to show one thing: the Marlins have proven themselves to be a good team. They have a truly elite bullpen, guys like Bryan De La Cruz and Garrett Cooper have shown they can be middle-of-the-order hitters, and their pitching has been great, even with a struggling Sandy Alcantara.
They have also shown that they have a long way to go to catch the Braves in the NL East. To be fair, a lot of teams have a long way to go to catch the Braves. Just last weekend, the Marlins were swept right out of Atlanta by a combined score of 31-7. It was a reminder that while the Marlins are good, they have holes to fill.
That has put the Fish in a position to be buyers at the deadline, and owner Bruce Sherman has publicly declared they will be. Thursday Morning, Craig Mish and Barry Jackson of The Miami Herald released an article where Sherman declared his intentions:
"The job is not done. We want to be in the 2023 postseason. I am prepared to give [general manager] Kim [Ng] and her staff the resources she needs over the next month to help the club. Thank you Marlins fans for your support."

-Marlins Owner, Bruce Sherman
This is a huge public declaration that Sherman will have to back up. Knowing Marlins fans, they will be very upset if he does not. It is also the first time he has publicly said the team wants to be aggressive.
For all the things that have gone right for the Marlins this year, there are two main reasons they are in a position to buy: Luis Arraez and Jorge Soler. Without them, there is a good chance this team would be heading for another fire sale.
All stats and rankings updated prior to play on July 6.
The Chase For .400
Let's be real. It is not going to happen. Hitting .400 over the course of a season is impossibly difficult. Luis Arraez last had a five-hit game (his third of the season) on June 19, and that game got him to an even .400. Since then, Arraez is "slumping," hitting .369 over his last 16 games. That stretch–which would win the batting title this year by a mile–has dropped his batting average to .384. If he goes 1-3 in his next game, his batting average will drop again. It often gets lost just how hard it is to uphold a .400 batting average on a day-to-day basis.
This disastrous slump aside, Arraez is revolutionizing the Marlins' offense this year. The Marlins have desperately needed a bat they can rely on to get on base every night and jump-start things. The last one they had was…Christian Yelich? Giancarlo Stanton? Who even knows?! Arraez has been everything they could have asked for and more since coming over for Pablo López.
Just for good measure, here are the numbers: .384/.437/.476, .913 OPS and 151 wRC+. His numbers only go up with RISP, a huge part of how he has completely changed the Marlins offense. His astronomical .460/.539/.571 slash is just ridiculous, and 34 of his 41 RBI have come with guys in scoring position. He is also hitting .455 with a .586 OBP and 1.086 OPS with RISP and two outs. On top of that, he is hitting an even .500 in the ninth inning.
Basically, the dude is clutch, and he does it when the Marlins need him most. He always seems to come through when the Marlins need to start a rally, or delivers runs in the clutch when guys get on ahead of him.
The Fish went into this offseason and realized they needed an ideological change on offense. Their budget was never going to allow them to out-slug teams like the Braves, Phillies and Mets in their division. Kim Ng and the front office decided to build a roster that would allow them to effectively play small ball in 2023. The centerpiece of that offensive philosophy is Arraez, and it has produced great results.
Just look at how they won against the Cardinals on Wednesday. They once again showed that when you put the ball in play, anything can happen:
The Marlins have been tremendous in one-run games this year, and yes, their 21-5 record in those games seems highly unsustainable. However, we are more than halfway through the year, and it is pretty clear at this point the Marlins have a propensity for winning these games. In fact, they are built to win in that manner. A.J. Puk is a dominant closer, and the bullpen's 3.64 Clutch score is the best mark in baseball.
This team also puts the ball in play, which causes weird things to happen sometimes. Their 99 wRC+ is 19th in baseball, but their .264 average is third. Amazingly, they only get better later in games; the Marlins' 115 wRC+ in the seventh inning or later is second only to the Rays'.
I am using a lot of numbers to basically say this: the Marlins built a contact-based offense around the best contact hitter in the league, and it is working beautifully. They throw such a different look at their opponents from what they are used to, and it is effective. The Marlins are a throwback look, and it allows them to cause chaos in close games. That is why they are winning so many close games, and it all starts with the man who is chasing .400.
Soler Power
The Marlins may have switched around their philosophy, but every team has to have one guy that brings the boom. Ding Dong. Who's there? It's Jorge Soler.
The Marlins brought him on last season to hit nukes and drive in runs, and it did not go to plan. Soler suffered through injury in 2022, posting just a 98 wRC+ and 13 homers in 72 games.
This year, he has completely turned it around. Cubano Gigante has already played in 84 games and is posting career numbers. His 136 wRC+ would be tied for a full-season career high, and his 22.4% K% is the best mark of his career.
Soler made the All-Star team but lost out to J.D. Martinez for the starting DH spot, and the fans got it wrong. Martinez has played in 14 fewer games, his K% is almost eight points higher and his wRC+ is 14 points lower. Soler has also played 154 innings in the outfield, while Martinez has played 12. His 1.8 fWAR is nearly a full win better than Martinez's 0.9.
He has done exactly what the Marlins have needed of him: supply the power and drive in runs. Just like the Marlins, Soler gets better as the game goes on: .270/.387/.584 with 161 wRC+ and eight homers in the seventh inning or later. He also has a .958 OPS and 152 wRC+ with RISP. All in all: .252/.348/.526, good for an .875 OPS and the 136 wRC+ mentioned earlier.
The dude flat-out rakes, and on a contact-heavy team, somebody has to supply the power. Soler has been pretty much alone by himself in that department: the next highest home-run total on the team is Garrett Cooper's 11.
This strategy has worked for the Marlins so far, but I do think they are going to need to add some power at the deadline to really make a run at October. The Marlins are not catching the Braves in the NL East, so they will have to do it the hard way through the Wild Card. That is going to get very difficult in the second half of the year.
The Mets are hot. The Phillies are quietly playing well, and I see them as a team likely to go on a run in the second half. The Giants are good. I do not see the Padres staying down all year. The NL Central is a mess, and one of those teams could get in on the Wild Card fun. The Dodgers will be involved. The Diamondbacks. Holy moly, we are in for an insane second half in the National League!
The Marlins need another bat–likely two–and one of them has to be able to help out Soler in knocking the ball out of the park. The good news is, he and Arraez have put them in a position where it makes sense to be aggressive at the deadline.
Soler was a possible trade candidate when the Marlins were struggling. Now, trading him would be treason. The Marlins have to pair him with another big bopper, and then this offense can really start flexing its muscles. Did somebody say Luis Robert Jr.?
Time To Be Aggressive
The Marlins have a great opportunity in front of them. They can keep the train rolling, bring some guys on board and make a run at their first full-season playoff appearance since 2003. The fans in Miami are ready to explode. They are riding the momentum the Heat and Panthers built and are excited about the Marlins again! The crowds have gotten bigger and bigger over the last month, and I do not see it stopping. Bring in a big name at the deadline, and just watch what happens.
If I were the Marlins, this would be my shopping list: a starting pitcher, a right-handed reliever, and two bats–one with a lot of power. If they do this, I truly believe they can be a playoff team come October.
I bought into the Marlins when they went up to Fenway and swept the Red Sox. Immediately after, they went to Truist Park and got manhandled by the Braves, swept by a combined score of 31-7. Marlins teams in the past would let that derail them. Not this team. They are resilient, they are scrappy and they just flat-out win games.
They will win a whole lot more if they go out and make some big splashes. The main reasons they are able to do that? Jorge Soler and Luis Arraez.