Analysis
The Miami Marlins Make No Sense
Their Cy Young has been bad, they have a negative run differential and yet they somehow have a winning record. Something doesn't add up in Miami.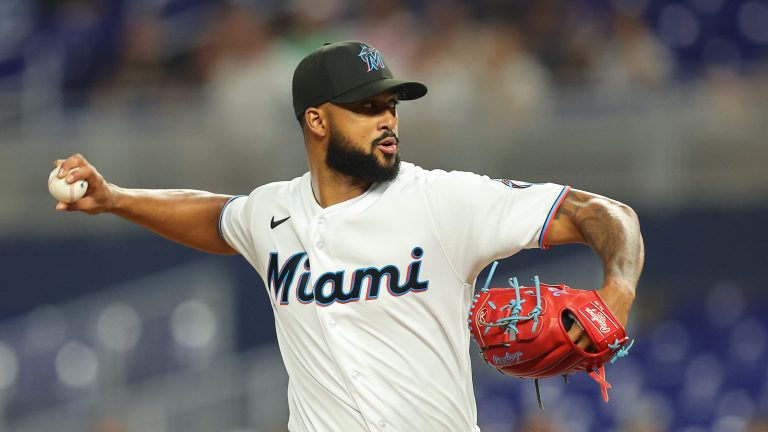 Some things in life just don't make sense. How is my dog so cute? Are both the Panthers and the Heat really in their respective Finals at the same time? The Miami Marlins have a better record than the San Diego Padres entering June? See what I'm saying? There are things you just can't explain and you just have to accept as reality.
The Marlins being a game over .500 as we barrel towards the dog days really makes no sense at all. They have the second-worst run differential in the National League, their Cy Young winner has been arguably their worst pitcher and they have the worst catching situation in baseball.
Yet the Marlins feel infinitely more watchable and exciting than the team that won 69 games last year, and barring a total collapse going forward, they will end up with a better record.
At the same time when you watch them it's hard to tell if they are actually better. Coming into play on June 1, the Marlins lead the league in GIDP with 62, 14 more than the next team! Just two nights ago, the Marlins grounded into three double plays against the Padres, including one with the bases loaded and their best hitter, Luis Arráez, at the plate.
The Fish have a slightly below average offense (97 wRC+, 17th in MLB), which to be fair is a big improvement from last year. Still, they have seven players with at least 90 plate appearances and less than 100 wRC+. That includes Jacob Stallings, who is third-worst in wRC+ among players with 90 PAs, and Jean Segura, whose 42 wRC+ is worst among all qualified hitters. Marlins' off-season target, José Abreu, is second-worst with 50.
Surprisingly, the Marlins have struggled to pitch more than we expected. Their 4.28 team ERA is also 17th-best in the league, well below expectations for one of the most talented rotations in the league. A huge part of that has been the struggles of Sandy Alcantara. The reigning Cy Young winner is posting a 4.93 ERA through 11 starts and has really struggled in finishing starts.
Can you chalk it up to last year's insane workload? The pitch clock? Just general struggles? Not really sure. Sandy's stuff is still electric, but a lot of his starts have started well and ended poorly. I think new manager, Skip Schumacher, has struggled to figure out how to handle the situation.
He has left Sandy in too long too often and it has cost the Marlins games. The Fish are 3-8 in Sandy starts this year. I believe Sandy will be okay, he is too good and determined not to figure this out, but until he does he is holding the Marlins back this year as crazy as that may sound.
So with a below-average offense, a struggling ace, terrible situational hitting and a roster lacking in talent, how in the world are the Marlins good? Let's take a look and find out.
Ding Dong Who's There? It's Jorge Soler
Time for some transparency. You may have seen me tweet this from the JB account on one of Soler's majestic bombs this year. Trying to figure out what it is? It's a reference from the Dan LeBatard show. Can't really explain why it's funny but it is. If you didn't know now you do.
Soler has been amazing this year. When the Marlins signed him, the guy they have gotten this year was the maximum output they could have hoped for. In fact, he's been even better than I realized. Entering June, Soler is in a three-way tie with Max Muncy and Matt Olson for third on the home run leaderboard with 17. He has an .883 OPS and 137 wRC+, his 25.9 K% is down 35% from 2022 and his .302 ISO is two points shy of a career high.
Soler was pretty brutal last year–his 98 wRC+ is way better than the eye test would suggest–and the $15 million the Marlins owed him going into this year felt like an albatross. He hit just .207 with 13 homers, 32 RBI and a .695 OPS. I'm not keen to use RBI, but the Marlins brought Soler in to produce runs and he was pretty awful at it last year.
What has changed? Well, for starters he's healthy. Soler played just 72 games last year and it clearly drained his power, slugging just .400. Now he's got that SLG up to .550 (11th-best in MLB) and has already surpassed his homer and RBI total from last season. A huge reason for that is because he's barreling up the baseball and smoking it again.
Just take a look at these savant bubbles, including his 97th percentile Barrel%.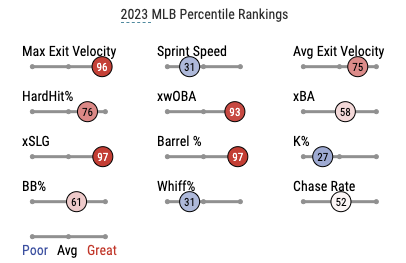 What has made Soler so important to this offense is his situational hitting. He has been fantastic with RISP this season, posting an insane .259/.358/.672 slash that is good for a 1.031 OPS and 169 wRC+. Nine of his 17 homers have come with men on base, seven of which came with runners in scoring position.
Now the Marlins are staring at his $9 million salary for next season and thinking they got a bargain. However, Soler has an opt-out option after this season and that is almost certain to be exercised. If he keeps this up, he will certainly attract a bigger deal in free agency this offseason.
So how do the Marlins proceed with Soler? If they're in the hunt come deadline time they can't possibly move him…right? If they fall out of it they you have to move him…right? The Fish have a huge decision to make with Soler come July and how they play from now until the deadline will determine what they do. That is a situation the Marlins have been in far too often.
Despite how great Soler has been at producing runs, the Marlins are dead last in the National League in runs scored. So again? How in the world is this team above .500?!
Luis Arráez Is A Marvel
I am going to say something that will sound to you like absolute insanity but I swear I can defend it. Luis Arráez might just be the modern-day Tony Gwynn. Just take a look at this comparison through 428 career games, which is when Arráez picked up his 500th career hit earlier this year.
Arráez obviously has a long way to go before he matches Gwynn's career, but he is certainly on the right track. He entered June hitting .381 with a .904 OPS and 150 wRC+.
I have previously written about how the Arráez for Pablo López trade is one of the most even we have ever seen and it continues to show. All this guy does is hit and he is keeping the Marlins afloat. While his profile tracks as a lead-off hitter, the Marlins have decided to hit him in the three spot. Rather than setting the table, the Marlins wanted to have their best hitter come up with guys on base. Good move. Just look at the numbers: .405/.480/.476, .956 OPS, 149 wRC+ with RISP.
He just hits and hits and hits. He hits in the day, he hits at night, he hits on the road, he hits at home. It is truly a marvel to watch and something the Marlins have lacked for years. He has only swung-and-missed 26 times and holds the lowest whiff rate in the league. That kind of hitter makes everybody around him better and has been a huge reason The Fish have stayed afloat.
A.J. Is Puking Clutch
The Marlins made a really keen move this off-season when they moved J.J. Bleday to the A's in exchange for A.J. Puk. Bleday struggled to establish himself as an everyday outfielder and the Marlins saw a chance to solidify the closer position.
It has paid massive dividends.
He is currently on the IL, but should be back soon as he is currently on rehab assignment. How else would he return other than striking out the side?
Before the IL stint, Puk was posting a career-best in ERA (3.08), K/9 (11.66), BB/9 (1.84), K% (29.2) and BB% (4.6, down from 8.2 last year). His xERA is even better, sitting at a stunning 2.08, his 1.23 WHIP is second-best in his career, and he has only given up one barrel. He was also six-for-seven in save opportunities. That is a lot of numbers that basically say one thing: he has been an elite closer this year.
He is a huge reason for the Marlins shocking 16-4 record in one-run games. When Puk was healthy, the Marlins were 12-0 in one-run games. Since he went on the IL they are 4-4. The Marlins led the league in Win Probability Added (WPA) in clutch situations before Puk went on the IL. Since he got hurt they are 23rd. Just look at what it's done to Dylan Floro, who took over the closing role with Puk down.
The Marlins need Puk to stay healthy this year and his return will be a very welcome sight. It could be the difference between the Marlins staying afloat and totally falling apart.
Will It Last?
Probably not! I've never been a huge believer in one-run game luck lasting throughout a season. I also think their offensive deficiencies will eventually come back to bite them. You can't be a team that wins close but loses in blowouts and expect to compete. The Marlins have scored the least runs in the NL and fourth-least in MLB. Their -45 run differential entering June is really bad, and about to get worse after a 10-1 loss to the Padres that just wrapped up as I'm writing this.
However, it depends on what your definition of "last" is. If your definition is competing for a playoff spot, I'd give you a resounding no. If you just want the Marlins to be competitive and hang around .500–like most Marlins fan do–then I say why not?!
The Fish are better than they were last year. That's not saying much because they were awful last year, but it's a start. Last year the Marlins were boring, played ugly baseball that lacked fundamentals and just seemed flat out uninterested. This year they seem to be having more fun, and are doing the little things that win you close games. That's good!
The truth is even the most optimistic Marlins fans could not have expected them to be a playoff team this year. Most just wanted a more entertaining and competitive product that at least will hang around .500. They have that this year. I highly doubt the Marlins will win only 69 games this year and I'll even say it's more likely than not they finish within five games of .500.
That will probably be enough for Marlins fans. They want to see some kind of life from their franchise. They want to see players that make them want to come out to games and enjoy baseball again. Marlins fans have been deprived of that for so long. I think fans would be ecstatic with a .500 finish this year.
However, I think there are just too many factors working against them. There are too many things that need to be sustained or turned around for it to happen. The Marlins need Sandy to return to Cy Young form. They need Jesús Luzardo or Edward Cabrera or Eury Perez or anybody to pick up the slack. They need to continue to have insane one-run game luck and the bullpen to continue delivering in close games.
Their catchers are third-to-last with 50 wRC+ and base stealers were 51-for-56 against them heading into June. That will likely only get worse as teams take notice and start trying to run on them even more. The Padres just went eight-for-nine on the base paths in a three-game series.
At the end of the day…who cares? Marlins fans should absolutely enjoy this while it lasts and not worry about whether it will end or not. They should be enjoying the ride while they can because this team is better and more fun than they have had in a while.
Plus, weird things are happening in South Florida right now. The Heat just went on the road to Boston and won a Game 7 to avoid blowing a 3-0 lead. The Panthers knocked off the best regular season team in NHL history in a Game 7 on the road (also in Boston).
Both are in their respective Finals at the same time. As a long-suffering South Florida sports fan, things like that don't happen to us. Maybe there's just something in the water this year! Maybe that will trickle down to the Marlins and they will make a run at the playoffs.
No matter what happens, the most likely outcome is that it won't make any sense.