Analysis
Marlins' Young Arms Are Stepping Up To Fill in the Gaps
Even with Sandy Alcantara struggling and several starters on the IL, the Marlins have put together one of the best rotations in baseball.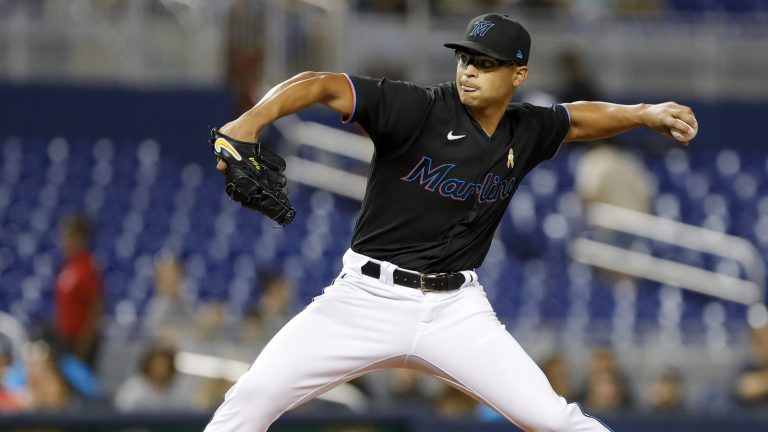 Coming into the 2023 season, there were lofty expectations set for the Marlins' rotation.
Headlined by the reigning Cy Young Award winner Sandy Alcantara, even after trading Pablo López to the Minnesota Twins, this starting rotation was supposed to carry the team as far as they could possibly go. While the offense has been impressive thus far, the rotation is meeting the lofty expectations set, and it's not because of the names we expected.
Heading toward the Midsummer Classic, the Marlins are coming out of June with the best starting rotation, in terms of FanGraphs WAR, in all of baseball during the month. Now, let's examine how this has transpired since Opening Day.

2023 Opening Day Starting Rotation


Edward Cabrera (Currently on the IL)

Trevor Rogers (Currently on the IL)

Johnny Cueto (Currently on the IL)
Current Starting Rotation



Swimming With These Fish
The Marlins have been known for their depth in the organization when it comes to pitching. That has been truly put to the test this year.
After Sandy and Jesús, this rotation has seen its fair share of injuries throughout the season so far. Yet, the arms called upon continue to provide the team with quality innings when needed.
Sandy's slow start has been nothing but head-scratching. After digging deeper into his numbers, not much has really changed from last season. The one thing I will bring up is his LOB%, which is currently 18.5% lower than what it was last year.
One thing Sandy has been able to do throughout his career is control the running game. With the implementation of the pitch clock, bigger bases, and a less-than-ideal catching situation, which ranks last in caught-stealing percentage, Sandy has not been able to find a groove.
Edward Cabrera has shown flashes throughout the year, but the volatility that comes with his pitch repertoire has fans wondering which version of Edward they're going to see any given night. Now, with him on the IL, we hope he will be able to iron out the inconsistencies and become a more reliable option once he does return.
When it comes to reliability, there just doesn't seem like there is a path for Rogers and Cueto to provide the Marlins with any optimism going forward. Rogers was placed on the IL after only a handful of starts and is now dealing with an injury to his non-throwing shoulder that he sustained while on a rehab assignment.
Johnny Cueto was brought in during the offseason to "replace" Pablo López in the rotation once it was clear the team was openly shopping him for added offense. After being removed from the first inning in his Marlins debut, we have yet to see Cueto toe the rubber for the big-league club. While it does seem as if his return is imminent, his performance throughout his rehab starts has been abysmal, which is comparable to what we saw him do even back in Spring Training.
Even through all of this, the scrappy Marlins have found a way. Enter "The Replacements."
Little Expectations, Big-Time Results
Mel Stottlemyre and the rest of the pitching staff throughout the organization have done a tremendous job of producing dependable arms for this team.
Let's start off with Braxton Garrett.
Braxton was the odd man out of the rotation when the season began. Right before Opening Day, he was optioned down to Triple-A to ensure he was still getting consistent starts. Instead of putting his head down and feeling sorry for himself, it seems as if he took it personal and turned his game up a notch.
The most impressive thing about what he has done this year is the fact that he has been adding pitches to his arsenal, and making sudden tweaks to his mechanics, throughout the season. Knowing he isn't going to blow anyone away with velocity, he has focused on being able to attack hitters from multiple directions when his "stuff" isn't working.
Creating deception with an innate ability to tunnel all of his pitches perfectly is how he has been able to keep hitters off-balance and has had as much success as he has had so far this year.
Baby Goat Is Growing Up Fast
Eury Pérez's ascension is not something that just popped up. Many publications had him as the number two starting pitching prospect in all of baseball behind Grayson Rodriguez of the Baltimore Orioles.
The 20-year-old right-handed was called up to make his debut in May and has looked like a multi-year veteran from day one. What he has been able to accomplish in his short time in the big leagues has been historical.
It really has been.
Just in the month of June, here is what Eury has done:
Not only that, but he is doing things for the Marlins organization that not even José Fernández, Dontrelle Willis, or Josh Beckett accomplished in their first starts with the team.
His performance has been nothing short of impressive. I cannot help but watch every single pitch when he starts a game for the Marlins. While I was already emotionally attached to the game of baseball as a whole, Eury has found a way to enhance it.
The concern going forward is the management of his innings. He has never pitched more than 75 innings in his professional career, and there have already been reports of the Marlins moving his starts around in order to ensure they will be able to use him as they push into the latter half of the 2023 season.
What's Next?
The pitching rotation is going to continue to get tested as the dog days of the summer are quickly approaching. Even though they have managed to hold their own so far, the starters are going to have to be able to kick it into the next gear, including those currently injured.
Much will be dependent on whether or not Sandy will be able to return to his Cy Young form. If he is not able to, the job gets that much more difficult.
Even if they are able to return, as I stated before, you cannot depend on Trevor Rogers, Johnny Cueto, and even Edward Cabrera at this point. Combine that with the management of innings coming for Eury, Braxton, and Jesús Luzardo, and the Marlins will likely be looking for some starting pitching help at the deadline. They might not be in the Shane Bieber/Corbin Burnes sweepstakes, but a smaller, mid-rotation option could very well be in play for this team.
At the end of the day, what they have been able to accomplish up to this point has been amazing. You cannot help but wonder how it is even possible, but they truly are finding a way to come up clutch when they need to.
There are so many surprises that happen during a baseball season, and the Marlins are just another example of that. You can't ever count a team out.
If you have not had a chance to watch this team play, I suggest you start paying attention.
Stats and rankings as of June 27.