Feature
Just Baseball Highlight Reel: Houston Astros Blast Six Home Runs
All of the highlights you have to see from Tuesday's MLB action.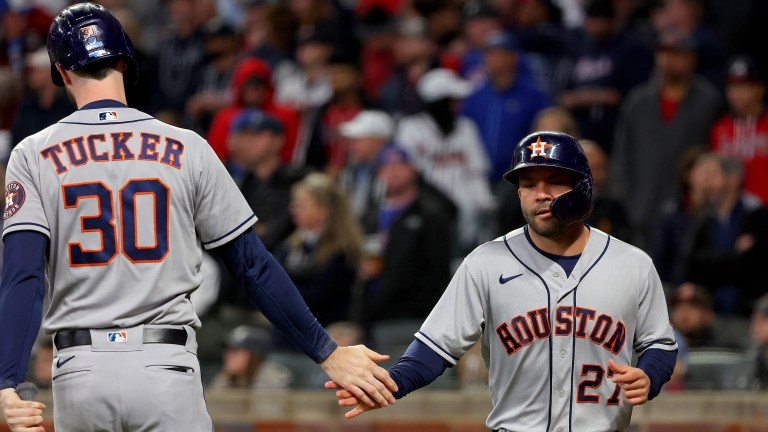 Tuesday consisted of 18 games and three double-headers. Nine teams scored one or less runs as offense was not as high as recent days. With so many games, let's go ahead and dive in.
Mets 3, Cardinals 1 (Game 1)
The Mets just keep winning in different ways. Today, it was the bullpen who went five innings allowing only two hits, finished by Edwin Diaz earning his ninth save.
Jeff McNeil has been magnificent this season and the baseball world is not talking about it enough. McNeil doubled in the third making it 2-0 Mets.
Later in the third, Dom Smith drove a ball to right field knocking in a run and giving the Met a 3-0 lead.
The Cardinals scored their lone run on Paul Goldschmidt's fifth home run of the season.
Cardinals 4, Mets 3 (Game 2)
After dropping game one, St. Louis bounced back to take game two. Mark Canha propelled the Mets to a 1-0 lead after his home run in the first.
Paul Goldschmidt added two doubles on the game, each driving in runs. Eduardo Escobar added his second home run of the season to make it 2-1 before a Tommy Edman triple tied it.
With the Mets trailing 3-2 in the bottom of the eighth, Jeff McNeil (see praise from game 1) did what he does best. Put the bat on the ball and find a hole, driving in the tying run.
The hero of the night was Tyler O'Neill, who had been dreadful at the plate. His ninth inning infield single gave the Cardinals the lead and eventually the win.
Dodgers 7, Diamondbacks 6 (Game 1)
After a rookie Alek Thomas misplayed a ball on Monday night, costing the Diamondbacks the game, Tuesday afternoon the D-Backs fell in another heartbreaker.
Christian Walker, who is putting on a hitting display recently, left the yard making it 3-0 Arizona.
From there, the Dodgers bats got hot. Home runs in the sixth from Mookie Betts, Trea Turner, and Justin Tuner quickly flipped the script making it 6-3, Dodgers.
In the seventh, Thomas homered, and Ketel Marte drove in a run with a single cutting the lead to one but that is as close as they would get. Marte picked up another RBI in the top of the ninth, but Freddie Freeman had already extended the Dodgers lead with an RBI single himself in the bottom of the eighth.
Dodgers 11, Diamondbacks 2
Tuesday was the first scheduled Dodgers doubleheader since the 80s. The fans got the best of both worlds seeing a close game and a big blowout, both in their favor.
Arizona jumped off to a 2-0 lead on first inning home runs from Jordan Luplow and Christian Walker.
The Dodgers then scored 12 unanswered runs on two Freddie Freeman doubles, a bunch of singles, and an Edwin Rios home run.
Merrill Kelly allowed eight earned runs moving his ERA from 1.71 to 3.27.
White Sox 3, Royals 0 (Game 1)
Dylan Cease delivered another great outing for Chicago, leading them to victory. Cease went 5.2 innings without allowing a run, striking out nine while scattering seven hits.
Lets hope game two has more thrills, as a Jose Abreu double is about all I have for you fine folks.
Royals 2, White Sox 1 (Game 2)
After all of the struggles the young Royals starters have dealt with this season, seeing Brandy Singer dominate tonight must have been a big relief. Singer, moving back to the rotation, lasted seven innings surrendering no runs and just four hits, all while racking up nine strikeouts.
The Royals took a 1-0 lead thanks to a Michael A. Taylor double in the second. Then in the sixth, MJ Melendez (Just Baseball #23 prospect) launched his first career home run.
The White Sox avoided a shutout by scoring a run in the eighth, but were unable to overcome the small two-run deficit.
Reds 5, Guardians 4
Another Connor Overton gem?!
Overton was strong yet again going 7.2 innings allowing three hits and two runs. The scoring started when Tyler Naquin went deep off his former team, improving his .391/.440/.870 slash line in his career against Cleveland.
A Tommy Pham single in the eighth extended the lead to 3-1 before Cleveland made a late push. Owen Miller, a pleasant surprise to begin the year, homered in the ninth tying the game and sending it to extras.
Cincinnati gained the edge in the tenth when Mike Moustaks walked with the bases loaded. Game one of the Ohio Cup goes to Cincinnati.
Rays 8, Rays 1
Shane McClanahan versus the miserable Tigers offense turned out about how you would expect. Seven innings of four-hit ball cruising to an easy win.
Kevin Kiermaier had three hits on the day, including his fourth home run.
The lone Tigers run came in the fifth inning when third basemen Jeimer Candelario left the yard.
In the bottom of the fifth, Brett Phillips went deep, followed by a single and sacrifice fly pushing the Tampa lead to 6-1. Then in the eighth, Randy Arozarena finally got his second home run of the season to put the Tigers away for good.
The Rays move to 22-15 on the season, second only to the Yankees in the AL East.
Marlins 5, Nationals 1
The Marlins handled business against their division foes riding a strong start from Cody Poteet. Poteet only lasted 4.2 innings, but limited Washington to one hit. Poteet has allowed one earned run in 21 innings this season, resulting in a 0.43 ERA.
The Marlins struck first when shortstop Miguel Rojas went deep, his second of the season.
Jesus Sanchez added one of his own pushing the early lead to 2-0.
The Marlins added a couple on an error and sacrifice fly before settling the final at 5-1. Playing better recently, the Marlins are in second place in the NL East at 17-19.
Padres 3, Phillies 0
Did the baseball community forget how good Mike Clevinger is?
If so, Tuesday night was a good reminder. Clevinger only went five innings, but allowed one hit, no walks, and struck out five.
Seven of the nine Padre starters recorded a hit, with a Trent Grisham double being the only extra base hit.
Philadelphia falls to 17-19 as their exciting offseason is still waiting to translate to winning baseball.
Yankees 5, Orioles 4
The first place Yankees move to 27-9 on the season thanks to a big day from Aaron Judge. Four hits, two of which left the yard at over 400 feet.
Baltimore scored on an error and sacrifice fly with their only offensive highlight coming off the bat of Ramon Urias.
Yankees relief pitcher, Michael King, continued his outstanding season going three innings of no-hit ball and striking out six. Whether he earns some starts or remains in the bullpen, King will be a crucial chess piece for the Yanks come October.
Blue Jays 3, Mariners 0
Jose Berrios was due for a solid start and he got exactly that on Tuesday night going seven innings without allowing a run. Vlad extended his hitting streak to 14 games but the highlights were few and far between.
George Springer's unorthodox triple was about all you need to see from this one.
Seattle's offense has held them back this season as they fall to 16-21, good for fourth place in their division.
Astros 13, Red Sox 4
Batting practice in Boston!
If you like home runs, this is your game. Eight balls left the yard, six off the Astros Bats. Yordan Alvarez started the show and it ended with a Kyle Tucker Grand Slam, his second home run of the night. Jeremy Pena, Michael Brantley, and Yuli Gurriel all went yard.
Lets sit back and enjoy a few homers.
I am not sure what the breaking point is for Boston who moved to 14-22. Maybe there's still life in this team? They did put up 13 hits, but 2-for-14 with runners in scoring position is brutal.
Cubs 7, Pirates 0
Keegan Thompson has flown under the radar this season, but the 27-year-old has done nothing but impress. Tuesday he went five innings of no-run baseball, earning the win and lowering his ERA to 1.41.
Offseason addition, Jonathan Villar, finally collected his first home run of the season, putting the Cubs up 1-0.
A couple doubles and a single made it 6-0 when recently called up rookie Christopher Morel deposited his first career home run into the left field bleachers. The kid was FIRED UP.
The Pirates bats never woke up and the Cubs cruised to an easy victory.
Braves 3, Brewers 0
Not much going on in this game. Tucker Davidson earned his first win of the season going five innings without allowing a run.
An error gave Atlanta a 1-0 lead, then in the eighth Marcel Ozuna provided some insurance, hitting his sixth home run of the season.
Rangers 10, Angels 5
The first seven runs of the game came off home runs, and the last eight came off singles. Baseball is weird.
Here's how it went. Home runs: Corey Seager, Taylor Ward, Anthony Rendon, Kole Calhoun, Mike Trout. 4-3 Angels.
In the top of the eighth, the Rangers strung together four singles, including a bases loaded blunder by Angels outfielder Brandon Marsh making it 10-4.
The Angels, second in the AL West, would love to have this one back.
Giants 10, Rockies 7
Stop me if you have heard this before…..Coors Field produced a lot of offense today.
The Giants jumped all over the Rockies through five innings. A Tommy La Stella home run started it.
A Brandon Crawford triple, Mike Yastrzemski and Darin Ruf doubles, and a few singles had the Giants in the drivers seat at 8-1.
Down 10-2 in the sixth, the Rockies did not give up. Two RBI singles followed by a Randal Grichuck three-run home run made it 10-7, but no runs were scored after.
Athletics 5, Twins 2
The Oakland Athletics were on the board first, thanks to a two-run homer by rookie Kevin Smith.
Luckily for the Twins, they have a rookie of their own, and Royce Lewis delivered by hitting a home run that cut their deficit in half.
Gary Sanchez added his third home run over the past week to tie it at 2-2, but Oakland got the last laugh. Seth Brown delivered a huge two-run double to break the seventh inning tie. Sean Murphy would later drive Brown home with a single, providing some extra insurance for the A's bullpen.
That's all for Tuesday. Wednesday consists of a full slate of 15 games including a Shohei Ohtani start.