Analysis
Stop Saying the Padres Lost the Mike Clevinger Trade
For a team that has made some questionable trades over recent years, the criticism of the Mike Clevinger trade has been unfair.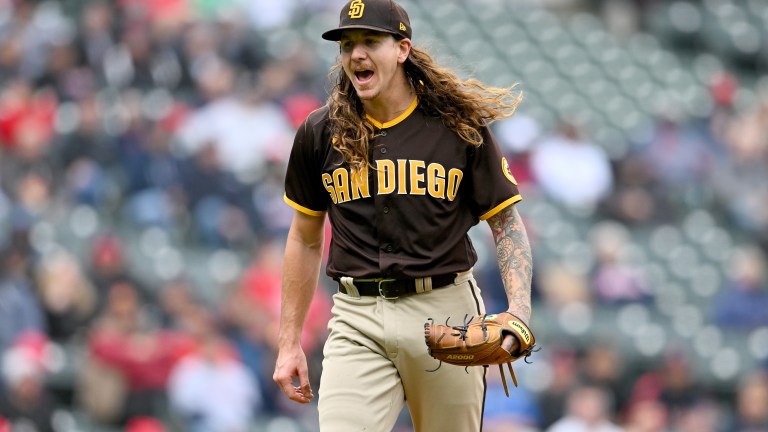 Over the last two years, the San Diego Padres have made themselves known — thanks in large part to their GM, AJ Preller — as the wheeling-and-dealing kings. But unfortunately, the litigious fates that govern baseball trades haven't quite tilted in their favor.
There are plenty of question marks surrounding the Blake Snell, Yu Darvish, Austin Nola, and Trent Grisham (apparently Eric Lauer is a demi-god now) trades. But one trade in particular from 2020 — which feels like six years ago — is most relevant now and could be what saves Preller from the fraud accusations: the trade for pitcher Mike Clevinger.
For those who may have forgotten, the Padres made a splash during the 2020 deadline when they traded pitcher Cal Quantrill, defensive catching stalwart Austin Hedges, shortstop Gabrial Arias, infielder Owen Miller, outfielder Josh Naylor, and pitcher Joey Cantillo in exchange for outfielder Greg Allen, a PTBNL (who would become Matt Waldron), and the aforementioned Clevinger.
Although it was viewed as a game-changer at the time, Clevinger only pitched in four games for the Padres before eventually requiring Tommy John Surgery.
And only yesterday, at last, did the Padres get to see what the right-hander can potentially deliver for them in 2022. What he gave them was…a lot of decent!
Clevinger threw 95 pitches across 4.2 innings, giving up three earned on four hits, walking three, and striking out four. Considering the Guardians' steady lineup, and the obvious factor of having not pitched in so long, it was nice to see. His average fastball velocity (93.5 MPH) was down a tad, though, from his 95.1 mark in 2020 and 95.4 speed in his last fully healthy — and far more dominant — 2019 campaign.
And the velocity is going to be something to keep an eye on. In 2018, opponents batted .263 — with a lower expected average of .244 — against Mike Clevinger's fastball which averaged 93.6 MPH. In 2019, he ramped it up to an average of 95.4 MPH and held opponents to an anemic average of .192.
It may be forgotten given that he was standing next to teammate and eventual Cy Young winner Shane Bieber, but in 2019 Clevinger's four-seam fastball had the best run value (-21) of any pitch on the Guardians' entire staff — an organization known for churning out quality arms — and the 14th best among all qualified starters.
Oh, and as a treat, his slider can be pretty filthy too. Mike Clevinger's 48.1% whiff rate ranked fourth among all starting pitchers that threw at least 500 sliders, trailing only Kyle Gibson, Patrick Corbin, and Max Scherzer.
Is that a cherry-picked stat? A little bit, sure, but the point remains that Clevinger was quite effective.
But you know what's not cherry-picked? Clevinger was, at the time the Padres traded for him, about as effective as some of the biggest names in the sport:
Couple that with his 10.7 accumulated fWAR from 2017-2019 (17th among all starters) — with the seventh-lowest HR/9 — and you can see why the Padres made the move to acquire him. But of course, because of how things have gone for the team, it's easy to start raising the idea of whether or not the Padres lost the trade.
Just based on the sheer number of assets the Padres surrendered in the deal, including the steady Cal Quantrill and a potentially emergent Josh Naylor (.313/.340/.479 line in 13 games), the Padres didn't exactly commit highway robbery. But really, the same thing has to be said for the Guardians too. As a collective, we need to stop praising teams that dump talent in favor of a perpetual rebuild that has resulted in tepid regular season success and no championship glory.
Treating the Mike Clevinger trade like a loss for the Padres as if they should've known the pitcher would need Tomy John Surgery is silly. In terms of the "we just HAD to trade this guy, so at least we got value" argument, sure, the Guardians did well. But if Mike Clevinger never falls victim to the injury bug, things start to look a lot different. When it comes to judging the winners and losers of a trade, faulting a team for not predicting an injury to a player is the epitome of hindsight being 20/20, even if said player has a history of them.
The Padres should try not to harp on the fact that Mike Clevinger showed up late to the party, but that he showed up at all. The team's starting pitching is stacked, perhaps more so than any team in the majors, and Clevinger has time to ramp up his velocity and arsenal as he gets back into a groove. Even with all the questions, it's a lot more promising to bet on Clevinger being a solid back-of-the-rotation arm over last year's desperation, half-court heaves of Jake Arrieta and Vincent Velasquez.
The Padres haven't lost every trade the same way the Tampa Bay Rays don't win every trade. The only slander the team deserves for the move is their inability, seemingly, to stop Mike Clevinger from posting on social media with the energy and fonts of Tumblr users from 2010.