Analysis
Jon Gray Is the Rangers' Unsung Hero
Jon Gray has been the best pitcher no one is talking about in 2023, but how sustainable is all his success?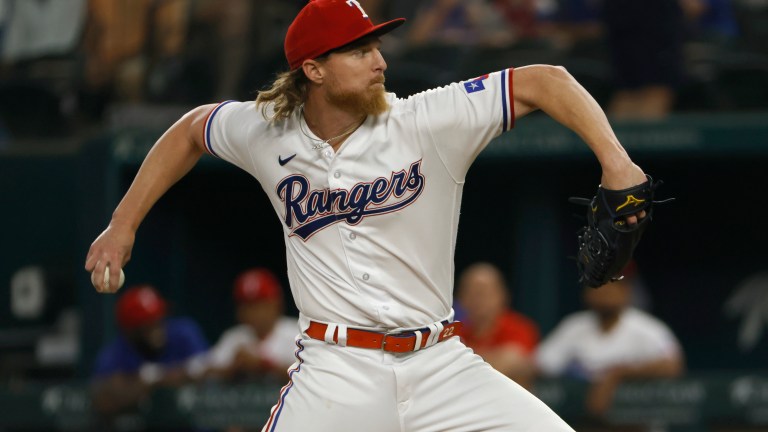 There has been a lot of noise in the national media about the Texas Rangers' starting rotation, but unfortunately, it has been more focused on who is not throwing for the Rangers than who is still taking the mound. Even when the focus does shift back to the field, the buzz has mostly surrounded Nathan Eovaldi. However, the Rangers have quietly benefitted from having a second ace, and that is Jon Gray.
Gray's surface-level numbers are nothing short of spectacular. He's 6-2 with an incredible 2.32 ERA. The former No. 3 pick has posted a 0.96 WHIP through his first 12 starts, and seven of those starts have been quality outings (six innings or more while allowing three earned runs or less).
It is this kind of production from a guy who was slated to be a middle-of-the-rotation starter that has allowed Texas to enter the conversation as a possible World Series contender.
Opponents are hitting just .198 against Gray overall, and his chase rate is in the 87th percentile in baseball. He is above league average in average exit velocity, fastball velocity, hard hit percentage, barrel percentage, walk percentage, curveball spin, and whiff percentage. Interestingly, Gray is not striking out many batters (7.7 K/9), but in a way, this is an advantage, as he induces weak contact early in at-bats, allowing his pitch count to remain low and giving him the opportunity to work deep into games.
Gray has been particularly good since May 8, allowing just five earned runs over his last 43 innings. This correlates with an adjustment he made to his slider. To start the year, he was throwing a sweeper, a slow slider with a lot of horizontal break that has become incredibly popular this season. However, Gray went back to featuring a harder, more traditional gyroscopic slider. While this pitch has 13% less horizontal break than league average, he is able to throw it harder, and the tight break tunnels much better with his fastball.
His slider and sweeper also tunnel well together, and opponents are hitting just .129 against the slider and .105 against the sweeper. All of his offspeed pitches have been phenomenal this season, as the highest opponents' batting average against any of the four is .205 against his changeup. Gray has only allowed six extra-base hits against his offspeed all season, and it is clear that adding in his slider and moving to a five-pitch mix has paid dividends.
All of this begs the question: "Is this sustainable?" If it is, a one-two punch of Eovaldi and Gray in a playoff series would be a daunting task for any team to face. Unfortunately, it does seem that there has been a bit of luck involved, and Gray will likely regress to the mean. His FIP this season is 4.17, which indicates his ERA is likely to rise. Similarly, opponents have just a .226 BABIP against Gray, who is stranding an incredible 88.3% of baserunners. 
That is not to say, though, that this has all been a mirage from Gray. He has never been a strikeout specialist and has relied on generating weak contact for most of his career, so it is possible his opponents' BABIP remains low. Gray is also allowing his fewest HR/9 since 2017, and his BB/9 is the lowest of his career.
Whether or not Gray continues to dominate the way he has, Rangers fans, and baseball fans, should take the time to appreciate Gray's phenomenal performance for as long as it lasts.
Update: Jon Gray was scratched from his scheduled start on Tuesday with a blister. Manager Bruce Bochy has not announced when Gray will make his next start.