Analysis
The End of Jacob DeGrom's Battle to Stay on the Mound
Over the past three years, Jacob deGrom has fought many injuries, but is finally being shut down for the long haul with his second Tommy John.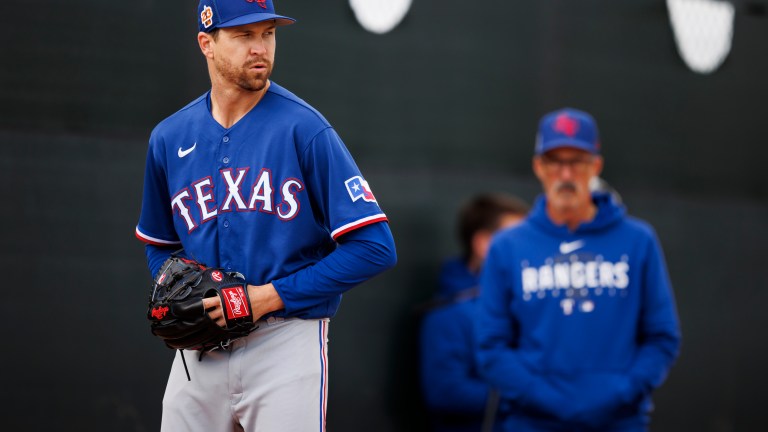 Jacob deGrom's run of bad injury luck culminated in the worst possible news on Tuesday, June 6th, when it was announced that at 34 years old, he would require the second Tommy John surgery of his career. In an instant, his 2023 and likely his 2024 seasons disappeared.
What makes matters worst, deGrom has been sitting on the IL this season watching his new Rangers team play 20 games over .500, the second team in baseball to reach 40 wins. This would have been an amazing chance for deGrom to win again on the biggest stage and from the glimmer of what we saw this season, he would have definitely shined on said stage.
Now deGrom has to cope with the prospect of grueling rehab, in hopes of reaching his apex again years down the line. This all led to an emotional press conference where deGrom announced the news through tears.
DeGrom understands the realities of baseball more than anyone. Across his time in New York, he watched great careers like David Wright and Matt Harvey's derailed by injuries and has a former teammate in Noah Syndergaard who is going through it right now coming off his second season post Tommy John.
While the surgery has been more effective than ever for some, such as Justin Verlander winning a Cy Young at 39 years old, there are many others who never regain what once was. DeGrom has set that bar higher than anyone possibly could, pitching through a myriad of injuries over the last three years.
When it comes to fWAR, deGrom has been a top-20 pitcher in baseball over the last three seasons and he has only been healthy enough to make 32 starts. There is not a question he has been the best pitcher in baseball when on the hill and he won two Cy Youngs and finished runner-up in the three years prior to 2021.
As someone who watched every pitch of deGrom's career prior to his move to Texas, to see him crying in that press conference was pretty brutal to watch.
Here's a guy who was a converted shortstop in college, who was just learning how to pitch when he was drafted in the ninth round by the New York Mets in 2010. He made six starts in rookie ball before getting the news that he needed his first Tommy John surgery at 22 years old.
DeGrom learned how to pitch while rehabbing from TJ the first time, picking up effortless mechanics during his ascent through the Mets farm system and into winning the Rookie of the Year in 2014. He pitched in the World Series in 2015 and won consecutive Cy Young in 2018 and 2019.
From 2014 through 2020, deGrom was a model of health, missing only a handful of starts in 2016. In 2021, deGrom began the season with one of the most remarkable runs of 15 starts you will ever see. He pitched to 1.08 ERA and struck out 146 in just 92 innings pitched. The man even hit .364!
Then all of a sudden he dealt with his first significant injury since being 22 years old and missed the entirety of the season half. Last year, deGrom missed the first half instead of the second, making 11 starts down the stretch before winning his first playoff start since 2015.
Now in his 10th big league season, pitching for a new club on a $185 million contract, deGrom has to start over and the weight of that for a man who has done all the work is felt in that presser.
If you can't empathize with deGrom, I am not convinced you have a heart.
Over the past three years, this guy has dealt with setback after setback and kept pushing to avoid a day like yesterday coming. Yes, he was able to cash in on a very nice contract, but if there is one thing we know about deGrom it's that he loves to pitch.
This man spent years on the IL, constantly rehabbing to stay on the mound for his teams. The last thing he wants to do is say goodbye to two years of his prime and two years where he could win that elusive first World Series. He has a special group in front of him right now and he can't be part of it. Hopefully in the long run, this will be the best thing for deGrom and the Texas Rangers, but that certainly doesn't make it hurt any less right now.
The Rangers signed deGrom because he is the type of pitcher that can take you to the promise land and all due respect to Nathan Eovaldi, it's still better to have two dogs than just one and especially when the one you are missing packs the bigger bite.
Texas still has every chance to make a run this year, and is playing just fine without deGrom in the regular season. In October this loss will be felt though, especially if deGrom misses another bite of the apple next year as well.
Here is the good news though if you are a Rangers fan who has gotten to the end of this article and is really say, there is still hope. Over the past three years, deGrom has been stuck in the middle when it comes to his injuries. He has fought against countless things, always failing to get back to the point of being himself for a full season.
Now the guessing game is gone. He is shut down and has a lengthy amount of time to build his arm back up from scratch. If the Tommy John is a success, deGrom should be healthy for the final three years of this contract and there is clause in the deal that just triggered a sixth-year club option.
The contract was very complicated for a reason with deGrom, considering his recent injury history, but the Rangers essentially made a gamble knowing this was a possibility. Essentially if deGrom was healthy and himself for the five-year contract, he would get a $37 million player option for year six.
If deGrom needed Tommy John surgery at any point from 2023 to 2026, that option converts to a club option, which could range anywhere between $20 and $37 million based on incentives. So even if deGrom fails to return in 2024, the Rangers can still have four years of deGrom with a really good young team that is being built around him.
There is still a world where deGrom returns to win a Cy Young in 2025 and leads the Rangers to multiple World Series appearances to close out a Hall of Fame career.
A happy ending is still possible in this story and deGrom is the type of athlete that will give everything he can to reach that outcome. For now though, with more of the story to be told, we are left with nothing by what-ifs when it comes to one of the most dominant pitchers of this generation.