Analysis
Nathan Eovaldi Has Been the Surprise Ace for the Texas Rangers
While Jacob DeGrom may have grabbed the headlines this offseason, Nathan Eovaldi is the one pitching the Rangers into playoff contention.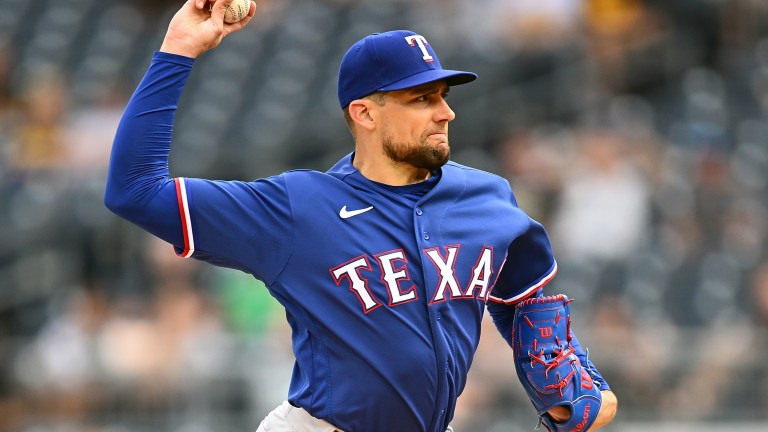 Nathan Eovaldi has been absolutely dominant to start the 2023, and in many ways the Texan is a throwback to his hero, Nolan Ryan. Like Ryan, Eovaldi's stuff is overpowering, and he is able to consistently throw deep into games.
While throwing out a name like Nolan Ryan may seem hyperbolic when it comes to a pitcher who has been, for all intents and purposes, a journeyman throughout his career, the numbers show just how good "Nasty Nate" has been thus far.
Eovaldi's top three pitches, his fastball, changeup, and cutter, are all above league average. His fastball still averages 96 mph, which is impressive considering the 33-year-old broke into the league over a decade ago.
Through the first two months of the 2023 season Eovaldi has put up videogame-like numbers. He boasts a 1.00 WHIP, a 2.42 ERA, and has only surrendered three home runs while striking out 70.
His FIP is 2.53, meaning there is no fluke to his already impressive statistics. With his 2.5 fWAR, Eovaldi has been the second-best pitcher in baseball according to Fangraphs behind only Zac Gallen.
While his pure stuff remains electric, Eovaldi has evolved into much more than a power pitcher, as his pitch mix and command are elite. He ranks in the 87th percentile for walk percentage, illustrating his ability to stay in the strike zone, and his 84th percentile barrel percentage shows that his pitch mix is keeping hitters off balance.
Eovaldi also leads the league in innings pitched, and while many counting statistics must be taken with a grain of salt, the value of a starter who consistently goes deep into games and is able to take the ball every fifth day cannot be overstated. Particularly when the Rangers Opening Day ace, Jacob deGrom, has been sidelined on the IL and unable to make his starts.
In the era of the five-and-dive starter, Eovaldi provides his relievers extra days off. He is the only pitcher with two complete games thus far this season, which at 33 years old is remarkable.
This start to the season is more than anyone could have hoped for or imagined for the Rangers, and is just the tip of the iceberg of Eovaldi's value. He is an incredible postseason performer, and for an organization looking to make noise in the playoffs, having a starting pitcher that can take the ball when the lights are brightest and has delivered time after time gives the entire team confidence.
What makes Eovaldi's early season success even sweeter, though, is that he is one of the easiest players in baseball to root for. By all accounts he is phenomenal for clubhouse culture and beloved by all of his teammates.
The fact that he has had not one, but two Tommy John surgeries and fought his way back into the league shows a level of determination and toughness that draws players and fans alike to Eovaldi.
With all of this in mind, it is hard to look at the landscape of the American League Cy Young race, as well as the American League playoffs, and not mention the work Eovaldi has done so far this year.
While Gerrit Cole and Sonny Gray have (rightfully) been grabbing headlines, Eovaldi has been doing what he has his whole career, performing at an incredible level, exceeding expectations, and endearing himself to his fanbase, all while flying under the radar.