Analysis
Houston Astros Offseason Outlook
The World Series champions may somehow find a recipe to improve in 2023.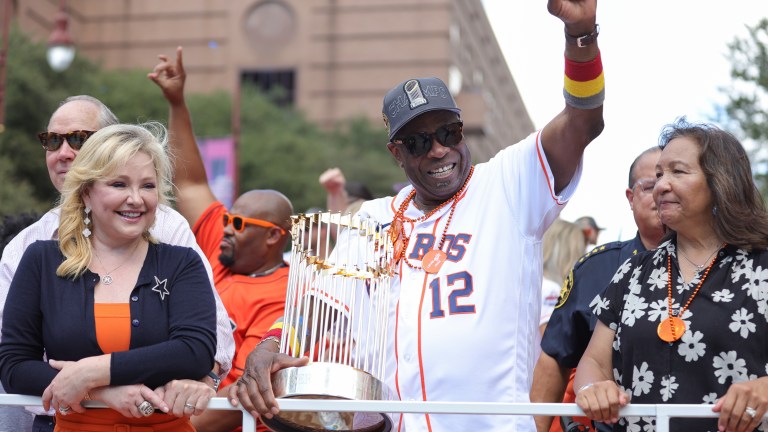 The champagne hangover may not be out of the Astros clubhouse yet, but we march on. Young stars with ample control led the way to Houston's second World Series Championship, highlighted by newly-extended Yordan Álvarez and World Series MVP, rookie shortstop Jeremy Peña.
The argument could be made that the starting rotation could be even better in 2023 than it was this past season, in which durability and production led the way from the top of the rotation (Cy Young favorite Justin Verlander) to the very back-end (No. 1 Astros prospect Hunter Brown).
Several pieces to the World Series puzzle have hit the open market in free agency. How do they fill those holes and make a push to repeat in 2023?
Trouble in Paradise?
Somehow, some way, the biggest story of the Astros offseason has to do with two (or three) central figures that don't have much say about what goes on between the foul lines.
First came the reported rift from Jon Heyman of the New York Post between manager Dusty Baker and general manager James Click regarding Click's heavy use of analytics and Baker's reluctance to adopt similar thinking.
Then came the report from ESPN's Jeff Passan regarding a swap deal for Cubs catcher Willson Contreras that the Astros had drafted, but owner Jim Crane vetoed the move. Constant give-and-take between managers and executives is commonplace, but things get skewed out of whack when ownership butted its head in personnel decisions on-field.
There was a level of confidence that both Baker and Click could return but it now seems as though it will just be Baker running things back in 2023.
With Click hitting the open market and assistant general manager Oz Ocampo leaving for the Marlins the Astros have some voids to fill in the front office.
There has been a revolving door in the Astros front office over the last several years that even precedes the firing of GM Jeff Lunhow due to the infamous sign stealing scandal. The team lost Assistant General Manager Mike Elias to the Orioles in 2018 then fired his replacement Brandon Taubman for insensitive comments towards a reporter.
The only thing more consistent than the Astros success since 2015 has been the constant turnover in owner Jim Crane's front office. The one-year offer to Click seems to hammer home the idea that Crane has no concern finding yet another front office replacement.
Figure Out the Catching Situation
What's the prognosis, Dr. Click? Offensive liability–but pitching staff favorite–Martin Maldonado has one year remaining on his deal. The 36-year-old backstop split time with deadline acquisition Christian Vazquez down the stretch of the regular season and through the postseason.
Now, Vazquez is a free agent and Maldonado is on an expiring deal. As mentioned, Click and the Astros front office had interest in bringing in Willson Contreras as a rental in July. Does Houston make a push for the best catcher on the market in free agency and push a team leader in Maldonado into a backup role?
Or, do the Astros look for a timeshare situation or backup to Maldonado for one year in hopes that catching prospect Korey Lee can assume full-time duties in 2024?
Obvious thinking would point to Contreras. If your favorite team could land the premier catcher on the market, wouldn't you like that? If instead they opt for the backup/platoon signing, free agents Omar Narváez and Gary Sánchez could make sense, along with the idea of re-signing Vazquez.
Trade from the Starting Pitching Surplus
The Houston Astros have a gluttony of riches on the mound, particularly in the starting rotation. Framber Valdez has quickly become not only the best ground ball pitcher in recent memory, but one of the best and most reliable starters in all of Major League Baseball. Cristian Javier has evolved from an elite swingman to an elite starter, spearheading two combined no-hitters this year–with one of which coming in Game Four of the World Series.
Lance McCullers Jr., while dealing with injury for the majority of the season and surrendering several long balls in his lone World Series start, has front-line stuff when he's dialed in.
Assuming Cy Young favorite Justin Verlander restructures a deal and returns to Houston, four of the five rotation spots for the Astros are filled by All-Star caliber starters. That leaves 27-year-old Jose Urquidy, 25-year-old Luis Garcia, and 24-year-old Hunter Brown competing for the final spot in the starting rotation. We saw all three make bullpen appearances during the Postseason, so they could all thrive in shorter spurts.
Instead of having two of the three in the bullpen, Click has a pristine opportunity to package one of the three in a trade to fill a position of need. My eyes gravitate towards first base, with both Yuli Gurriel and deadline acquisition Trey Mancini currently being free agents.
The other position to upgrade could be center field. More on that now.
Are McCormick and Meyers the Guys in the Outfield?
Houston seems to have two middling options in center field in Chas McCormick and Jake Meyers. Across two seasons in Houston, McCormick has accumulated a 4.2 fWAR thanks to a 111 wRC+ and 17 Outs Above Average. Meyers, in 101 Major League games, has compiled a 1.5 fWAR and an 87 wRC+.
McCormick should be the plan in either center or left moving forward. In two short seasons, he's proven to not only be a steady force in the lineup, but an elite defender and a fan favorite. Now, do they trust Meyers to hold down a spot? My gut says no.
There are timeshare options internally, with Pedro Leon ready to crack the lineup at the big league level. However, Click could look to upgrade the outfield on the trade or free agent front. One name that jumps out in free agency is Michael Conforto, who could hold down left field and allow Álvarez to DH full-time.
On the trade front, the Orioles seem like a perfect partner. Loaded with outfield talent but thin on the pitching front, a big-leaguer-for-big-leaguer swap could make a ton of sense. Consider a similar package proposed for Christian Walker (Garcia and Diaz) for Cedric Mullins, or swapping Urquidy in for Garcia to go after someone like Anthony Santander. There is a chance to get supremely creative, and it could pay serious dividends.
The Year of Hunter Brown
Let "Mini Verlander" cook. Houston's top prospect dazzled in the final month of the regular season, allowing just two earned runs in 20.1 innings. Brown survived in his small Postseason sample, overcoming two hits and three free passes issued to scrape through 3.2 scoreless innings.
Hunter Brown has as dominating of an arsenal as you may find in a young pitcher. Opponents hit .167 against his fastball, which at at 97 mph. His mid-80's curveball was even better, with the hook resulting in a .148 opponent batting average.
Brown should be given the opportunity to make starts every fifth day. If Brown tightens up the slider as his third offering, he could quickly become one of the most exciting young starters in the game.