Analysis
Hunter Brown Has Been Pivotal for Injured Astros Rotation
Hunter Brown has been pushed into a key role this season, and the 24-year-old rookie is thriving through his first 12 starts.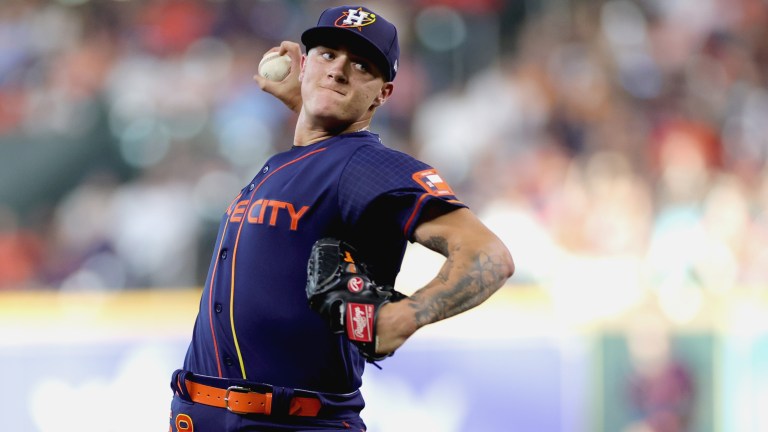 The Houston Astros pitching staff was one of the best in baseball last season, led by Cy Young winner Justin Verlander and emerging star Framber Valdez. This unit led the way to a World Series, and despite that, it was set to change in the offseason.
The Astros never seemed likely to retain Verlander, and he ultimately signed with the New York Mets on a massive deal. While the rotation was deep, there was a spot left wide open by Verlander's departure. Swingman José Urquidy was an option, but talented young arm Hunter Brown was a clear choice to take on a full-time role in Houston.
While Brown was a highly-touted arm and showed the ability to fill in for Verlander, he didn't have a lot of pressure to deal with thanks to the loaded staff in front of him. He didn't need to be Verlander because Valdez, Cristian Javier, Lance McCullers Jr., and others could fill that void.
However, Brown has been pushed into a pivotal role this season due to injuries in the rotation. Such a challenge could have been too much for many young pitchers, but he has absolutely thrived in his key role.
Luis Garcia underwent Tommy John Surgery in May and will miss the rest of the season. Lance McCullers felt discomfort in spring training and unfortunately hasn't been able to return yet while rehabbing. He's a guy with an extensive history of injury, and while there's hope he can return, it's hard to trust his availability at this point in his career. Furthermore, Uriqudy exited his start on April 30 with shoulder pain and has been out since with inflammation.
Insert Hunter Brown
With three key arms going down with an injury before and then during the season, Brown was suddenly the number three starter for a team hoping to defend their crown in October this season. And he has absolutely not disappointed.
It hasn't been perfect, but Brown has made 12 starts, giving the team much-needed durability, and has recorded a 3.69 ERA across 68.1 innings pitched. Prior to a shaky recent start against Minnesota, Brown had a 3.12 ERA through his first 10 starts. He's been a constant force in a rotation that has been anything but constant, with several key pitchers missing early in the season.
Brown is essentially a three-pitch guy with a high-velocity fastball and two breaking balls that work differently (but both effectively). All three offerings have been effective in their own right, and he's limiting hitters well with each of his pitches. Brown has been able to produce a whiff rate of over 20% with each pitch, which has helped him generate a 28.1% strikeout rate.
He showed flashes in his brief time last season and has continued to improve upon that this year. His hard-hit rate allowed, while still not great, is down 3%, and he's generally limiting hits well. He's given up six home runs that have accounted for a fair share of his total runs allowed. He's fallen into the category of young pitchers who can let things get away from them in a blow-up inning, which has skewed his overall numbers, but he has also gone long stretches as a dominant force as well.
He put together an excellent seven-inning shutout of the best offense in baseball, the Tampa Bay Rays, in April, where he struck out eight batters and allowed just a pair of hits. He has very clearly demonstrated a lights-out ability that he can continue to hone as he develops further. Despite playing such a prominent role, he's just 24 years old with plenty of time to grow.
With the injuries abounding, Brown growing into a reliable starting pitcher has been a massive development for the Astros that has kept the team afloat this season. Houston needed someone to take another step this year, and he has done so masterfully. His numbers have regressed in May, but he will look to continue remaining available and solid for his team this season. They're going to need him the entire season, even when Urquidy and McCullers eventually return to the rotation later this year.
The Astros' record may not show it right now, but they're still one of the best teams in the league, and with Hunter Brown supporting Valdez and Javier, the top three in the rotation can stack up against anyone. Aside from maybe the unbelievable Rays, there are still not any other teams I'd rank ahead of the Astros, and Brown has been a huge part of keeping them afloat.