Analysis
He's Back: Marcus Semien's Insane Resurgence
After a disastrous start to his tenure as a Texas Ranger, Marcus Semien has turned things around and is back to playing at an All-Star level.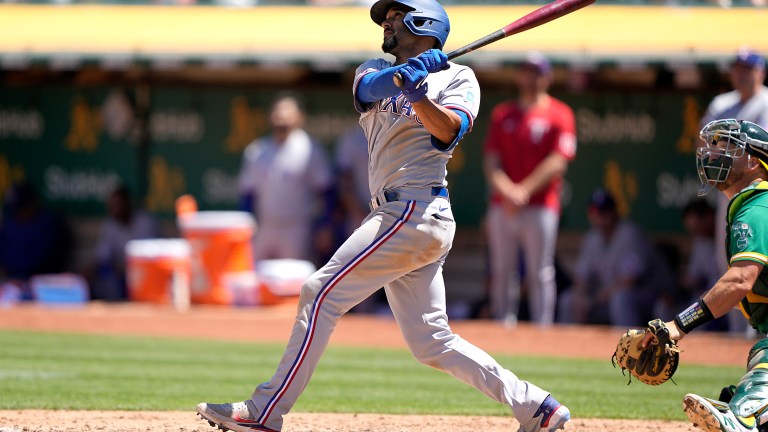 Marcus Semien signed a seven-year, $175 million contract with the Texas Rangers during the offseason. The former shortstop turned second baseman had an immaculate season in 2021. Semien smacked 45 home runs, a record for the position, and turned in a Gold Glove season while playing for the Toronto Blue Jays. He was a highly-targeted free agent, and received a substantial contract in turn.
The Rangers brought Semien in to pair him with Corey Seager, another player who they decided to spend a chunk of their payroll on. Texas instantly had a top middle infield duo in the matter of a few days. The goal was to allow the pair to play together while their farm system continues to rebuild, then go after a championship in a few years. The check book was fully open for the pair. As we are midway through the final month of baseball, how has Semien panned out?
On the face of it, Marcus Semien hasn't necessarily been everything Rangers fans hoped he'd be. A significant drop in every single slash is unappealing, as he's only getting on base at a .304 clip for the season. Semien didn't hit his first home run with Texas until May 28th.
Marcus Semien Before May 18th
Stats: .173/.235/.233, 1 HR, 14 RBI, 2 SB, 31 wRC+, -0.5 WAR
To say Semien's start in Texas was poor would be a complete understatement. The screams of "Overpay!" were heard from a mile away, as baseball fans around the nation instantly hated the move. It seemed like a complete disaster.
To go from a player that smacked a record-breaking 45 home runs at his position the season prior, to now just one bomb in his first 35 games was laughable. Handing a player $175 million for a -0.5 WAR was ridiculous. Furthermore, the Rangers were struggling. Houston and Los Angeles were soaring at the top of the division and Texas struggled in the dumps.
It isn't like we haven't seen something like this before. The panic button was fully pressed. It seemed like a waste of money. And to many, it still does. Many media outlets were ready to crown Semien as the best second baseman in baseball after his historic 2021, including myself. After a monumental season last year where he won a Gold Glove and a Silver Slugger, it seemed deserved. But such a horrendous start to 2022 threw everything out the window.
Semien was thrown into a category of "Big money busts". Albert Pujols, Jacoby Ellsbury, Chris Davis, and many more have headlined this list, and it seemed as if the 32-year-old would fit in perfectly. To make matters worse, his former team, the Blue Jays, seemed like they didn't miss his offensive production whatsoever. The breakout of Santiago Espinal at second base for the Jays didn't fully cover Semien's production, but it covered the gap, as Espinal was voted as an All-Star during this campaign.
Many were quick to write off Marcus Semien. A clear downgrade in production, an abysmal slash line and the monster contract all seemed like negatives. Fortunately for Semien and the Rangers, he's completely turned a corner since May 18th.
Marcus Semien After May 18th:
Stats: .281/.337/.502, 24 HR, 70 RBI, 22 SB, 136 wRC+, 4.9 WAR
He's back. All of the concerns and the pressure have gone away for Semien as he's producing once more. If you take away the first 35 games he played in a Rangers uniform and replaced it with the slash line as shown above, he's been elite. The home run tally is nowhere near as impressive as his 2021 total, but who could complain about a 25-homer season?
Semien ranks in the 89th percentile in sprint speed among all players. That translates to his total of 24 stolen bases, which is the 11th-highest mark in MLB. The second baseman's tally of 24 home runs, 24 stolen bases and a season-long WAR of 4.3 place him in an elite category of players. Trea Turner, Kyle Tucker, and Julio Rodriguez are the only three other players who have matched these feats by Semien with both 20 plus HR and SB to go along with a 4+ WAR.
Marcus Semien's season-long wRC+ of 112 might not look impressive, but once you look at the given sample size, it makes sense. Everything is up. The bat-to-ball, the power, the on-base, the slugging, it's all skyrocketed since his first month in Texas. Many players take time to adjust to their new home, and this was no exception. This is the player we all know and love, and the exact same guy they signed to this contract.
Ranking in the 94th percentile in outs above average, Semien's glove has still been spot on in 2022. His DRS total of 10 ranks fourth among all second basemen, and his OAA total of 7 is good for eighth-best. He's still incredibly slick with the glove over at his new position. While he might not win a Gold Glove this season, he's still impressed.
What's Next for Semien and the Rangers?
Semien and the Rangers find themselves a distance from the playoffs, sitting at 65-87, good for fourth in their division. Despite a poor season due to their record, there's still a boatload of talent on this roster and down in the minors.
Semien has churned out another solid season. Middle infield pairing Corey Seager has stayed healthy and has produced well in his first season as a Ranger. Nathaniel Lowe is having one of the more underrated seasons in baseball. Adolis Garcia bagged 20 home runs in his sophomore campaign. And with young pitchers like Kumar Rocker and Jack Leiter on their way up soon, the future is bright in the Lone Star State.
The plan for this Rangers team was never to compete immediately with Semien and Seager. The goal was to allow their talent to develop over the next few years, then push for a World Series later down the line. The production that their big-league talent has provided in 2022 should be seen as a positive. And Marcus Semien has played a big part in that.