Analysis
The St. Louis Cardinals Need To Do More To Address Their Pitching
Even with the solid addition of Steven Matz, the St. Louis Cardinals have a lot of work to do adding pitching depth before Opening Day.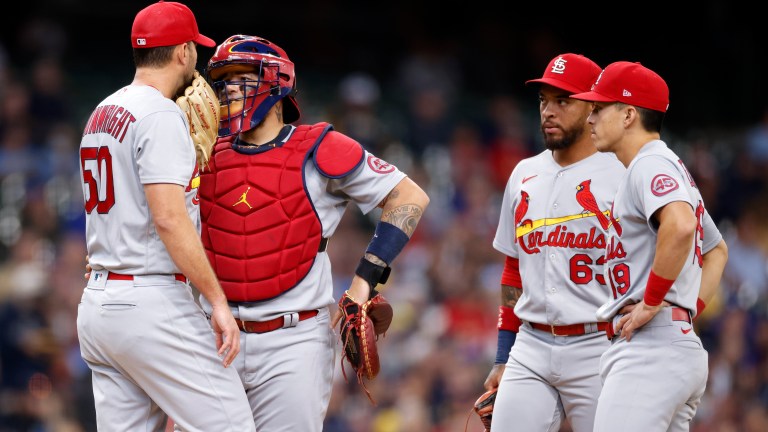 One of MLB's best stories in the second half of last season, the Cardinals lit the baseball world on fire by going 38-20 over the final two months of the season. The irony is, it took that absurd finish for the Cardinals to wind up where most people thought they would be prior to the season starting.
The Cardinals magical finish was a reminder of the high expectations the team had prior to the season, especially on the offensive side of things. The team's slow first half was also a clue into the fragility of the Cardinals pitching.
Jack Flaherty's inability to stay on the field left the Cardinals dependent on 40-year-old Adam Wainwright to hold the fort down. The 16-year MLB vet rose to the occasion and then some, tossing the third most innings in baseball with 206 1/3 and paced MLB with three complete games.
Despite finishing seventh in NL Cy Young voting, you will be hard pressed to find a pitcher who was more important to their team for the duration of the season than Wainwright. The Cardinals had 13 different pitchers make at least one start for them last year and outside of Waino, KK Kim was the only pitcher with more than 100 innings pitched, throwing 106 2/3.
Yes, the game is changing and teams do not expect their starters to go north of 180 innings, however only two pitchers over the century mark in innings pitched is unheard-of, even for the most bullpen-reliant teams.
Given the tough position the Cardinals were in at the Trade Deadline, they were forced to be cautious buyers, acquiring low-cost veteran rotation pieces in the form of J.A. Happ and Jon Lester. Despite being well over the hill with stuff that hardly resembled what they used to have, Happ and Lester pitched to contact and let MLB's best defense take care of things behind them.
It takes an outrageously elite defense to help masque subpar pitching and the Cardinals had just that in 2021. Not only did St. Louis pace baseball with five Gold Glove winners, but the team as a whole lead the league with 47 Outs Above Average.
Expected Fielding Independent Pitching or "xFIP" is a popular stat used to best measure what a pitcher can control. It takes what the pitcher does on the mound and attempt to eliminate extenuating factors. The Cardinals had the largest discrepancy in baseball between xFIP and ERA, meaning that many balls that were expected to be hits landed in the leather of one of the Cardinals handful of Gold Glovers.
While it is still vital that the Cardinals address their starting pitching deficiencies beyond just the pre-lockout signing of Steven Matz, it is worth noting that the Red Birds offer one of the most pitcher-friendly environments out there. So, how should they go about it?
Potential Pitching Reinforcements
Going out and getting Steven Matz was a good start after the 30-year-old left hander earned himself a nice payday of four years, $44 million with a nice bounce back last year. The former Mets and Blue Jays starter will be a significant upgrade over Lester and Happ, however the Cardinals second-most used starter last year KK Kim is currently on the open market.
Matz is without a doubt an upgrade over Kim as well, however the Cardinals are not in a position to take two steps forward and one step back in the starting pitching department. The team does return Dakota Hudson, who looked strong in his one start back from Tommy John surgery last year and Miles Mikolas put together a few strong starts after returning late last season as well.
However, a rotation of Jack Flaherty, a 40-year-old Adam Wainwright, Steven Matz, Miles Mikolas and Dakota Hudson does not scream postseason; even with the most experienced catcher and elite defense. Mikolas and Hudson should be battling it out for the 5th spot in the rotation while the Cardinals go for some outside help to grab another starting pitcher.
St. Louis cleared up about $45 million by declining both Matt Carpenter and Carlos Martinez's options as well as Andrew Miller's $12 million coming off of the books. Matz at $11 million hardly puts a dent in those savings and the Cardinals will free up another $28.5 million in 2023 following the retirement of both Yadier Molina and Adam Wainwright.
It is worth noting that the best remaining arms on the free agent market are southpaws and the Cardinals just added a lefty in Matz. The team will likely add third-ranked prospect Matthew Liberatore to the fold at some point in 2022 as well, another left-handed pitcher.
That's not to say that it is against the rules to have three left-handed pitchers in your rotation, but three lefties and a soft tossing right-hander does seem a bit astray from what we have become accustomed to from today's rotations.
The Cardinals generally do not like to trade from their top prospects, so a deal of Jordan Walker, Matthew Liberatore or Nolan Gorman is probably unlikely. That said, it is worth questioning how much Gorman would really be able to help the Cardinals next season despite his success in Triple-A. The team has been grooming Gorman for second base since the end of last season and into the Arizona Fall League.
Defending Gold Glover Tommy Edman is slated to start at second base next season while Edmondo Sosa and Paul Dejong likely to battle it out at shortstop. Whoever doesn't win the shortstop gig would probably become the alternate middle infielder, though both should see plenty of time at short. The Cardinals also have 25-year-old infielder Brendan Donovan who has done nothing but mash since arriving in professional baseball and was added to the 40-man roster prior to the lockout.
Despite an overall strong season last year, Gorman's struggles against LHP (.202/.264/.294) and shakiness defensively at a new position make it difficult to envision the 21-year-old helping the Cardinals in 2022. If a prospect were to contribute, it is more likely to be Liberatore, who looked strong in his final starts of the season as he used his slider and two seamer more than his slow curve and four seamer.
The good news for the Cardinals is that they could still pull off a trade without tapping into their elite prospects. Fifth-ranked prospect Lars Nootbaar mashed his way to a big league debut last year and held his own at the highest level. As it stands now, there is not much room for Nootbaar unless there is a universal DH. Even with a DH in the NL, Nootbaar would be battling it out with emergent prospect Juan Yepez (27 HR last year) and Paul Dejong if Edmondo Sosa is starting at shortstop.
Packaging Nootbaar and a decent prospect for starter Chris Bassitt could make sense for both sides. Nootbaar could slot right into the A's outfield, Oakland adds another mid top-30 prospect to their light system and they cash in on a starting pitcher with only one year of control left. Frankie Montas is another attainable arm for the Cardinals in which a deal of Nootbaar and Masyn Winn could get it done, give or take a bit.
A trade for starting pitching could allow the Cardinals to spend on higher-end bullpen options like Joe Kelly, Ryan Tepera or even Kenley Jansen. With the $73.5 million cleared up over the next two seasons, a cost-effective acquisition of starting pitching could make a signing of Trevor Story much more palatable financially.
State of the Bullpen
As the Cardinals showed down the stretch of last season, they can compete with any ball club when they are clicking. The challenge for the Cardinals is to survive the 162-game marathon with a lot of unknown in the bullpen department.
Closer Alex Reyes' season was a tale of two halves, pitching to a 1.52 ERA before the All Star Break and a 5.52 ERA after. Struggles with command are going to challenge Reyes to get to be closer to his first half numbers, though the Cardinals had an assortment of arms step up during his struggles.
Giovanny Gallegos essentially took over the closer role down the stretch, recording 13 saves in the second half of the season. Genesis Cabrera, TJ McFarland, Luis Garcia, and rookie Kodi Whitley chipped in big time for the Cardinals. Garcia tossed the third most innings out of the bullpen for the Cardinals post All-Star Break and left via free agency for the San Francisco Giants, so there is a void to fill in the stable as well.
On top of the aforementioned bigger reliever names, there's still a litany of solid free agent 'pen arms available including Collin McHugh, Andrew Chafin, Brad Boxberger, Tony Watson, Adam Ottavino and others.
Rather than spending large on one arm, adding both Andrew Chafin/Tony Watson and Collin McHugh/Ryan Tepera could dramatically improve a talented bullpen that is in need of some vets.
2022 Outlook
Anything shy of a postseason appearance in 2022 would be a disappointment for a Cardinals team that won 90 games last year against all odds. That said, there is still plenty to be answered on the other side of the lockout for St. Louis.
Can they really count on a 40-year-old starter and a pair of arms in Flaherty and Matz, who have each battled injury over the last couple years, to hold down the main three spots of the rotation?
Even with those three healthy and contributing, are Dakota Hudson, Miles Mikolas, Matthew Liberatore and Jake Woodford viable options to battle it out for the other two spots in the rotation?
On the bullpen side, which Alex Reyes are we going to get in 2022?
Kodi Whitley was stellar over his last 15 appearances, can that be expected to roll into next season?
It's impossible to answer all of these questions, however adding depth in the likely case that the answer is "No" to at least one of those propositions is the obvious move for a Cardinals team that has some decent tradable assets and a good deal of money cleared up.
Aside from the duo of Yadier Molina, and Paul Goldschmidt, the Cardinals position players will all be 31 years old or younger at the start of next season (hopefully), making all in urgency not necessarily essential, however for a Cardinals team that is right on the edge of being a true contender, it's hard to justify not loading up a bit more for this coming season.
The combination of the Cardinals strong finish in 2021, an exciting core, financial flexibility and the final season of St. Louis legends Adam Wainwright and Yadier Molina's storied careers should be enough to push the team's front office to continue pushing forward.
I don't know about you, but there were few games I enjoyed last year more than Adam Wainwright in a winner-take-all postseason game. Hopefully the Cardinals can get us at least one more of those.