Analysis
Four Trade Destinations for Tigers Starter Tarik Skubal
The Tigers are reportedly willing to trade "just about everyone." If Tarik Skubal ends up being moved, which teams might join the sweepstakes?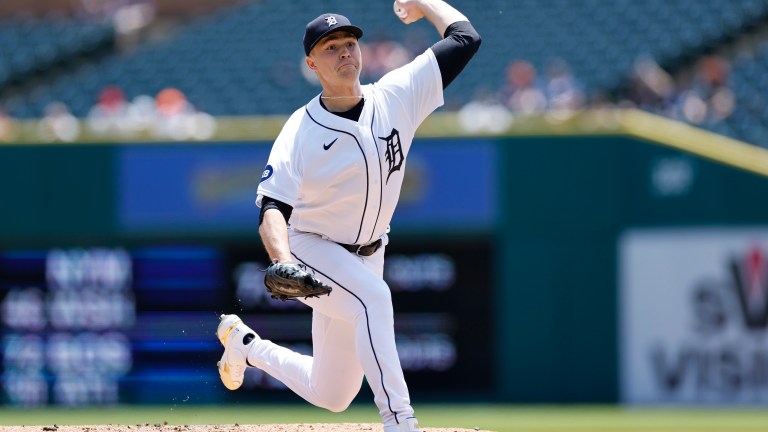 Coming into the season, the Detroit Tigers showed that they were transitioning from their rebuild into a competitive window.
They signed Javy Baez, Eduardo Rodriguez, Andrew Chafin and Michael Pineda, then had Spencer Torkelson start the season with the big league club.
Despite committing to bringing big league talent to Detroit, the team sits 20 games below .500 in the middle of a pre-trade deadline series in Toronto.
On Tuesday, Ken Rosenthal reported that the team is willing to trade "just about everyone," including 25-year-old starter Tarik Skubal.
Skubal has been one of the bright spots in his second full MLB season on a disappointing Tigers team.
Through 20 starts and 112.2 innings, he has a 3.67 ERA, 2.98 FIP and the fifth highest fWAR in the American League among starting pitchers (2.8).
In early May, Just Baseball's Jake Graziano took a deep dive into what Skubal has been doing that sparked his breakout this season.
With Skubal on the market heading into the August 2nd deadline, he should be one of the more sought-after arms. The lefty isn't free agent eligible until after the 2026 season and doesn't become arbitration eligible until after 2023.
For a cost-controlled southpaw like Skubal, the Tigers can and should ask for a big package in return. Now we originally had five teams that could join the sweepstakes to grab Skubal at the deadline, but one of them (Seattle Mariners) just swung a trade for a different ace.
The package the Cincinnati Reds received for Luis Castillo should only reinforce the Tigers desire to trade Skubal at the deadline. Here are the four teams who could get a deal done.
St. Louis Cardinals
Between emerging as a favorite in the Juan Soto discussion and needing to upgrade the rotation for a playoff push, Cardinals General Manager Mike Girsch has his work cut out for him this deadline. 
While the price for Skubal would likely be too high if St. Louis does pull the trigger on a Soto trade, the Cardinals are going to need to add an arm one way or another.
Adding Skubal may cost more than some of the other starters available, but his team control would be invaluable to a team like the Cardinals, who will likely be losing Adam Wainwright in the next couple of seasons and are currently relying on guys with short track records of success or injury histories that make it hard to bet on them from year-to-year. 
Another advantage of trading with Detroit is the possibility of acquiring multiple players. The Tigers have multiple quality bullpen arms that would be solid additions to the Cardinals top-heavy bullpen.
After Ryan Helsley, Giovanny Gallegos and Genesis Cabrera, the Redbirds 'pen could definitely use an extra arm or two to help out their shaky rotation.
The Tigers have a handful of arms that would be able to join the mix in St. Louis and help out right away. Andrew Chafin, Joe Jimenez, Michael Fulmer and Alex Lange all make sense as add-ons to a potential Cardinals-Skubal trade.
Baltimore Orioles/Texas Rangers
In his article, Rosenthal brought up the Orioles and Rangers as two teams that are looking to add long-term rotation help.
Despite both having less than a 5% chance of making the playoffs this year per FanGraphs, Skubal would be the type of controllable arm that could step in and lead either of those two teams' rotations right now.
Both Texas and Baltimore have top pitching prospects in Grayson Rodriguez, DL Hall and Jack Leiter, that could eventually join Skubal in the majors to form a legitimate top-of-the-rotation duo/trio.
Most of Detroit's top prospects are younger than 22, so they are likely looking for prospects that match their timeline.
By trading from their deep farm systems, Texas and Baltimore can make the move Detroit had hoped to make this season and move towards contending out of their rebuilds.
Toronto Blue Jays
Toronto is another team that could improve its team by adding multiple Tigers to the roster.
Similar to St. Louis, the Blue Jays bullpen has been carried by a few players having solid seasons.
Adam Cimber, Yimi Garcia, Jordan Romano and David Phelps all have sub 3.00 ERAs, but after that quartet, the bullpen could use a few extra arms to bolster their staff for a postseason push.
The Blue Jays have a strong farm system and could use some of those pieces to put a package together to entice Detriot to part with Skubal and one of their bullpen arms.
Skubal would give the Blue Jays some stability they have been sorely missing from the likes of Jose Berrios and Yusei Kikuchi.
The potential postseason rotation of Kevin Gausman, Alek Manoah, Skubal and one of Berrios and Ross Stripling would be as formidable a group as there is in the American League.
All stats courtesy FanGraphs and from before play on July 29th