Analysis
A Healthy Tarik Skubal Is Reaching His Top Prospect Potential
Detroit Tigers starter Tarik Skubal has looked better than ever since his midseason return from flexor tendon surgery.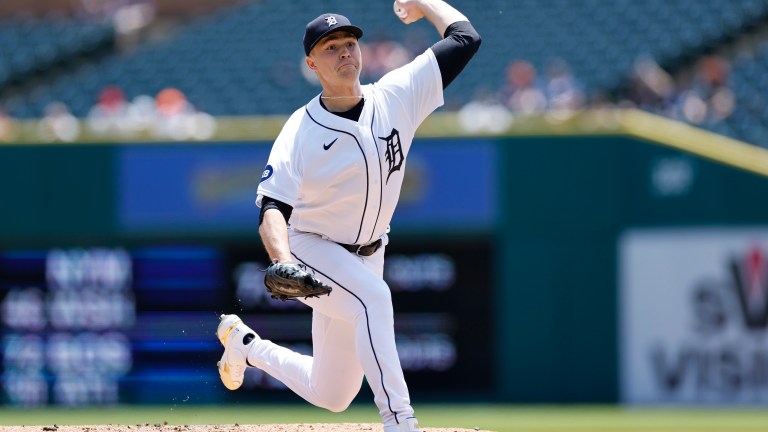 If you've stopped paying attention to the Detroit Tigers, I really can't blame you. It's the time of year when the postseason race is really heating up, and with the trade deadline in the rearview mirror, there isn't much incentive to watch the rebuilding clubs.
Be that as it may, at least a few players on this Tigers team merit your attention. Kerry Carpenter continues to look like an absolute beast at the plate. Riley Greene has proven he belongs at the top of the lineup, too.
Javy Báez is still struggling at the plate, but that doesn't mean he isn't turning highlight-reel plays in the field. The same goes for catcher Jake Rogers; his bat is a non-factor, but he has turned out to be an incredible asset behind the dish.
On the other side of the ball, Jason Foley has blossomed into a legitimate bullpen piece, as have Tyler Holton and Will Vest.
However, one breakout pitcher stands above the rest in my eyes, and he has yet to receive the recognition he deserves: Tarik Skubal.
Skubal struggled to meet high expectations during his first two big league campaigns, posting a 4.57 ERA and 5.20 FIP in 181.1 IP from 2020-'21. Then, just as he was starting to show his full potential in 2022, a flexor tendon injury ended his season.
He sat on the IL for 11 months, and it would be fair to say no one knew what to expect in his return; forearm injuries are always scary, and it can take some time for a pitcher to find his footing after such a long IL stint.
Yet Skubal hasn't had any rust to shake off. His strikeout rate is up, and his walk rate is down. He's generating more groundballs and giving up less hard contact. His velocity is the highest it's ever been.
In nine starts, his overall numbers look absolutely terrific:
| | | | | |
| --- | --- | --- | --- | --- |
| IP | ERA | xERA | FIP | xFIP |
| 44.1 | 4.06 | 2.63 | 1.92 | 2.78 |
Stats updated 08/28, via FanGraphs
His ERA is a little high, but he's also showing the two classic signs of bad luck: a high BABIP (.333) and a low strand rate (56.7%). All of his ERA estimators are significantly lower than his actual ERA.
Indeed, since his return, he ranks first among AL starters (min. 40 IP) in FIP, xFIP, and SIERA. He has the eighth-lowest walk rate, the eighth-highest strikeout rate, and the sixth-best strikeout-to-walk ratio. His 0.20 HR/9 is also tops in the league.
If you dig a little deeper, the pitch modeling statistics love his stuff, too. He ranks eighth in Pitching+ and third in PitchingBot ERA. Stuff+ and PitchingBot can be a lot to wrap one's head around, but all you need to know is this: Skubal has some great pitches at his disposal, and he uses them well.
Tarik Skubal didn't just pick up where he started – he looks better than ever. He was always a promising young arm, but over the past two months, he has been one of the most dominant starters in the game.
He was one of the best starters in July and in August. He's been one of the best at home and on the road. Most impressive of all, he has dominated even without the platoon advantage; the southpaw Skubal has a 1.27 FIP and 2.36 xFIP against right-handed hitters.
Clearly, this isn't just about his health. Skubal is a different pitcher in 2023. Not only is his fastball velocity significantly higher, but he has completely revamped his pitch mix. He's throwing more four-seams but fewer sinkers and sliders against righties. Meanwhile, he has turned his sinker into a true weapon against same-handed opponents.
He is throwing more fastballs for strikes but more breaking balls outside the zone, helping him reduce his walk rate and his chase rate simultaneously. It's a good recipe for success, and so far, it's working wonders.
The Tigers may be out of the race, but that doesn't mean they should be out of mind. Tarik Skubal is following up his breakout season with a bigger, better breakout, and you're not going to want to miss out.
Stats and rankings as of August 28.