Analysis
Which Rebuilding Teams Are Having the Best Offseason?
None of these teams have much of a shot this season, but they're making the right moves to contend in 2024 and beyond.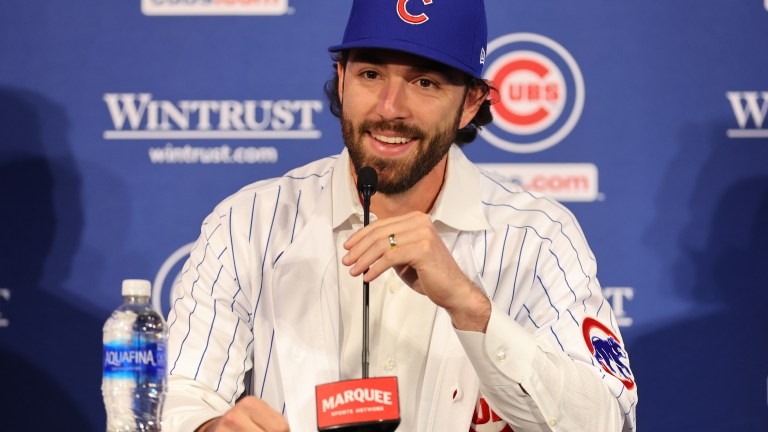 I won't be the first person to tell you that MLB has a problem with competitive balance. By my count, at least 12 teams entered the 2022 season with little hope to contend, and three more were knocked to the ground by the All-Star break. Suffice to say, it doesn't make for very exciting baseball when most of the playoff teams are decided by the trade deadline.
Sometimes a rebuild is necessary. If you need proof, look no further than the last two World Series winners. The Astros and Braves pulled off two of the most successful rebuilds in recent memory, and they're still reaping the rewards. Nevertheless, it's disappointing to watch as so many teams field terrible lineups year after year. Rebuilding doesn't need to mean tanking, yet the two strategies often seem synonymous.
That's why I appreciate the work these three clubs have done this winter. None are likely to make the postseason this year, but they aren't throwing in the towel. I understand that's a pretty low bar – front offices don't deserve praise for making a minimal effort – but when so many rebuilding teams aren't trying at all, I can't help but respect the ones that do. The Cubs, Diamondbacks, and Pirates have their sights set on 2024 and beyond, but they're still making moves with the present in mind.
Chicago Cubs
Major Acquisitions: Dansby Swanson, Jameson Taillon, Cody Bellinger, Trey Mancini, Eric Hosmer, Brad Boxberger, Tucker Barnhart, Anthony Kay
Major Departures: Willson Contreras, Wade Miley, Jason Heyward, Franmil Reyes, Rafael Ortega
The Cubs know their postseason chances are slim this year, but they're not waiting around to start building their next core. Jed Hoyer wanted Dansby Swanson and Jameson Taillon, so he scooped them up when they were available. He did the same thing last offseason with Seiya Suzuki and Marcus Stroman.
He also made several smaller moves to improve the club in 2023. The Cubs didn't add Brad Boxberger or Eric Hosmer with eyes toward the future – they're only signed to one-year deals. With those moves, the Cubs are investing some money in the best-case scenario. It's always possible the Cardinals and Brewers could falter while the Cubs' young guns take a step forward. Or perhaps Cody Bellinger will return to MVP form and carry the Cubs with him. In either case, Chicago wants a few veterans around to contribute to an unlikely playoff push. It's a good strategy and one I wish more rebuilding teams would take. Imagine if the Orioles had invested in a couple of veterans last offseason – it might have gotten them to October.
Arizona Diamondbacks
Major Acquisitions: Gabriel Moreno, Lourdes Gurriel Jr., Evan Longoria, Kyle Lewis, Miguel Castro, Scott McGough
Major Departures: Daulton Varsho, Ian Kennedy, Caleb Smith, Cooper Hummel, Jordan Luplow, Reyes Moronta
The Diamondbacks have dipped into the free-agent pool, but their biggest move was a trade with the Blue Jays; they sent Daulton Varsho to Toronto in exchange for outfielder Lourdes Gurriel Jr. and catcher Gabriel Moreno. It's hard for a team to improve after trading a player of Varsho's caliber, but the D-backs might have succeeded. Arizona desperately needed a reliable right-handed bat like Gurriel, and Moreno is their catcher of the present and the future. Another team might have sought a younger return, but Arizona isn't tanking – they wanted players who could contribute immediately.
Meanwhile, Evan Longoria also makes the team better in the short term. Miguel Castro and Scott McGough will help shore up what was a terrible bullpen last season, and re-signing Zach Davies to a one-year deal stabilizes the rotation.
The Diamondbacks have little hope to compete in the top-heavy NL West, but they aren't content to sit on their rears like the perenially rebuilding Rockies. They've had an interesting offseason, and they can be a better team in 2023.
Pittsburgh Pirates
Major Acquisitions: Andrew McCutchen, Rich Hill, Ji-Man Choi, Carlos Santana, Austin Hedges, Jarlín Garcia, Vince Velasquez, Connor Joe, Jose Hernandez
Major Departures: Roberto Perez, Ben Gamel, Kevin Newman, Zack Collins, Bryse Wilson, Zach Thompson, Manny Bañuelos
You might have noticed by now that I've been rather liberal with my definition of "major" acquisitions. None of these teams signed an Aaron Judge or Carlos Correa or Jacob deGrom — and that's kind of the point. If they had, it would signal the end of the rebuild phase and suggest they felt ready to compete.
Players like Rich Hill, Carlos Santana, and Andrew McCutchen are major acquisitions for a rebuilding team. Pittsburgh could have filled their holes with minor league signings and waiver wire pickups, but instead, they spent real money to add veteran talent to the roster. They'll be a better team this year because of it.
The Pirates' payroll is already $16 million higher than last year and $28 million more than the year before. They've handed out $30.375 million to major league free agents this winter, far more than the $17.5 million they spent last offseason and the $5.35 million they spent in 2021. In relative terms, they've spent a fortune.
That being said, the Pirates still have one of the lowest payrolls in baseball, and they can afford to spend far more on free agents and contract extensions. The MLBPA filed a grievance against the team in 2018, claiming they weren't spending enough on player salaries, and the case remains unresolved. Hopefully, this offseason is just the beginning of a major spending spree.