Analysis
Ranger Suarez: The Best Pitcher No One is Talking About
Ranger Suarez has been a pleasant surprise for the Phillies. From the minors, to the bullpen, and now the front-line of the Phillies' rotation, Suarez has been a difference maker for Philly.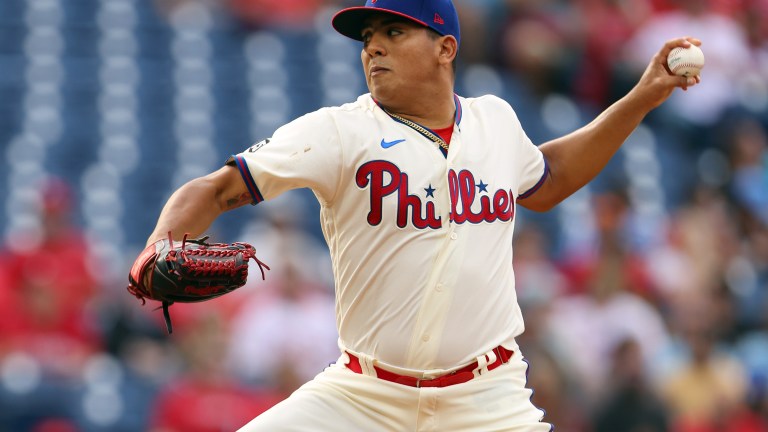 If you had never heard of Ranger Suarez before this season, I can't blame you. Coming into 2021, the 26-year-old lefty had a 4.66 ERA and 1.60 WHIP in just 67.2 career innings, spread across three Big League seasons. In his last Minor League stint in 2019, Suarez logged a 5.68 ERA and 1.34 WHIP in 38 innings with triple-A Lehigh Valley. He started this season at the Phillies' Alternate Training Site, before ultimately getting promoted on May 6th to pitch in a multi-inning, middle-relief role. To think he'd become one of the league's best starting pitchers by season's end is crazy, but that unpredictability is part of what makes baseball great.
Throwback Pitcher
Unlike many pitchers in today's game, Ranger Suarez doesn't overpower hitters with a high-90s fastball. His fastball velocity ranks in the 49th percentile of all pitchers this season, sitting around 93 MPH. Instead, he's a traditional sinker-baller that induces soft contact on the ground. Suarez ranks in the top 13% of pitchers in average exit velocity (86.7 MPH), hard hit rate (31.1%) and barrel rate (2.7%). Additionally, his 60.6% ground ball rate is third among 140 pitchers with at least 90 innings pitched this season. Incredibly, and most importantly, he's allowed just four home runs in 99 innings.
Suarez throws his sinker 44.4% of the time, and has limited hitters to a .209 batting average and .252 slugging percentage with it. The peripheral numbers are just as good, with a .205 xBA and .261 xSLG against the offering. Overall, his sinker has a -19 run value, making it one of the 10 most valuable pitches in the sport this season, per Baseball Savant. Suarez also mixes in a changeup (24.6% usage) and four-seam fastball (23.1% usage) that have each limited opponents to a batting average under a .200 and a slugging percentage under .350.
Leader of the Bullpen
When Ranger Suarez was called up by the Phillies in early May, the team's bullpen was in disarray. Through May 5th, Philadelphia was 25th in team bullpen ERA (4.98), 23rd in FIP (4.71) and 24th in fWAR (0.0). They had six blown saves in 16 opportunities. On May 9th, Suarez made his first relief appearance for the Phillies, firing two scoreless innings. Suarez ultimately threw 20.1 scoreless innings in relief over his first 11 games with the Phillies this season. The young lefty stayed in a multi-inning relief role through mid-July, when he became the team's closer for two weeks. All-in-all, Suarez had a 1.12 ERA in 40.1 frames as a reliever from May 9th through July 29th.
Elite Starter
I'll admit that I found it extremely questionable when the Phillies decided to move Suarez to the rotation in late July. He had excelled as a reliever and there was no guarantee that success would translate to starting games. However, Philadelphia was desperate for starting pitching behind Zack Wheeler, Aaron Nola and the newly-acquired Kyle Gibson. Zach Eflin went down with a knee injury on July 20th, and their other rotation options (Vince Velasquez, Matt Moore and Chase Anderson) left much to be desired. So, they called on their most reliable reliever.
Two months and 11 starts later, it looks like an an ingenious move. Since August 1st, Suarez is second in baseball among qualified starters with a 1.69 ERA. He's also top 10 in FIP (2.44) and fWAR (2.0) during that time. Suarez has yet to allow more than three runs in a start, and he's given up one run or less in eight out of his 11 starts. He has been sensational. His crowning achievement came last Saturday, when he shutout the Pirates on just 97 pitches, allowing only four base-runners and striking out seven.
While the Phillies will come up short of making the postseason, Suarez is one of the main reasons they were even in contention. NL MVP hopeful Bryce Harper (170 wRC+) and NL Cy Young contender Zack Wheeler (2.78 ERA in 213.1 innings) deserve as much credit as they've gotten for carrying a flawed Phillies team, but don't forget about Ranger Suarez. Without him, Philadelphia wouldn't have been playing in meaningful games this week. The question now is whether he can repeat it in 2022 and beyond.