Analysis
Did the Detroit Tigers Fumble the Bag at the Trade Deadline?
Despite being clear sellers, the Detroit Tigers completed only one trade to rebuild their farm system at the trade deadline.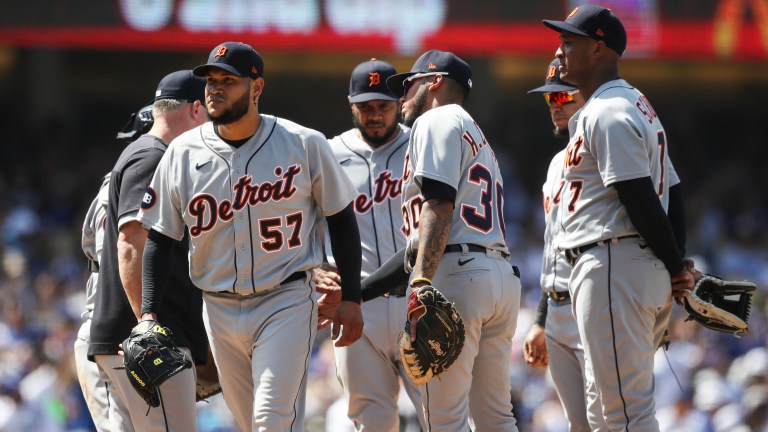 Leading into this year's trade deadline, the Detroit Tigers fell into the category of teams who were clearly going to try to sell their pieces to rebuild towards the future.
The Tigers have not made the playoffs since 2014 and have finished in last place in the AL Central in four of the last eight seasons. They are in the midst of a never-ending rebuild, trying to put the pieces together to become a competitive team once again.
Hence the idea that they would be sellers, looking to take advantage of a seller's market to replenish a farm system that could desperately use a shot in the arm. Their main trade chip was left-handed starter Eduardo Rodriguez, who they tried to send to the Los Angeles Dodgers, but E-Rod exercised his no-trade clause.
While that trade in particular ended up being something out of their control, the entire management of the deadline begs questions about how prepared the Tigers really were. Because they missed a golden opportunity to improve their franchise for years to come.
Only One Trade Made
At this year's trade deadline, we saw teams like the New York Mets, St. Louis Cardinals and Chicago White Sox take advantage of the seller's market to make trades. Flipping rentals is always an ideal place to start for any seller and these teams accomplished just that.
The Detroit Tigers, on the other hand, completed just one trade all deadline. They dealt Michael Lorenzen to the Philadelphia Phillies for infield prospect Hao-Yu Lee, netting one of the Phillies top 10 prospects. The 20-year-old was posting a .773 OPS across 64 games spent in High-A this year.
While that trade wasn't bad in a vacuum, the opportunities they missed along the way certainly was.
There was reported interest in Tigers left-handed reliever Chasen Shreve at the deadline, but Detroit never got a deal done. Shreve has pitched to a 4.91 ERA this season and will be a free agent after the deadline. Why not take anything you can for a guy like that?
Jose Cisnero was also receiving some trade interest at the deadline and was another rental for the Tigers. The 34-year-old has spent the last five years in the Tigers bullpen, where he has pitched to a 3.43 ERA. This year, Cisnero has pitched to a 4.01 ERA.
Failing to flip these two relievers isn't the biggest deal in the world, because the return would have been pretty light, but it just represents a missed opportunity.
Where the Tigers really missed an opportunity though was by failing to trade one of their relievers with control. Jason Foley and Alex Lange each have three years of control beyond this season.
While they can continue to remain as key pieces of the Tigers bullpen moving forward, trading one now likely would have resulted in getting back some really great prospects who could have dramatically improved their system. Between David Robertson, Kendall Graveman, Jordan Hicks and Paul Sewald, we saw plenty of relievers traded at this deadline for great value.
We also saw a few trades were teams packaged a reliever and a starter, getting more prospect value by sending a lot of pitching help to playoff contenders. The White Sox did this twice in fact, pairing Reynaldo Lopez with Lucas Giolito, as well as Joe Kelly and Lance Lynn in separate trades.
The Tigers could have packaged Lorenzen with Lange or Foley and asked for a haul in return. Instead they flip Lorenzen alone for just one prospect.
Should Have Been More Like the White Sox
While the Chicago White Sox had more pitching talent with less control, the returns they received should lead you to wonder what the Tigers could have brought back into their franchise if they got more creative.
Credit to White Sox GM Rick Hahn, who went into the deadline with a mission and came out with a much-improved farm system.
Trading Giolito and Lopez together was the first move, where Hahn played into the Angels desperation and landed their catcher of the future in Edgar Quero, for two rental arms. They landed an arm out of the Dodgers pitching lab farm system by trading two bounce back candidates who hadn't been good this year in Kelly and Lynn.
Then they took advantage of Kendall Graveman being under control through next year to land catcher Korey Lee from the Astros. Lee could be the White Sox starting catcher as soon as next year.
The White Sox even traded an ill-fitting position player with team control in Jake Burger, sending the slugger to the Marlins for top pitching prospect Jake Eder. Burger is not a good defender and has struck out in over 30% of his at-bats this year. What he can do is hit home runs, and the Marlins were willing to send a left-handed pitcher who immediately slots as the top arm in the White Sox system.
While the Tigers didn't have a Burger-type player they could have traded with over five years of control, they did have a catcher with two years of control beyond this season.
In our trade deadline guide, Clay Snowden pointed out how the Tigers could get a decent return by trading catcher Jake Rogers, but they never pulled the trigger on a deal.
If the Tigers found new homes for Shreve, Cisnero, Lange or Foley, and Rogers, they could have put together nearly as good a trade deadline as the White Sox, who were regarded as one of the real winners with the farm system overhaul they acquired.
That is not even mentioning what happened with their best trade chip, Eduardo Rodriguez, who used his partial no-trade clause to kill the Tigers deal with the Los Angeles Dodgers.
Could E-Rod Trade Issue Have Been Avoided?
In some ways, we could be burying the lead here when it comes to Eduardo Rodriguez, because not trading him was clearly the biggest missed opportunity of the deadline.
Rodriguez would've likely been the best pitcher outside of the Mets aces (Verlander/Scherzer) to be moved at the deadline. We still don't know what the Dodgers trade package was, but one would have to imagine that is was probably a pretty great deal when it comes to prospects.
In some respect, the Tigers did the right thing to hold out for the best trade possible, maximizing their value on the top left-handed pitcher on the market. The deal falling apart isn't technically their fault, because who wouldn't want to pitch for the Dodgers in a playoff race?
Following his decision to stay with the Tigers, Rodriguez claimed that his desire to stay close to his family on the East Coast led to his decision to exercise his opt-out. According to the Athletic's Ken Rosenthal, that is not the full story.
Along with a partial no-trade clause being negotiated into Rodriguez's five-year, $77 million contract, the Tigers also gave him an opt-out after his second season.
This is why many viewed Rodriguez almost as a rental, because he would surely command more than the three years and $49 million left on his contract if he continues to pitch well to close out the season. He could then opt-out and hit free agency again.
According to Rosenthal's reporting, Rodriguez and his agent Gene Mato were negotiating with the Dodgers and looking for a conditional fourth-year to be added to his contract at $20 million if he chose to opt-in after the season.
This is nothing new when it comes to players dealt at the deadline.
When Max Scherzer was just traded to the Texas Rangers, the future Hall of Famer had to opt into his player option for next season to assure them they were getting two years of his service in exchange for trading top prospect Luisangel Acuna.
But now the Dodgers had to weigh if it was worth it to trade for Rodriguez and essentially agree to give four years and $69 million beyond this season, compared to the original three years and $49 million if the contract wasn't amended.
The Dodgers seemingly passed, which led Rodriguez to exercise his no-trade.
While E-Rod's decision was surprising, it is the Tigers job not to be surprised about what one of their players would do if traded. They had to realize Rodriguez could do some financial negotiating with his no-trade clause if they dealt him to one of the team on his no-trade list.
Then when the trade fell through, the Tigers didn't have enough time to pivot and send him off to a different team. There were 20 teams the Tigers could have traded Rodriguez too.
Obviously there is no way of knowing if any of those 20 were interested and willing to part with a great package of prospects for E-Rod, but it is safe to assume the Tigers could have gotten something from one of those teams. Instead they are left holding the bag for nothing.
If Rodriguez pitches great, he becomes a free agent, and having already received a qualifying offer, he can leave the Tigers with nothing in return. If he gets hurt down the stretch, they are on the hook to pay him the remainder of his contract.
When you combine the failure to swing a deal for Rodriguez before he hits free agency, along with the lack of other moves they made, you really begin to see that the Tigers were one of the biggest losers of the trade deadline.