Analysis
Three Reasons Walker Buehler is On a Hall of Fame Track
The Dodgers have the anchor of their rotation for many years in Walker Buehler, but is he destined for the Hall of Fame like his teammates Max Scherzer and Clayton Kershaw?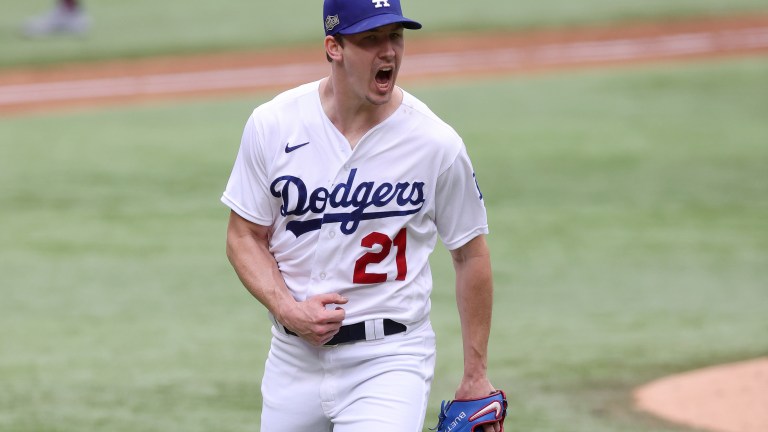 Dodgers faithful will pile into Chavez Ravine later today to watch Walker Buehler make his 14th career postseason start. At the young age of 27 years old, the righty flame thrower presents a killer-like demeanor on the mound. Every pitch is personal and every strikeout is one out closer to a second World Series title in two years.

Even with Clayton Kershaw and Max Scherzer also in the rotation–two bonafide aces and future Hall of Famers–Buehler often feels like to go-to guy for the Dodgers. Let's three reasons why Walker Buehler is on his way to becoming a Hall of Fame pitcher.
Reason 1: A Historic Start
The key for any pitcher to make the Hall of Fame is longevity, meaning providing value even as the aging curve starts working against you. Max Scherzer, Justin Verlander, Zack Greinke, and even Clayton Kershaw have found ways to defy the aging curve as they exit the prime years of their career.
We obviously cannot begin to predict how Walker Buehler will perform as he ages, but we can compare the success he's had over his first five seasons to the success other Hall of Fame pitchers have had over their first five seasons.
| | | | | |
| --- | --- | --- | --- | --- |
| Player | IP | ERA | FIP | bWAR |
| Walker Buehler | 573.1 | 2.90 | 3.20 | 12.4 |
| Justin Verlander | 658.2 | 4.28 | 4.12 | 12.3 |
| Clayton Kershaw | 944 | 2.79 | 3.01 | 25.0 |
| Max Scherzer | 804.2 | 3.88 | 3.72 | 11.7 |
| Zack Greinke | 840 | 3.92 | 3.78 | 15.2 |
Comparing some of MLB's best arms through their first 5 seasons.
For reference, the pitchers listed above are the top four among active starters in Wins Above Replacement (WAR). Through his first five seasons, Buehler stacks up almost identically with all the pitchers from a WAR standpoint–except Kershaw–but that's mostly because Buehler has thrown half as many innings as Kershaw did through his first five seasons.
The important thing is, Buehler is right on track with the career arcs of four shoe-in Hall of Famers. There really isn't a better way to start a career, and if he keeps this pace or even continues to get better heading into his prime years, he's destined for immortality.
Reason 2: Postseason Success
This postseason has been characterized by young pitchers stepping into big spots and delivering. Logan Webb, 24, and Julio Urias, 25, faced off last week in Game 5 of the NLDS, each only allowing one run. It was quite the display of pitching from the young guns, but with all that said, Walker Buehler doesn't get enough credit for the postseason numbers he's put up in his still young career.
Over 13 career postseason starts, Buehler has a 2.50 ERA and has posted seven or more strikeouts in 10 of his 13 starts. The greats perform in October and Buehler is well on his way to setting postseason records with the numbers he's already compiled at the age of 27. By the time he's 35 years old and has a full career under his belt, we could be talking about Buehler as one of the greatest playoff pitchers ever–assuming the Dodgers continue to get there annually.
Reason 3: Going Deep into Games
Historically speaking, the greatest pitchers are ones that take over an entire game. When the 7th inning rolls around, they're still able to get batters out despite making it around the lineup a third time. As more data comes out that supports taking the starter out after two times through the order, innings per start has dwindled ledge-wide. Still, a select few pitchers are still able to compete deep into games, and Walker Buehler is one of those pitchers.
| | |
| --- | --- |
| Player | Innings Per Start (IPS) |
| Zack Wheeler | 6.67 |
| Adam Wainwright | 6.45 |
| Walker Buehler | 6.29 |
| Sandy Alcantara | 6.23 |
| Kyle Gibson | 6.07 |
Innings Per Start Leaderboard
League average innings pitched per start in 2021 was 5.02 innings, which is way down even from 2019, where the average was 5.17 innings per start. Going back to 2015, MLB starters averaged 5.80 innings per start, but in 2021, only 18 pitchers averaged more than 5.80 innings per start. This puts into context how incredible a feat it is for Walker Buehler to average 6.29 innings per start, ranking third behind Zack Wheeler and Adam Wainwright. Being able to dominate late into games in an era where most pitchers are unable to do so will set Buehler apart and will solidify his Hall of Fame candidacy.
What Will It Take?
All in all, Buehler is off to the ideal start to his career. The 27-year-old is dominating in pivotal postseason games, compiling regular season counting stats, and solidifying himself as a top 10 pitcher in baseball. However, there's things out of his control, such as health, which nobody can accurately project.
Injuries happen, as Matt Harvey and Brandon Webb can attest to, and sustaining success is the great filter in separating the good careers from the Hall of Fame careers. Buehler will need to win at least one Cy Young Award along the way and cross the famed 50 WAR barrier that many Hall of Fame candidates have crossed. He's a ways away from reaching that goal, but it's well within the realm of possibility to imagine Buehler one day donning a Dodgers cap on a Cooperstown plaque.