Feature
Will We Ever Get Another Member of the 300-Win Club?
Randy Johnson was the last pitcher to join the 300-win club in 2009 and he could be the final member with the way the game is trending.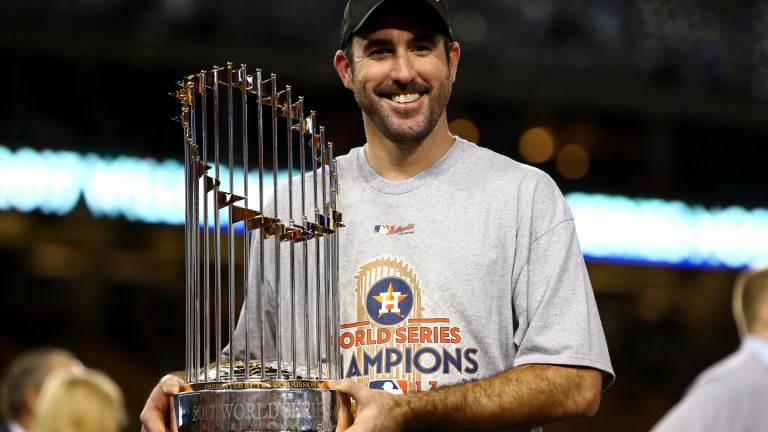 When we look back at MLB history, there are few clubs more exclusive than the 300-win club. Across baseball's long history, only 24 pitchers have ever reached that incredible milestone, with the last being Randy Johnson in 2009.
For a pitcher to reach 300 wins, not only do they have to be excellent but they need to sustain that excellence for the better part of two decades, while playing for a team that is good enough to win when they are on the mound. Nowadays, as the 20-game winner becomes more and more of an anomaly, the thought that we could ever see someone rack up over 300 career wins seems like a longshot.
Pitchers are not going as deep into games and in turn, are not receiving nearly as many decisions as they would in the past. Keeping a starter out there to make sure they are "in line for the win" is thinking from a bygone era, with team success being prioritized over any personal accomplishments.
When we look back at the history of the illustrious 300-win club, there have been other lulls throughout history, where no new members were reaching the milestone, but this now feels like a permanent trend. Is the 300-win club dead, with no possibility of any future additions?
Let's discuss the history and see if there is any hope for a renaissance when it comes to his once-great club that pitchers would aspire towards.
The 300-Win Club Was Born in the Dead-Ball Era
Baseball has gone through many shifts throughout the course of history, but none may have been more significant than the beginning of the live-ball era. Prior to 1920, baseball looked a lot different than the game it ultimately became.
The dead-ball era was a pitcher's dream. One baseball would be used for the entirety of the game, with it only being replaced if it were to unravel. How did this give the pitcher an advantage?
Well as the game went on, the ball would get dirtier and dirtier, making it harder to pick up if you were a batter. What helped the pitchers ever further is that they were able to scuff up the ball however they liked, while also using whatever foreign substance they wanted.
If you thought MLB wasn't regulating the baseball enough prior to the sticky substance ban this year, just imagine what things were like 100 years ago when the game was just being popularized and every pitcher was free to take advantage however they saw fit.
Now if a hitter could square up one of the balls, which were moving in all types of crazy directions while being impossible to see, the baseball itself would get worn down throughout the game, losing some of its elasticity making it harder to hit for power.
The dead-ball era would come to an end following the tragic death of Cleveland shortstop Ray Chapman, who was hit in the head by submarine pitch Carl Mays in the fifth inning of a twilight game against the New York Yankees. Chapman never moved out of the way of the pitch, as witnesses attested to the fact that he must not have been able to see the ball to protect himself.
Baseball's Commissioner, Keneshaw Mountain Landis, enacted several rule changes in response to Chapman's death, particularly on how the balls were treated. At the first sign of wear, balls were replaced and pitchers were no longer given free reign to deface, scuff, or apply foreign substances to the ball.
These rule changes, paired with Babe Ruth popularizing the upper-cut home run swing (Ruth was the real inventor of launch angle!) revolutionized the game. From 1920 on, the live-ball era was born and offensive statistics went through the roof.
Ruth was the first member of the 500-home run club, hitting the landmark blast in 1929. Since then, 27 other sluggers have joined the elusive home run club, with Miguel Cabrera being the latest to do so this past season.
Eleven of the 24 members of the 300-win club pitched primarily in the dead-ball era, with Walter Johnson and Grover Cleveland Alexander being the only two pitchers of that crop that even pitched past 1920. Johnson won his 300th game in 1920 and would go on to win another 117 games before he retired in 1927.
Cleveland Alexander won his 300th game in 1924 and pitched until 1930, ultimately finishing with 373 career wins. It would take nearly two decades for Major League Baseball to get another member of the 300-win club, as Lefty Grove was the next to accomplish the feat in 1941.
How the Live-Ball Era Impacted the 300-Win Club
Once the hitters actually had a fighting chance against pitchers, suddenly it wasn't so easy to win games. From 1924 to 1981, there were only new three members added to the 300-win club.
As already mentioned, Lefty Grove broke a nearly 20-year drought when he won his 300th game in 1941, which only started a new drought that spanned 20 more years. Warren Spahn was the 13th member of the 300-win club, winning the landmark game in 1961. Spahn would go on to pitch until 1965 and won an additional 63 games.
Like Grove, Early Wynn finished his career with exactly 300 wins, joining the club as it's 14th member in 1963. From that point on, baseball went another few decades before seeing anyone else enter the 300-win club. Compare that to the 500-home run club, which added nine new members in the 1960s and 70s and it is clear that baseball had become a more offensive game.
The increase in offense, particularly with the home run ball, changed the way teams used pitchers, as the need for more starters and fresher arms became apparent. Cy Young and Randy Johnson are both members of the 300-win club and they also both spent exactly 22 seasons in the big leagues.
Young won 511 games, the most ever, Johnson barely made it into the club at 303 wins. However across the same career span, Johnson started a record 815 games, while pitching in over 900. Johnson only made 603 starts in comparison.
As time has wore on, teams have carried more pitchers and have in turn asked a lot less out of their starters. This has naturally made it more difficult to win games at the incredible clip that the game's best did prior to the live-ball era.
With the game becoming more offense-oriented over the years, MLB began trying to combat this surge in the 1970s and beyond, expanding the strike zone and opening up bigger and more pitcher-friendly stadiums. Teams also began relying on specialized relievers, who could close out games for the best starters and allow them to once again rack up wins.
The 300-win club welcomed in six new members between 1982 and 1990, all of which pitched primarily in the 70s and 80s.
Gaylord Perry, May 6th, 1982 (314 career wins)
Steve Carlton, September 23rd, 1983 (329)
Tom Seaver, August 4th, 1985 (311)
Phil Niekro, October 6th, 1985 (318)
Don Sutton, June 18th, 1986 (324)
Nolan Ryan, July 31st, 1990 (324)
Recent History of the 300-Win Club
Since 1990, we have seen just four new members join the 300-win club and they were some of the most gifted pitchers this game has ever seen.
After Nolan Ryan, Roger Clemens became the 20th member of the 300-win club, reaching the achievement on June 13th, 2003 as a member of the New York Yankees. Clemens finished his career with 354 wins to go along with seven Cy Youngs, seven ERA titles and even two Triple Crowns. Due to suspected PED-use, Clemens stands to be the only member of the 300-win club that is not in the Hall of Fame, as all of the other 23 members have already been inducted.
Greg Maddux was next up after Clemens, as "The Professor" won his 300th game in 2004. Maddux finished his career with one more win than Clemens at 355, while also winning four Cy Young Awards, four ERA titles and a MLB-record 18 Gold Gloves.
Maddux's long-time teammate Tom Glavine won his 300th game as a member of the New York Mets in 2007 and would go on to finish his career with 305 wins. Lastly, as previously mentioned, Randy Johnson became the 24th (and for now the final) member of the 300-win club, accomplishing the feat in 2009.
Future of the 300-Win Club
While many have felt that the 300-win club is dead, the reality is that it is has been this way for a very long time. This is one of the hardest milestones to reach in sports, but it has been like that since the dead-ball era. To say it could never happen again is discrediting the 13 members that have joined the club over the last 100 years.
Of all the amazing pitchers we have seen over the last century, there were only 13 special men that were able to put together a career worth of entering the 300-win club. It is very hard to do, but the best of the best are able to achieve what few others deem possible.
There were decades at a time where no one entered the club, but a resurgence in pitching at various stages in MLB history has been able to open the door for more to enter over time.
If we look at the active wins leaders, there are a few names that stand out that have an outside chance at reaching the incredible landmark of 300 wins.
| | | |
| --- | --- | --- |
| Pitcher | Age | Career Wins |
| Justin Verlander | 38 | 226 |
| Zack Grienke | 38 | 219 |
| Max Scherzer | 36 | 190 |
| Clayton Kershaw | 33 | 185 |
| Adam Wainwright | 39 | 184 |
* Active Wins Leaders
Justin Verlander stands out as the next man up to potentially win 300 games, as he is within 75 wins.
Verlander has often been called the modern-day Nolan Ryan, as the last time we saw him he was still throwing in the upper-90s at 37 years old. Verlander is coming off Tommy John surgery and signed a two-year deal to remain with the Houston Astros.
Ryan pitched until he was 46 years old, so if Verlander sticks around in a similar fashion, he can certainly join the 300-win club. Verlander will turn 39 years old in February.
In his last full season in 2019, Verlander won 21 games to lead the American League. The Houston Astros should still be a very good team, so if Verlander returns to previous form, he could win a lot of games over the next two years. If he were to get close enough to 300 wins on this contract, maybe he will want to sign another to stick around and try to reach that mark.
Zack Greinke is next behind Verlander when it comes to the active wins leaderboard, but it feels like 81 wins is a lot to ask for a pitcher that is on a decline. Greinke won 11 games in 29 starts for the Astros last year and is now a free agent.
Max Scherzer feels like a better bet to win 300 games, as he has shown no signs of wearing down over the last few years. After signing a three-year, $130 million deal with the New York Mets, Scherzer has indicated that he has no plans of retiring any time soon, as there is even an opt-out on the final year of his contract so he can become a free agent again in a couple of years.
Over the last seven years, Scherzer won 99 games and there was a 60-game season mixed in there. If he sticks around for another six or seven years, Scherzer could certainly win another 110 games to join the elusive 300-win club.
Outside of Scherzer and Verlander, it is hard to envision anyone else having a realistic chance at reaching the 300-win club at this stage. Clayton Kershaw was once on pace, but recent injuries put his career longevity in serious doubt. At 117 career wins, Gerrit Cole could theoretically enter this conversation, but we are five years away from even being able to dream about that one.
We don't know who the next once-in-a-generation pitcher will be, but baseball is currently flush with talent when it comes to starting pitchers. As the years go on, the game evolves, so we have no idea how things will change in the coming decades.
If Tom Brady and LeBron James have taught us anything, it's that sports science is changing and there is room for athletes to find a fountain of youth if they take care of their bodies. Maybe Verlander, Greinke and Scherzer all pitch into their mid-to-late 40s and all enter the 300-win club, giving this generation a crop similar to previous generations of the past.
One thing that Major League Baseball should seriously consider is adapting the win as a statistic for the modern game. The rule has always been that a starter has to go at least five innings to record a win, but that should change.
How many times have we seen it where a starting pitcher keeps the other team off the board for 4 2/3 innings, but gets pulled with one out to go in the fifth to bring a specialist out of the pen?
Managers are looking for any edge possible to win and the analytics will tell them that a fresh left-handed reliever stands a much better chance at getting Freddie Freeman out with two runners on than a starting pitcher who has already thrown 80 pitches. That starter could have a 4-0 lead, the reliever can give up a hit to Freeman that scores two, and yet it is the reliever that ends up with his name in the win column when it's all said and done.
I have always felt like the scorekeeper should have the jurisdiction to award a starter with a win, regardless of if they pitch five innings. If a starter goes four strong innings, but is pulled, why does the reliever who pitched one inning get the win?
Now allowing the scorekeeper to have that power could open Pandora's box, as the criteria for a win would become undefined. A simple solution though would be to just knock it down from five to four innings. This would allow wins to be recorded similarly to how they always have, but would make the win more attainable for starting pitchers, adding more importance back to the stat.
Wins are never going to be held at the same high regard as they once were, but it would be nice to see some value brought back to them. Especially if baseball wants to see more names added to their 300-win club in the future.