Feature
Ryan Zimmerman's Retirement Illustrates the Evolution of Franchise Players
The day of homegrown star players spending their entire careers with one team could be changing forever.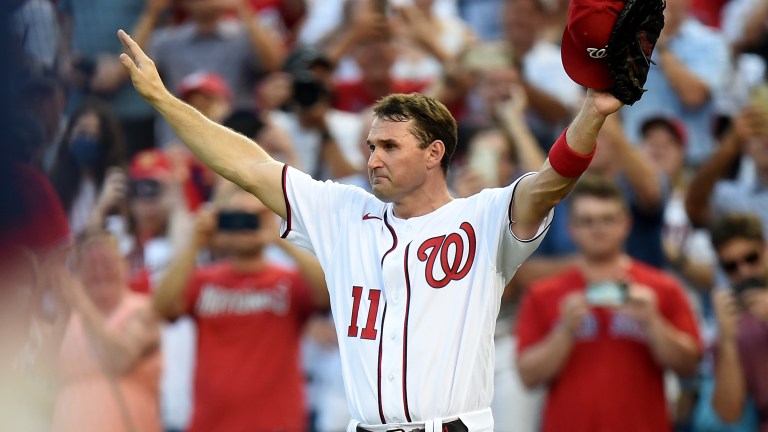 When Ryan Zimmerman announced his retirement on Tuesday, it marked the end of the career for a franchise icon. This is something we have grown accustomed to this offseason, as Buster Posey and Kyle Seager have each retired and ended their illustrious careers that all took place with one team.
Major League Baseball may not be at the same level of leagues like the NFL and NBA when it comes to players changing teams, but movement is still something we are seeing a lot more of now than in years past. Mookie Betts should have played his entire career with the Boston Red Sox. He's now entering his third season as a Dodger.
Bryce Harper is the type of superstar talent that teams should build their entire franchise around, but as soon as he could become a free agent, the Nationals let him walk to a division rival.
Freddie Freeman and Clayton Kershaw are both free agents right now, and while there is certainly a chance they stay put, rumors still have them linked to other teams. Playing with one franchise for a decade is a rare achievement for star players and in one offseason we have lost three of them.
Posey was the most shocking retirement announcement of the offseason, as he proved to still be a top-five catcher in baseball with his bounce back 2021 All-Star campaign. After being the fifth overall pick in the 2008 MLB Draft, Posey spent his entire 12-year career with the Giants.
While it did not receive the same fanfare, one could make the argument that Kyle Seager's retirement was just as surprising. He was set to be the second-best free agent third baseman on the market (behind Kris Bryant) and was coming off a season where he hit a career-high 35 home runs.
Yet Seager did not have any interest in potentially leaving Seattle as a free agent, and instead retired after playing his entire 11-year career with the Mariners. He won't be going to Cooperstown, but he's certainly going into the Mariners Hall of Fame as Seager finishes his career in the top-five of almost every major offensive category in franchise history.
That then brings us to the most recent retiree, Ryan Zimmerman. With the injuries he sustained early in his career, it is rather remarkable that Zim played until his age-36 season. He now walks away after a 16-year career as a World Series champion who will forever carry the name, "Mr. National".
Franchise icons are what sets baseball apart from other sports. It is special to look back and know that Cal Ripken Jr. spent his entire 21-year career with the Baltimore Orioles. Or that Derek Jeter never wore anything but pinstripes.
Obviously it takes a great player for an organization to feel that sense of loyalty to a player, but nowadays it seems like even the greatest players aren't given that same opportunity to stay if they want to maximize their earning potential.
Teams are less sentimental when it comes to retaining their star players, as the goal is instead to get value for them on the trade market before they become free agents. At this year's deadline we saw the Chicago Cubs trade not one, not two, but THREE franchise players, when they simply could've offered Anthony Rizzo, Kris Bryant or Javier Baez contract extensions to be part of their future.
The Washington Nationals traded one of the best players in the game in Trea Turner because he was two years away from free agency and they were entering a rebuild. Still, wouldn't it have made sense to do everything in their power to rebuild around Turner instead of moving him?
Teams nowadays value young cost-controlled players more than anything else, as owners (particularly small market ones) are penny-pinching like never before. The model has become the same for most teams in baseball.
Step one: Develop one of the best farm systems in baseball.
Step two: Graduate your top prospects and hope they become All-Star players.
Step three: Once the cheap All-Star players are in place, invest in free agents during your window for contend.
Step four: Trade everyone before they can leave your team for nothing in free agency.
Unfortunately teams don't see the same value in retaining their own players like they used to, which is why the retirement of Zimmerman, Seager and Posey is so significant.
There are still 13 active players who have spent at least 10 seasons with only one team, but that list could get a lot shorter after the 2022 season.
Yadier Molina and Adam Wainwright are both set to ride off into the sunset together after the 2022 campaign, joining Zimmerman, Seager and Posey in retirement.
Clayton Kershaw, Kenley Jansen, Brett Gardner and Freddie Freeman are all free agents and Brandon Belt is set to become a free agent next year.
If all the current free agents leave and Belt does next season, there is a world where we could be left with just Joey Votto, Charlie Blackmon, Mike Trout, Brandon Crawford, Jose Altuve and Xander Bogaerts after next season.
In a recent interview with ESPN Deportes, Juan Soto confirmed that he had turned down a 13-year, $350 million contract extension with the Washington Nationals prior to the lockout. That contract comes far below his market value, but shows where the game is going with today's stars.
Teams are now looking to extend their star players at younger ages, trying to use the leverage of their cost-controlled seasons to lock in superstars on more affordable contracts then if they were to get to free agency.
Wander Franco hasn't even played a full season yet, and he already has an 11-year contract with the Tampa Bay Rays. Fernando Tatis Jr. and Ronald Acuna Jr. are two of the game's brightest young stars and each of them received decade-long contracts prior to their 23rd birthdays.
Teams take on a lot of risk when they sign players who don't have proven track records to these long contract, but it is a worthwhile risk when you consider the production they are likely to receive. Players get the security of a long-term deal and generational wealth up front, but they also forfeit some of their earning potential in doing so.
Still, it is great to know that the days of the franchise icon are not a thing of the past, it is just evolving into a new era of how the franchise icon gets paid. Hopefully we will always have players who get to play their entire careers with one team, as the connection those stars have with their respective fanbases is irreplaceable.