Analysis
Can Stott, Marsh, and Bohm Keep the Phillies Afloat Until Harper Returns?
Bryson Stott, Brandon Marsh, and Alec Bohm will need to sustain their early-season success to get the Phillies back on track.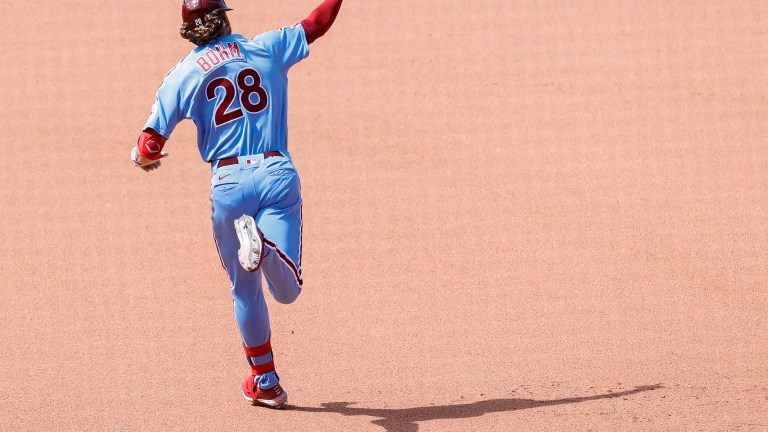 The Philadephia Phillies have had a losing record since Opening Day. They've been playing better baseball lately, winning seven of their last ten, but they still sit five games back in the NL East with a 12-13 record and a negative run differential.
If you told me a month ago that the Phillies would be struggling in April, I would have immediately blamed the offense. Surely, the lineup would be thin without Bryce Harper and Rhys Hoskins. Yet the bats have been pretty great so far. The Phillies rank third in the National League with a .786 OPS and fourth with a 113 wRC+. They have more hits than any team in baseball.
Knowing that, I might have guessed Trea Turner, Kyle Schwarber, and J.T. Realmuto were tearing the cover off the ball and putting the team on their backs. However, that's hardly been the case. Those three All-Stars are slashing a combined .250/.312/.415 with a 96 wRC+.
Instead, the biggest contributors have been Brandon Marsh, Bryson Stott, Alec Bohm, and Nick Castellanos. Fans were hoping to see Castellanos bounce back after a down year in 2022, and so far, he's doing just that. Just Baseball's own Tim Kelly wrote about the slugger's success earlier this week.
Meanwhile, Marsh, Stott, and Bohm – the so-called "Phillies Daycare" – all seem to have taken a big step forward. Along with Castellanos, they're producing enough to support Philadelphia's offense in Harper's absence. If they keep hitting when Harper returns, this lineup could be downright scary.
That being said, it's still early in the season, and these three are all largely unproven talents. Is it too soon to say their breakouts are real? Let's take a closer look.
Brandon Marsh
23 G, 85 PA, .351/.435/.703, 201 wRC+
Brandon Marsh is on fire, leading the National League in OPS and wRC+. He's running a high strikeout rate but making up for it with an 82nd-percentile walk rate, and it helps that he hasn't grounded into a single double play all year. His .478 BABIP is obviously unsustainable, but Marsh is the kind of player who can maintain a high BABIP; more to the point, he'd still be a productive player if his batting average dropped substantially. Hits are great, but what's most important is that Marsh is drawing walks and hitting for power.
So where are those walks and extra-base hits coming from? Marsh is showing better plate discipline this year, swinging at fewer pitches but making more contact when he does choose to swing. Moreover, by swinging at better pitches, he's been making better contact. His average exit velocity, barrel rate, and hard-hit rate have increased.
One thing to keep an eye on is Marsh's performance against left-handed pitchers. Phillies manager Rob Thomson was hesitant to use Marsh against same-handed pitching last season, and indeed, he already has more plate appearances against lefties this year than he did all of last season with the Phillies. His numbers against southpaws aren't all sunshine and roses (37.5% strikeout rate, 8.3% walk rate), but he has made some solid contact (61.5% hard-hit rate, 95.7 mph EV). We'll have to watch what he does as he faces more left-handed opponents this season.
All in all, Marsh is due for some regression (a 1.138 OPS is ridiculous) yet I'm still inclined to believe his breakout is real. We always knew he could hit the ball hard, but he needed to improve his plate discipline. So far, that's exactly what he's done. The sample size is small, but I'm impressed with what we've seen from Marsh this year.
Bryson Stott
24 G, 110 PA, .343/.373/.467, 129 wRC+
Bryson Stott began the year with a 17-game hitting streak, during which he went 29-for-76 (.382) with an .845 OPS. However, he was also benefitting from a .491 BABIP, and his high batting average was hiding a few flaws in his game. While he had 29 hits, only one went over the fence, and his isolated power was a meager .118. He also struggled to draw walks, earning just one free pass in 77 trips to the plate. His K-rate wasn't terrible, but he was striking out more than he did last season. An 18:1 strikeout-to-walk ratio isn't going to cut it.
In the six games since his streak ended, Stott has actually been a more complete hitter. He's added seven more hits, including a double and a home run, and he has also drawn four walks. His plate discipline has looked much better too; he's been chasing at fewer pitches outside the zone, cutting down on his swinging strikes.
All things considered, I'm not yet convinced that Stott has really broken out. His plate discipline has been significantly worse than it was last season, and he hasn't added any power to his game. This isn't to say that Stott won't contribute going forward – his elite contact skills are still valuable – but he needs to be more selective at the plate if he wants to keep producing from the top of the lineup. His last six games have been encouraging, but I need to see more.
Alec Bohm
24 G, 104 PA, .298/.365/.447, 124 wRC+
Alec Bohm has always had the potential to be a great hitter. He has a good eye at the plate, a great feel for contact, and real power potential in his 6-foot-5 frame. This year, it seems like he's finally putting it all together. He has managed to increase his walk rate without increasing his strikeouts, so he's getting on base far more often.
His approach has been relatively simple: like Brandon Marsh, Bohm is offering at fewer pitches but making more contact when he does choose to swing. Thus, he's wasting fewer swings but putting a similar number of balls in play. His chase rate has gone from poor to average, while his whiff rate has gone from above average to elite.
Bohm isn't a hard-hit machine, but he makes solid contact. As long as he's putting enough balls in play, he can run a batting average close to .300. If he keeps his walk rate around the 50th percentile, I'd expect him to run the highest OBP on the team (at least until Harper returns).
As for power, Bohm doesn't elevate the ball enough to be a true home run threat, but he can spray hard-hit line drives to all fields. Thus, he should rack up his fair share of doubles. Based on how he's hitting right now, I'm optimistic that Bohm can maintain an OPS above .800 for the rest of the season.