Feature
At Peace With Himself, Nick Castellanos Putting Together Bounce-Back Season for Phillies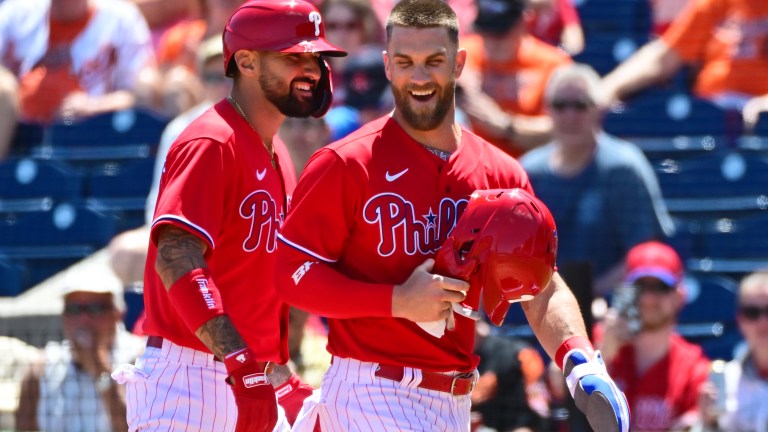 Nick Castellanos caught the final out of the Phillies' NLCS Game 5 victory over the San Diego Padres, which sent Philadelphia back to the World Series for the first time since 2009.
It was a rare moment during Castellanos' first season with the Phillies where he was able to exhale and enjoy a positive accomplishment.
After signing a five-year, $100 million contract to join the Phillies after a career year with the Cincinnati Reds, Castellanos was, statistically speaking, one of the worst players in baseball in 2022. Never known for his glove work, Castellanos finished 2022 with -8 defensive runs saved and -12 outs above average. The more concerning trend was that in his first season in red pinstripes, the reigning Silver Slugger Award winner slashed .263/.305/.389 with just a .694 OPS, 245 points lower than the mark he posted the prior season. Among qualified position players, his -0.8 WAR was tied for the second worst mark in baseball, per FanGraphs. And while he had a few notable catches during a magical postseason run for the Phillies, Castellanos finished the postseason with a meager .478 OPS, including flying out for the final out in the World Series that his team lost in six games to the Houston Astros.
Now, Castellanos wouldn't be the first player unable to match numbers he put up during a career year playing at Great American Ballpark. But there was no sugarcoating it; by the high standards he had set with his previous performance, Castellanos' first season with the Phillies was a disaster.
In hindsight, a down year probably shouldn't have been especially shocking for the slugging outfielder. For as great as he was in 2021 with the Reds, he really struggled during the pandemic-shortened 2020 season after signing a lucrative free-agent deal to head to Cincinnati. To his credit, Castellanos played in all 60 games for the Reds in 2020 but finished with a .225 batting average and a .298 on-base percentage, a far cry from what he did the previous year when he posted an .863 OPS in a season split between the Detroit Tigers and Chicago Cubs.
But in the same way that Castellanos' struggles in 2022 could have been predicted — at least to some degree — he had too long of a successful track record prior to that to think he wouldn't rebound in 2023. After all, between 2014 and 2021, no one in baseball hit more doubles than Castellanos. He didn't just forget how to hit in his early thirties.
And thus far in 2023, it's been quite the renaissance for the former All-Star. In 23 games, Castellanos is slashing .307/.378/.489 with a National League-leading 10 doubles. His best performance of the season came this past Saturday in a victory over the Colorado Rockies. Castellanos homered twice, his first two home runs (regular or postseason) since August 27.August 27.
"I just want to do my job, man," Castellanos said after the win. "I really have grown fond of everybody in this clubhouse and the organization in general. Just anything that I can do on either side of the ball, even conversations that have nothing to do with baseball … [I want to do] anything to just give positive energy to the Phillies to get as many wins as possible … whatever it may be, I'm down for it."
While it was a wise business decision for Castellanos to opt out of the final two years of his contract in Cincinnati following a tremendous 2021 season, he hit the open market at the least enviable time possible. He had to wait through a 99-day lockout during his second stint as a free agent. He didn't end up signing with the Phillies until March 22, less than three weeks before Opening Day.
That left Castellanos scrambling to meet new teammates, a new front office and a new PR staff. He had to buy a new house — ultimately purchasing Ben Simmons' old place in Moorestown, New Jersey in May. That was the same month he and his wife Jessica welcomed a child, the couple's first and Castellanos' second. Athletes are often expected to be robots, but it's not hard to imagine a lack of stability affecting someone's job performance.
After the season, Phillies president of baseball operations Dave Dombrowski — who had originally selected Castellanos in Detroit in the first round of the 2010 MLB Draft — said that he thought Castellanos was more than capable of thriving in the market. Dombrowski did acknowledge that Castellanos would benefit from a chance to regroup and get comfortable over the winter.
"I don't think this market was his reason behind not performing," Dombrowski said. "Some people, I think, could be like that. I don't think that was his reason. I think he's always hit, and you look at people who are hitters, they do have down times. Sometimes they try too hard, coming off of being a free agent. He did have a lot of adjustments in his life. I mean, the whole thing he really needs to work through, it just didn't happen for him. But I think having all that with the winter time where you can kind of just settle in and be ready to go, I think will benefit him a great deal."
When asked Saturday if being more comfortable with his surroundings has helped him to get off to a quick start in 2023, Castellanos didn't hesitate.
"There's no question," Castellanos acknowledged. "I mean, even if you go back to all my interviews last year, I always say with me that everything is connected. The more that I feel at peace with myself … my situation … my surroundings … my environment, the more that my natural self is going to be able to come through."
Is Castellanos' feeling more like himself in his second year in Philadelphia just a matter of time passing or is there something more to it?
"I would say time is No. 1. As much as I want to be 100% comfortable in my surroundings immediately at all times, I struggle with that. But I feel good now, I'll tell you that," Castellanos said with a smile.
So far, all the hitters who were major question marks for the Phillies coming into the season are thriving. Castellanos has re-emerged as a doubles machine. Brandon Marsh is currently the MLB leader in OPS with a staggering 1.212 mark. Bryson Stott looks like an All-Star candidate at second base. And Alec Bohm is hitting over .300.
It burns for the Phillies that Rhys Hoskins was likely lost for the season when he tore his left ACL just days before the regular season began. But Bryce Harper is going to return, probably sooner than later. And if Castellanos, J.T. Realmuto and Trea Turner can all perform close to their career averages, the Phillies will have a chance to make noise in the NL playoffs for the second consecutive year. Perhaps this time, it will be Castellanos who authors some notable hits in October for the Phillies.